OK, so I saw these Freedom Moses sandals on Shopbop and thought they were called…
Freedom MOOSE.
After that, I promptly forgot about them — like, who wants rubber sandals with fake buckles?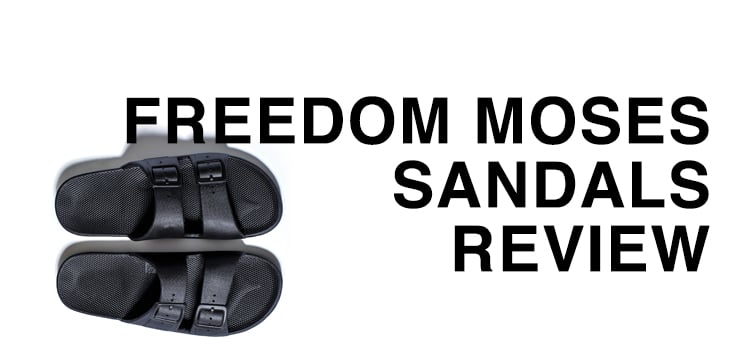 Fast forward to my vacation in Montreal, where it rained for, like, 1/4 of the trip, and my Stan Smiths sprung a leak in the rain.
… and, my ever useless Tkees flip flops transferred black dye to my toes — the dye may have complemented my Rouge Noir polish, but it was not chic IRL…
So, I made a quick trip to Holt Renfrew and asked after these waterproof "Freedom… moose?" sandals.
The sales associate corrected me, "Freedom Moses, not 'moose'," then, unlike Moses himself, abandoned me after leading me to them.
All this to say, here's what you need to know about Freedom Moses' rubber slides, i.e., the waterproof sandal that saved my leather ballet flats when it rained…
---
Freedom Moses sizing
For comparison, my other shoe sizes run:
-Adidas Stan Smiths, US 8
–Chanel Shoes, FR 39
–Christian Louboutin, IT/EU 39.5
–Golden Goose, IT/EU 39
–Hermès, FR 39
–Isabel Marant, FR 39-40
-Nikes, US 8.5
–Repetto, FR 39.5-40
… meanwhile, if you're in the market for other waterproof sandals, you can find out my sizing for Teva sandals here and Arizona Love here.
My Freedom Moses Two Band Slides, in black, are a size 8/9.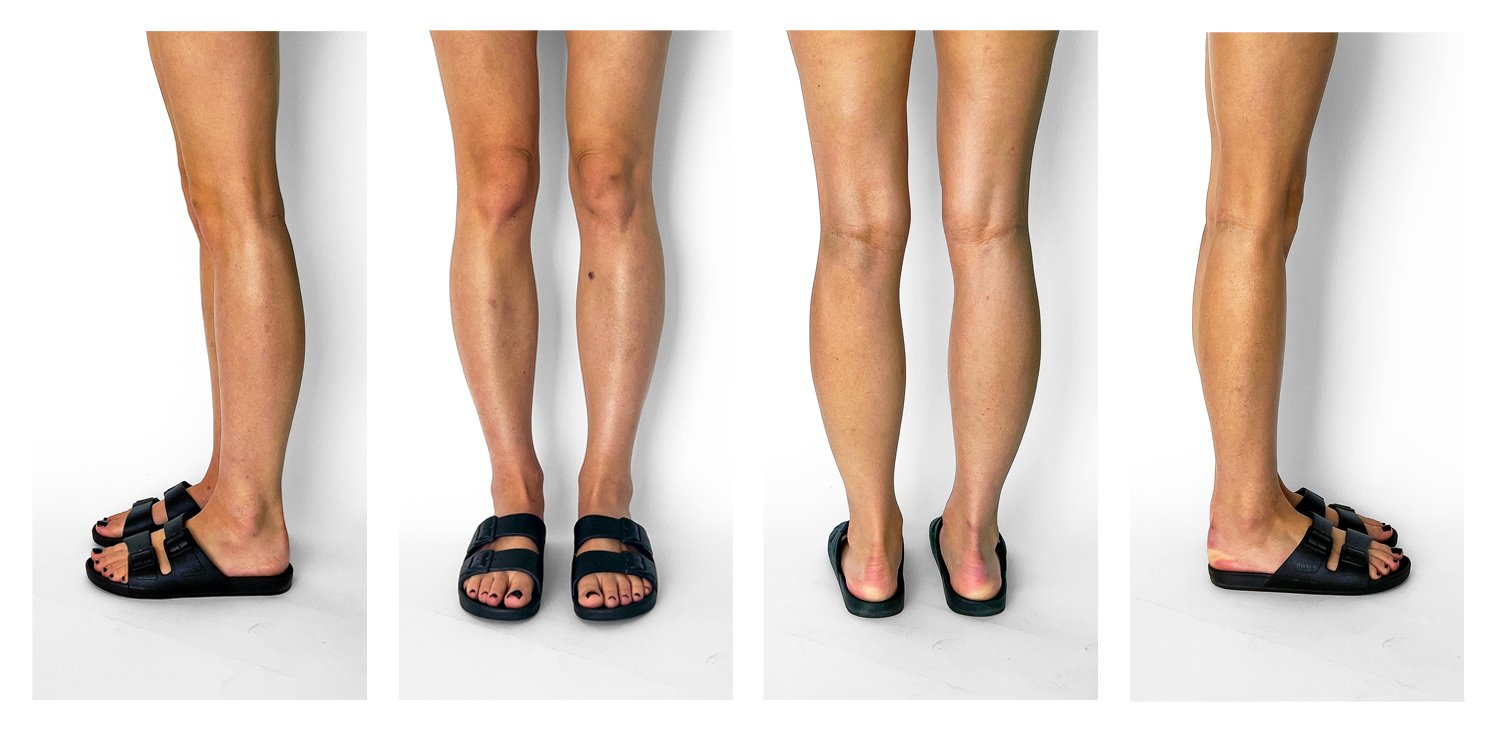 There's really not that much to say other than…
They fit!
… and that my husband agreed that the 7/8 that I tried on looked a pinch too small.
In case you missed it on your first pass, those buckles are an illusion.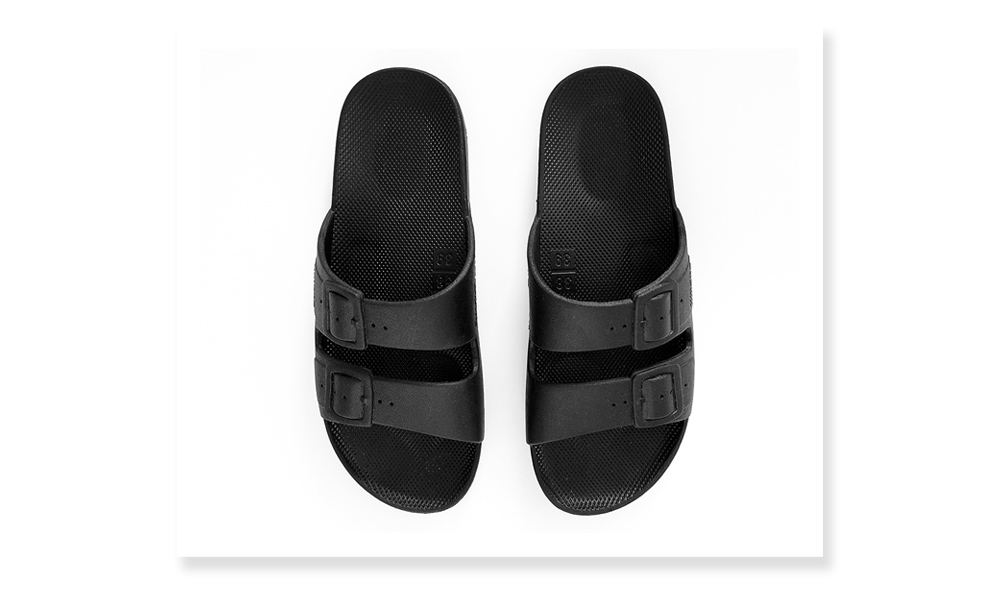 Freedom Moses sandals are not adjustable.
… but, that means that there is zero fuss involved with putting them on.
---
Curious How They Stack Up Against Birkenstock EVA sandals?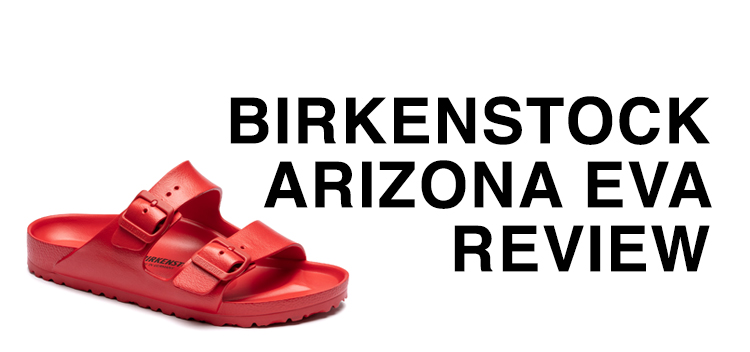 ---
Impressions
Freedom Moses sandals are basically Birkenstock Eva sandals for lazy folks (like me!).
Listen, when it's pouring rain outside in the summer, everyone takes a short cut.
Be it taking Montreal's underground city to get to your dinner reservation on time or no-fuss trompe l'oeil sandals.
These rubber sandals gave me a blister on the top left of my right foot (IDK why I'm being so specific, but whatever).
… and they're not that comfortable to walk long distances in.
---
Pros & Cons
Pros
–Waterproof: With a 100% rubber sandal, this is a given.
–Hose 'em down: … and since they're totally waterproof and don't have any pesky buckles to deal with, you can just hose them down if you need to clean them.
–Low maintenance: I mean, you don't have to deal with any buckles…
–Kinda stylish?: Basically a pair of Birkenstocks that are 100% rain proof.
Cons
–Not that comfortable: They aren't, like, the worst, but they certainly aren't comfortable if the rain lets up and you want to walk 2km home from dinner.
---
Like these Freedom Moses sandals, the TLDR of this review is simple.
They're non-fussy waterproof slides that can make an outfit look more put together than a pair of rubber flip flops.
When it's pouring rain outside, most people likely don't care (or shouldn't care) what's on your feet.
… and apart from not ruining your favourite pair of leather shoes, neither should you.
You can find Freedom Moses sandals at Intermix, Revolve, Saks, or Shopbop from $45 USD.
Note: newinspired uses affiliate links which costs you nothing… but means a lot to me. When you use these links, the money newinspired earns gets reinvested in blog content. Absolutely nothing on newinspired is "gifted" or sponsored, I purchase each item with my own money. Affiliate commissions are used to purchase new items to honestly & thoroughly review. If you found this review helpful, consider using them to support newinspired.
---
You might also like…