"OK, but you're not 4 years old."
"OK, but you're not a retired gardener."
"OK, but r u ok?"
Every time I've brought up wanting Crocs, I'm met with confused responses.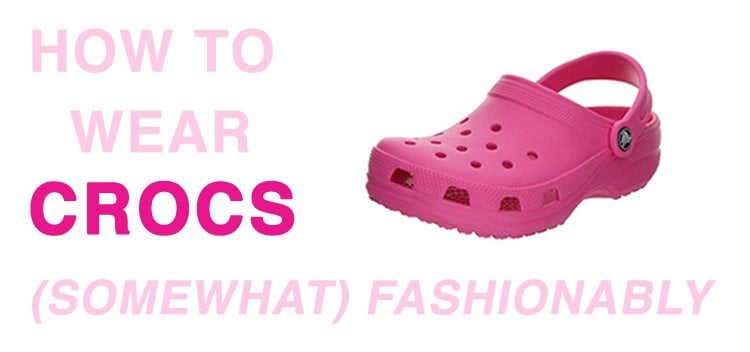 I say… "OK, but can everyone just stop!"

It's hard to argue that Crocs are anywhere near visually appealing. But it's also hard to argue how in ugly shoes are. Especially Crocs — thanks Christopher Kane and Balenciaga!
I hate trends, but when the trend costs $29.99, can be purchased at the hardware store, and elicits rude remarks from "friends," I'm all in.
I'm so all in that I'm not even copping out with a pair of black, navy blue, or white Crocs… I'm going all in with a pair of BRIGHT fuchsia Crocs.
I might hate trends, but I love a good challenge.

How to Actually Style Crocs Fashionably
All the shoes that I buy blend seamlessly into my wardrobe, like my Chanel slingbacks or Repetto Camilles. However, Crocs do NOT go with everything.
Once an oxymoron, but now a reality, Crocs CAN be worn fashionably. You just have to take one key aspect into consideration…
Proportions
While super lightweight, Crocs are a clunky and loud shoe. Because Crocs are so massive, they look "best" with…
-Jeans
You need a skinny or bootcut jean to give yourself more length and streamline your silhouette. If your ankles can show, that's great too. Flared jeans don't work well because the bell bottom hides the Croc too much.
-Midi Length Dresses
If your dress hits below your knees, it'll work. Over the knees and it looks messy. Right at the knee and it stunts your leg. But an inch or so below your knees? That works…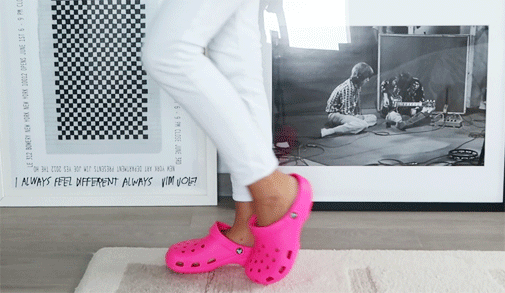 -Pony Tail or Big Hair
You want more volume up top (or you'll want your hair to be more sleek, but big!) because these shoes are so clunky.
Since my Crocs are incredibly loud that means that they look best when the outfit is more monochrome or simple. I already dress relatively simply and monochromatically, so this isn't a huge stretch.
I want these outfits to be real and not another Buzzfeed or fashion blogger unwearable outfit. So, let's get into some cool and wearable Crocs outfits…
(… or what I consider a "cool" Croc outfit!)
---
CROCS WITH DRESSES OUTFITS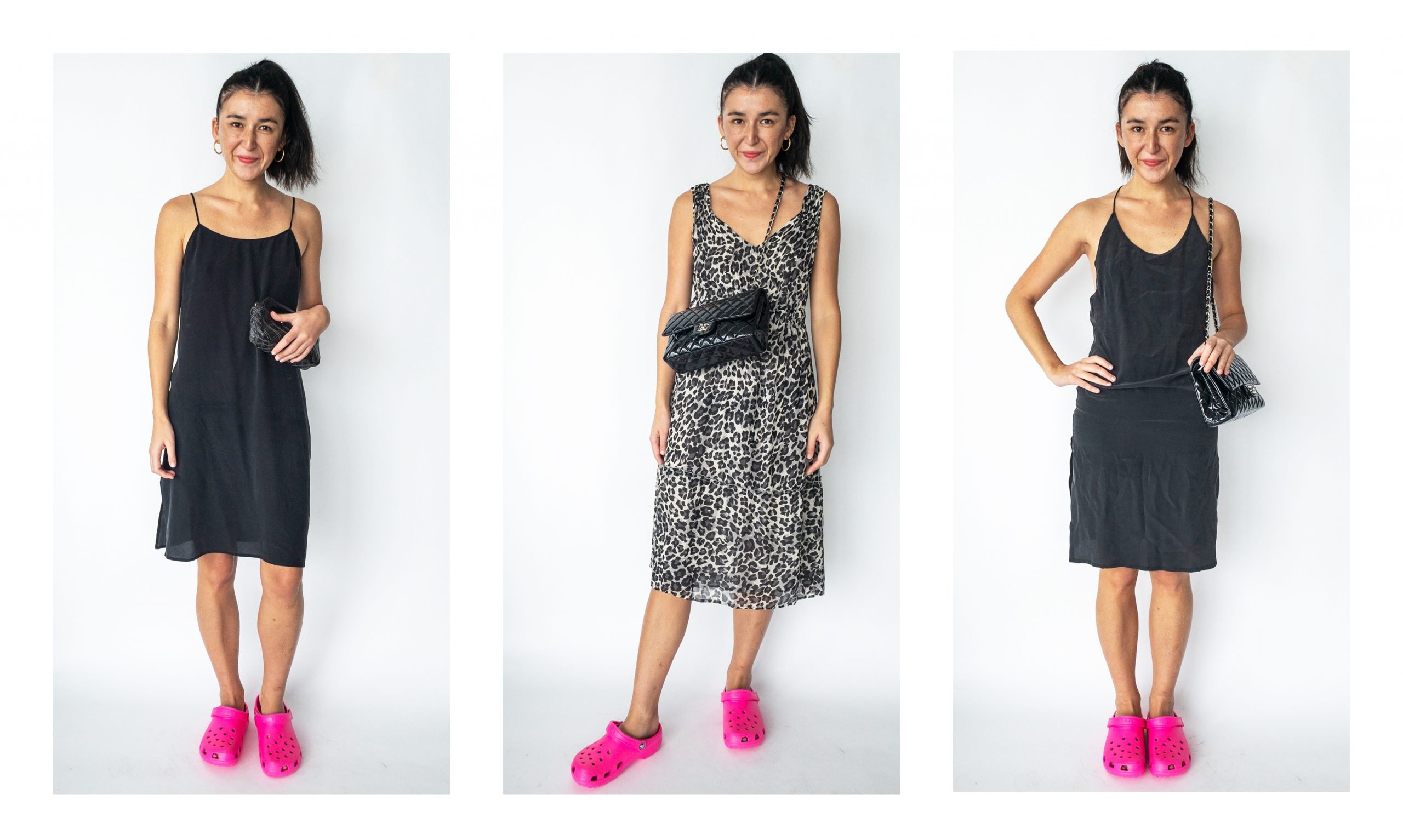 Focus: The high hair with the midi-length dresses adds more vertical space to your outfit. It also helps negate the slouchy feel of the Crocs.
---
You Might Also Be Interested In…
… after all, the same Croc-styling principles kinda apply to wearing Birkenstock Boston clogs as well.
---
CROCS WITH JEANS OUTFITS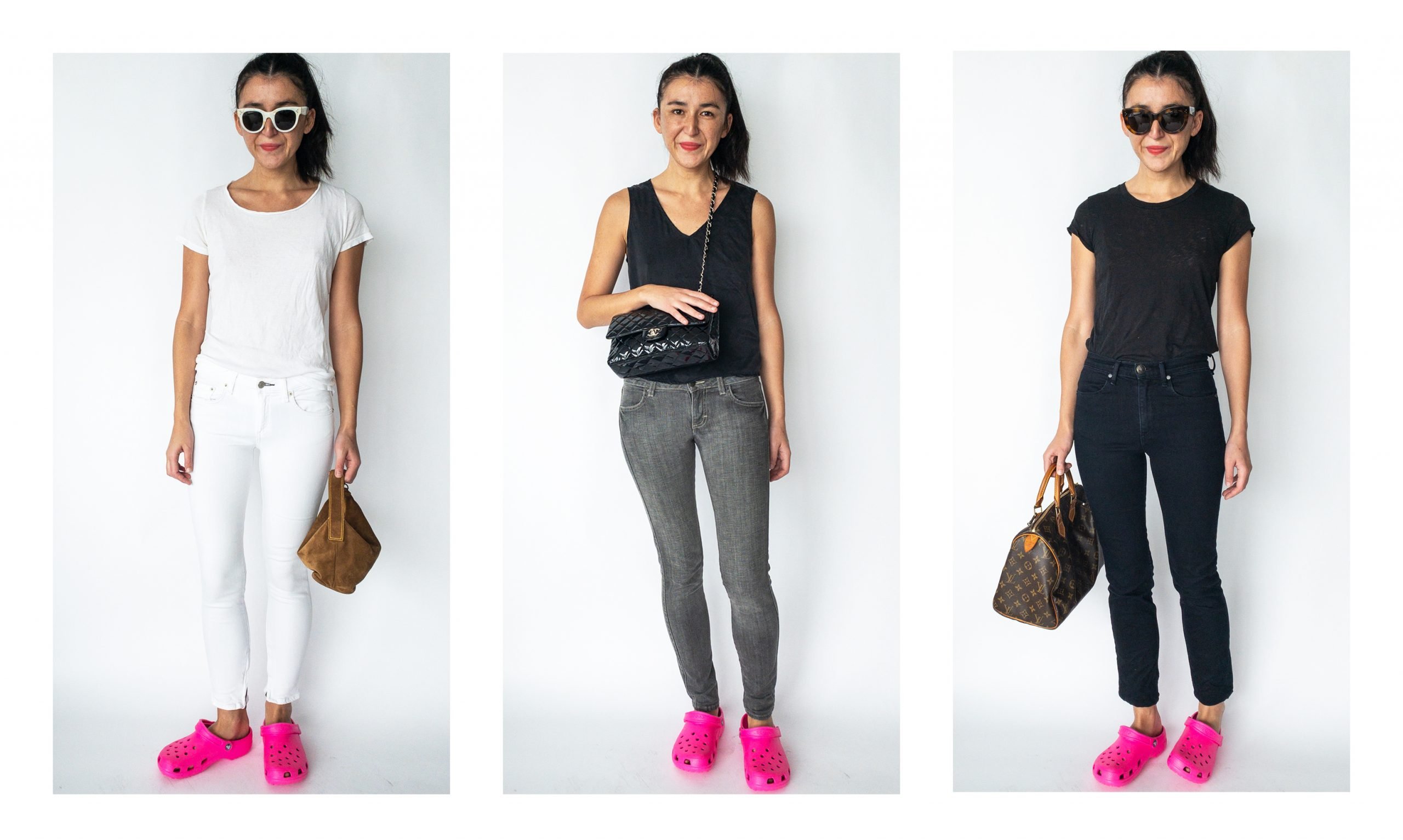 Focus: Jeans and a t-shirt never fails… even with Crocs! If you keep the outfit simple, you are more likely to make it work.
---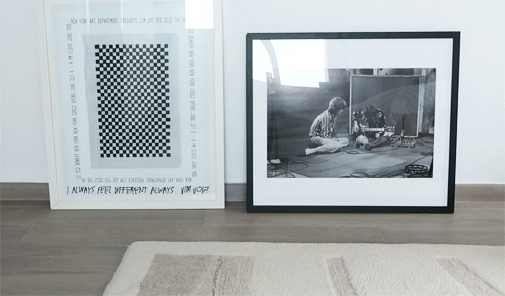 While I think that I managed to make Crocs look (relatively) cool and wearable, what do you think?
Are you into it? Or do you think this article is just a croc(k) of ??
Would you wear Crocs?
Let me know in the comments!
Note: newinspired uses affiliate links which costs you nothing… but means a lot to me. When you use these links, the money newinspired earns gets reinvested in blog content. Absolutely nothing on newinspired is "gifted," I purchase each item with my own money. Affiliate commissions are used to purchase new items to honestly & thoroughly review. If you found this review helpful, consider using them to support newinspired.
---
YOU MIGHT ALSO BE INTERESTED IN…