Do you remember the first time you saw a LoveShackFancy dress?
I (weirdly) do.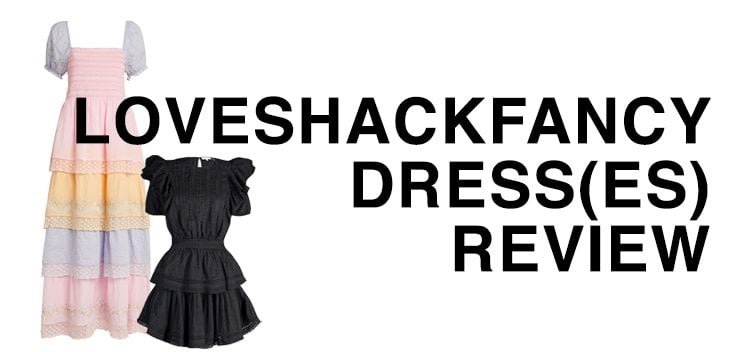 This is so random, but I saw a photo of Selena Gomez wearing a dress in 2018 and was like "who is this by???" — the dress was almost as cute as she is!
Then, I figured out it was from LoveShackFancy.

… then, a couple years later, LoveShackFancy is now carried at, like, every online retailer.
So here we are, even more years later, finally reviewing LoveShackFancy's sizing and quality with the Natasha dress and Capella dress.
LOVESHACKFANCY SIZING
For reference, I'm 5'5.75" and weigh 115-117 lbs.
For comparison, here are some sizes I normally take:
-US 2, in HVN or Reformation
-Small, in T-Shirts
-UK 6-10, in ALEXACHUNG or RAEY
-FR 34-38, in Isabel Marant or Rouje
Now let's get into sizing…
LoveShackFancy Natasha Dress Sizing
My LoveShackFancy Natasha dress, in black, is a size S.
LoveShackFancy's Natasha dress fits true to size.
The Natasha dress' tiered skirt is shorter in the front than the back, but still flatters shorter legs.
If you drop something on the ground and need to pick it up, you don't need to be too worried about bending over since it's longer in the back.
The top's double ruffled sleeves might look overwhelming, but they're really just a lot of fluttering fun.
The Natasha dress' back is held together by two dainty hook & eye closures.
While the elastic waist is especially accommodating after one of those food & wine filled everlasting summer meals.
---
LoveShackFancy Capella Dress Sizing
My LoveShackFancy Capella dress, in Ambrosia Garden, is an XS.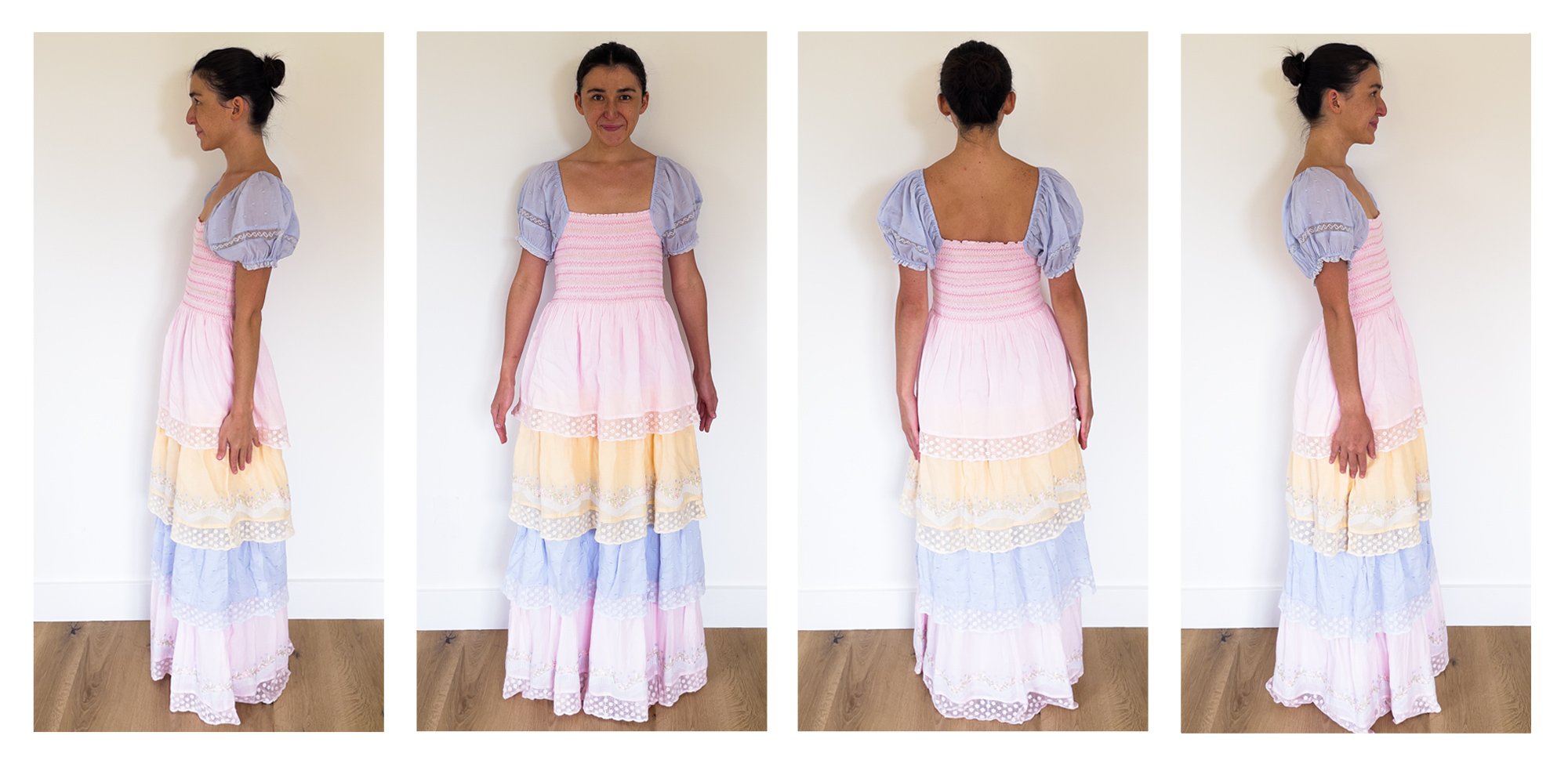 After my Hill House Home Ellie dress' smocked top stretched out too much, I figured that going forward I should size down in elasticated top dresses.
… so, here we are with LoveShackFancy's Capella dress in an XS.
The elastic smocking feels tight and less prone to stretching out.
The Capella's capped sleeves start a sweet feeling flowing.
The pastel multi-coloured tiers basically beckon you to play Selena's BFF Taylor Swift's album Lover.
While this LoveShackFancy dress is a maxi dress and long, it's not overwhelmingly long on my 5'5.75" frame — like I need to pick it up so it doesn't drag, but it doesn't look too long on me.
---
IMPRESSIONS
With the pastel tiers of pure cotton, periwinkle puff-sleeves, and delicate embroidery along alternating layers.
View this post on Instagram
The Capella dress makes you feel like you're somewhere between the start of a Disney Princess movie and the middle of a Taylor Swift album.
… while the Natasha dress' subtle Western undertones (layers of lace!) transports you to the Old Wild West.
View this post on Instagram
Layers of ruffles and black lace — you're basically a modern day Maeve Millay (was she technically modern though since Westworld was a twisted theme park in current times???).
---
PROS & CONS
Pros
–100% cotton: You know how much I like cotton dresses — they're just so easy and so comfortable.
–Machine washable: Thank you for helping the environment… and my chequing account.
–Little details: I'm a sucker for a hook & eye closure, like on the back of the Natasha dress.
Cons
–Hook & eye closure on the Natasha dress: Don't get me wrong, I love hook & eye closures — however, they're tough to do up by yourself since they're on your back.
–No hang strings: For the price ($445 USD) and the smocking, hanging the dress regularly feels like it will stretch it out too much — so I drape it across the hanger bar.
---
"SHE'S A DREAMER, A LOVER, ELEGANTLY ETHEREAL, AND ROMANTIC AT HEART…"
-LoveShackFancy's mission statement
From being a Taylor Swift listening teenager to an independent Western woman (spoiler: Maeve gains control of herself!), LoveShackFancy's dresses will take you up, down, and around all your feelings.
… but most importantly, they'll make you feel like the most free version of yourself.
LoveShackFancy is available from multiple retailers including MyTheresa, Revolve, and Shopbop, among other retailers.
My LoveShackFancy's Natasha dress, in black, is available at Shopbop for $295 USD.
… and you can find the Capella dress at Harrods for $534 USD.
Note: newinspired uses affiliate links which costs you nothing… but means a lot to me. When you use these links, the money newinspired earns gets reinvested in blog content. Absolutely nothing on newinspired is "gifted" or sponsored, I purchase each item with my own money. Affiliate commissions are used to purchase new items to honestly & thoroughly review. If you found this review helpful, consider using them to support newinspired.
---
You might also be interested in…