My style in Panamá has changed significantly since I first moved here in 2016.
What started as, "I'll wear leather ballet flats and jeans with a nice top and maybe some extra accessories like a belt or three necklaces! Oh, should I use my suede Proenza PS1 or my Chanel patent leather bag tonight?"
Quickly morphed into, "what's cleanest, comfiest, and coolest?"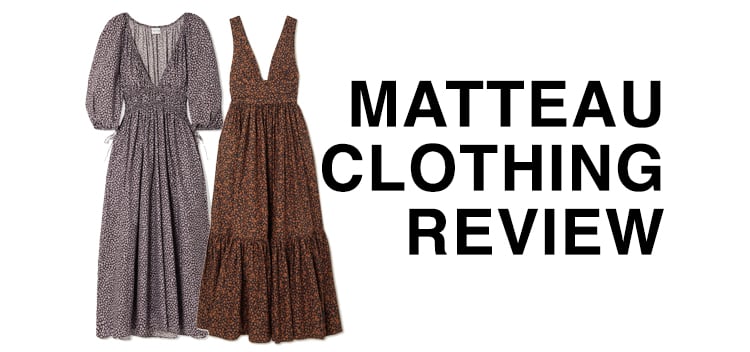 … and by "coolest," I mean temperature wise — not aesthetically.
Somewhere in between the swaps of leather belts for stretchy waistband dresses, or, lambskin Repetto flats for rubber flip flops, I've felt less "me."
It's as though a spark in my style is slowly being extinguished in all this heat.
All this to say, I've figured out a fix for this newly realised conundrum:
Matteau dresses.
---
Matteau Dress Sizing
For reference, I'm 5'5.75" and weigh 115-117 lbs.
For comparison, here are some sizes I normally take:
-US 2, in HVN or Reformation
-Small, in T-Shirts
-UK 6-10, in ALEXACHUNG or RAEY
-FR 34-38, in Isabel Marant or Rouje
In Matteau dresses I either take a…
Matteau size 1 for the Shirred Plunge Dress (in "Purple").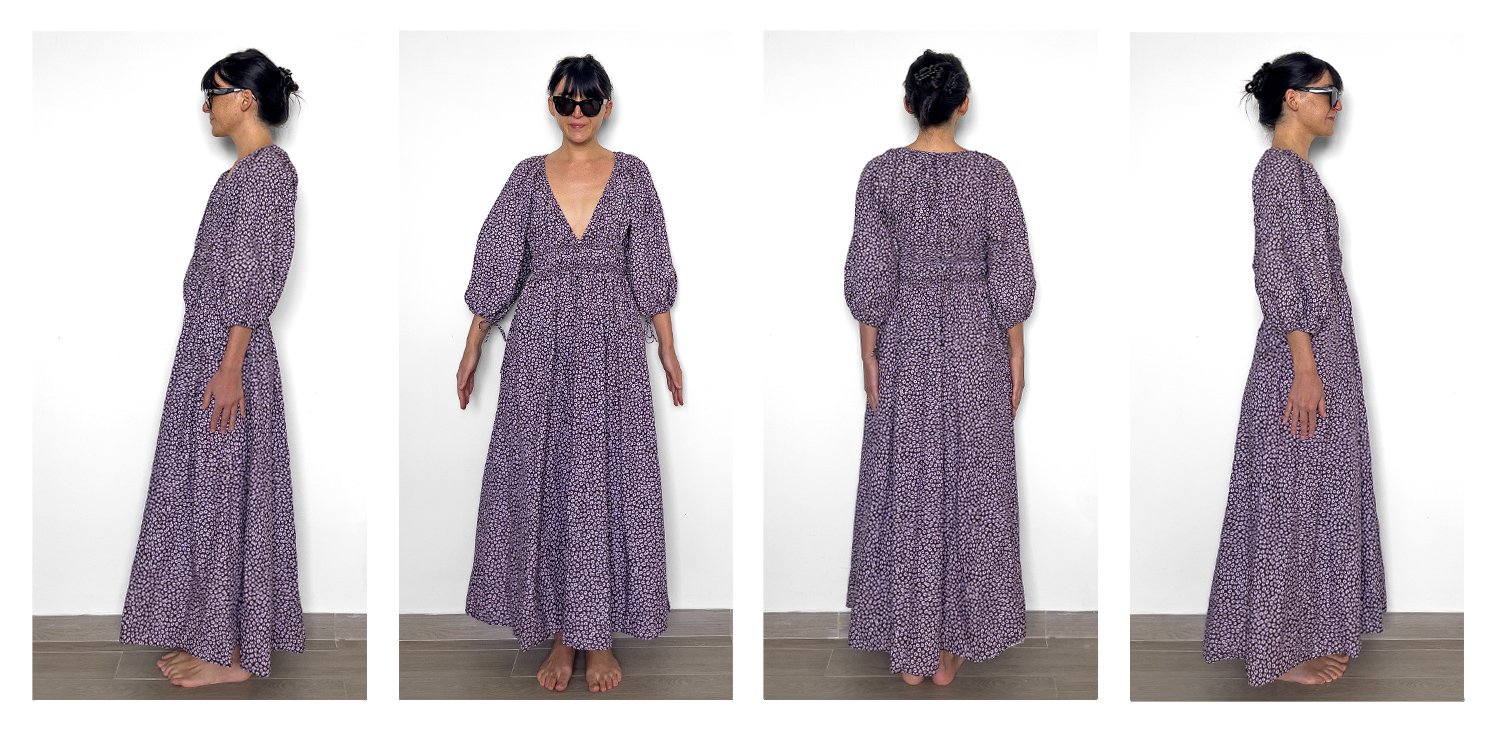 A lot of the usual suspect sites (Net-A-Porter, Matches, etc…) all showed their model wearing this dress in a size 2.
However, I was like, "it looks stretchy and Kirna Zabête has it at 50% off in a size 1, so let's try a size '1'."
A size 1 fits totally fine.
… and that's largely because of the stretchy waistband.
Although, at 5'5.75" I do need to hold the dress up when I walk up stairs in either size, but when you're just walking around, the dress length is perfect.
However, I took a size 2 in Matteau's "Marigold" Tiered Plunge dress.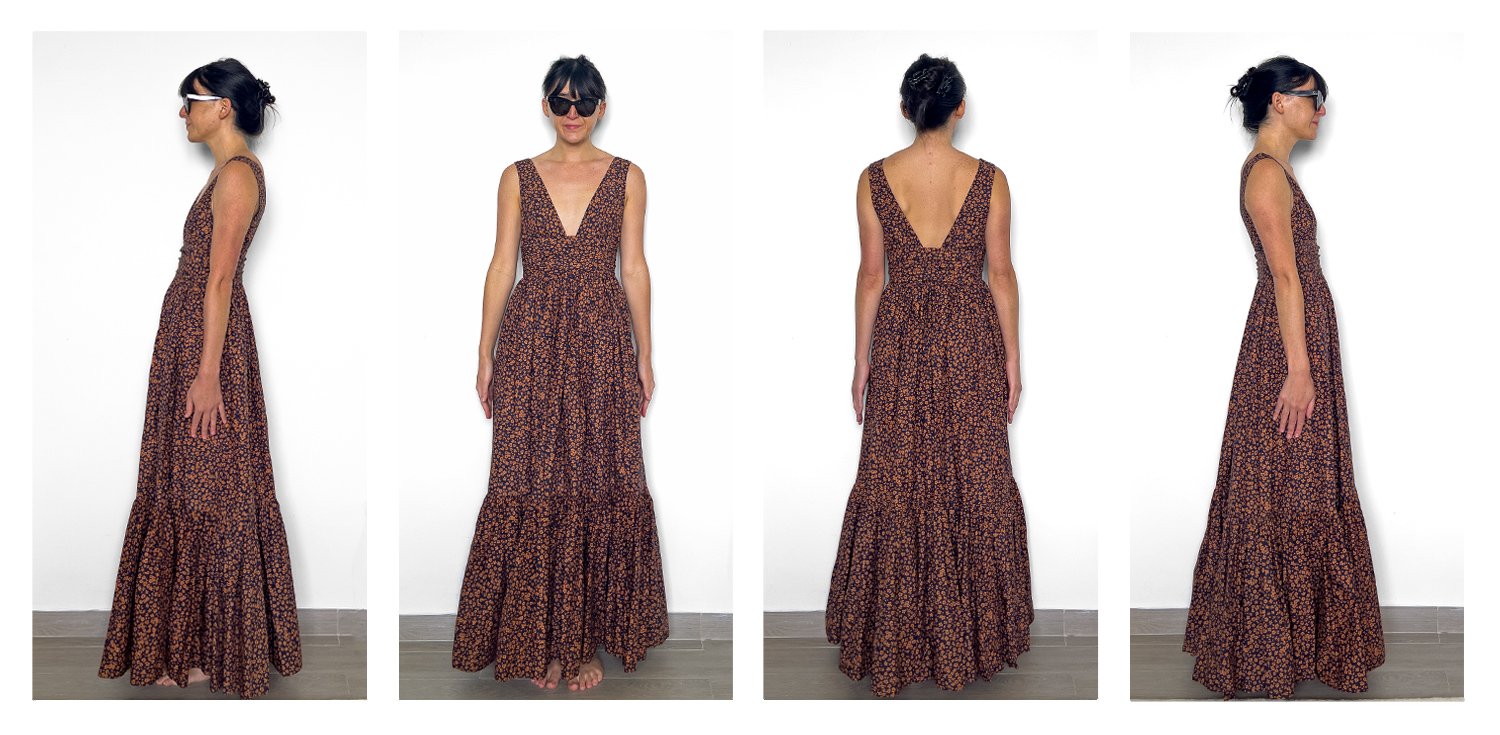 I thought Net-a-Porter and all the other sites that had this dress were lying when they said their model was in a size 2.
… but, I ordered it in a 2 anyways.
It's an insult to the dress to only say, "the fit is perfect."
The plunge is perfectly deep.
The bodice is fitted, but still allows you to breathe.
The length flirts with skimming the floor, but doesn't sweep it clean.
Run, don't walk to order this dress.
---
You might also be interested in…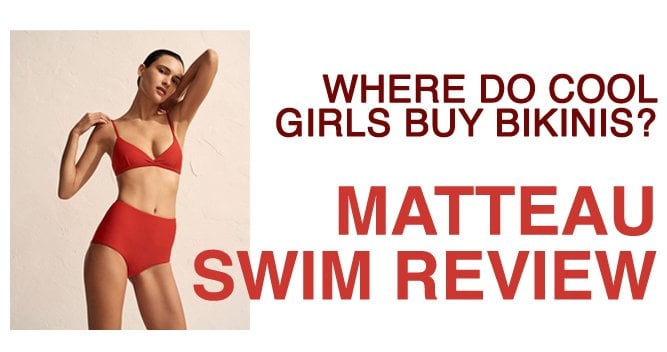 ---
Impressions
These dresses are something special.
Their alluring plunge necklines strike the perfect balance between sexy and classy, thanks to the elegant dress length.
… and the cotton material is perfect for keeping you cool in the sweltering heat.
Plus, these dresses have fully-functional pockets — it's the little things, you know?
Thanks to these convenient pockets, you could even ditch your handbag, lightening your load for a carefree day or night.
… and these eye-catching prints speak for themselves, requiring minimal jewelry — simply snap on a pair of earrings to complete your look.
All this to say, Matteau dresses are arguably the ultimate hot-weather dress.
---
Pros & Cons
Pros
–100% cotton: 100% what you need in endless sweltering summer weather.
–Plunge: I LOVE the deep plunge on these dresses. The length (maxi, although you can get them in mini) is perfectly offset with the deep v-neck and makes the dress so well-balanced.
–Pockets: FINALLY, chic (and easy) dresses that have pockets.
–Goes on sale: The long sleeve purple Matteau plunge dress was 50% off on Kirna Zabête, while the sleeveless plunge dress was 20% off on Net-A-Porter. I probably could have gotten a better price for the latter, but I really wanted it quickly for a trip I was going on, so settled for the 20% "SPENDTOSAVE" sale.
Cons
Only Matteau price tags, but they do go on sale…
---
The thing is, I started out excited to translate my wardrobe to Panamá's steady 30°C/85°F+ heat.
… but, my enthusiasm wasn't sustainable.
Maybe it's laziness.
Maybe it's part of getting older.
Maybe it's just that effortless cotton dresses are simply better to wear when it's so hot out.
… all I do know is that Matteau dresses are worth every penny.
Note: newinspired uses affiliate links which costs you nothing… but means a lot to me. When you use these links, the money newinspired earns gets reinvested in blog content. Absolutely nothing on newinspired is "gifted" or sponsored, I purchase each item with my own money. Affiliate commissions are used to purchase new items to honestly & thoroughly review. If you found this review helpful, consider using them to support newinspired.
---
Enjoy this? You'll probably like this one too…