"I just wanted a shirt that I could go back to over and over again."
-Karla Welch, xkarla.com
If you know me IRL, there's a chance you've heard my Justin Bieber story.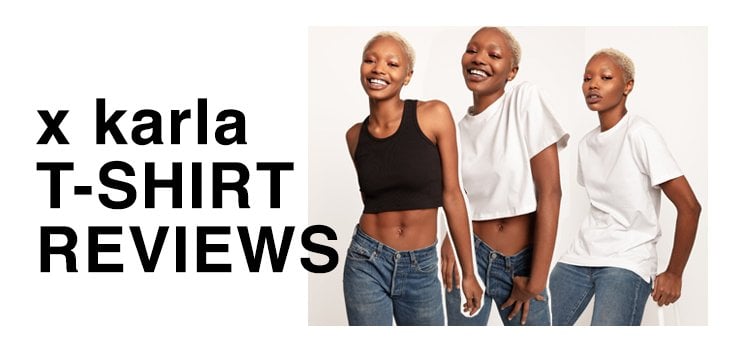 The TLDR is that in fall 2007, on a school field trip to Stratford, ON, my graduating class saw the sweetest little boy busking outside the Avon Theatre playing covers of love songs. All the girls in my grade were swooning and throwing $20 bills in his guitar case to keep him strumming on.
… three years later, I was paying $150 to see that same boy play original love songs inside of Madison Square Garden.

In case you didn't get it, that boy was Justin Bieber.
Basically, I'm a Belieber — not an "I photoshop my head on Hailey's body" kind of obsessed JB fan, but more of a Belieber who simply, well, beliebves in him.
… but this review has nothing to do with Justin Bieber.
It's all about Karla Welch… and her t-shirts.
TELL ME MORE ABOUT KARLA WELCH
OK, this is important.
Do you remember the iPod commercials?
Yeah, that one.
Before she was styling our favourite celebrities, Karla Welch styled the most important cultural figure of the 21st century — the iPod.
While I appreciated the looks, outfits, and editorials that Karla created for Ruth Negga, Olivia Wilde, Judy Greer, and every other celebrity she's worked with, I wasn't closely following her… until I became obsessed with Justin Bieber's recent looks.
They are just SO DAMN COOL.
… like it's total Tom Delonge Boomer skeeze mixed with a dash of Hedi Slimane's Surf Sound Saint Laurent collection and topped off with complete Bieber charm, right?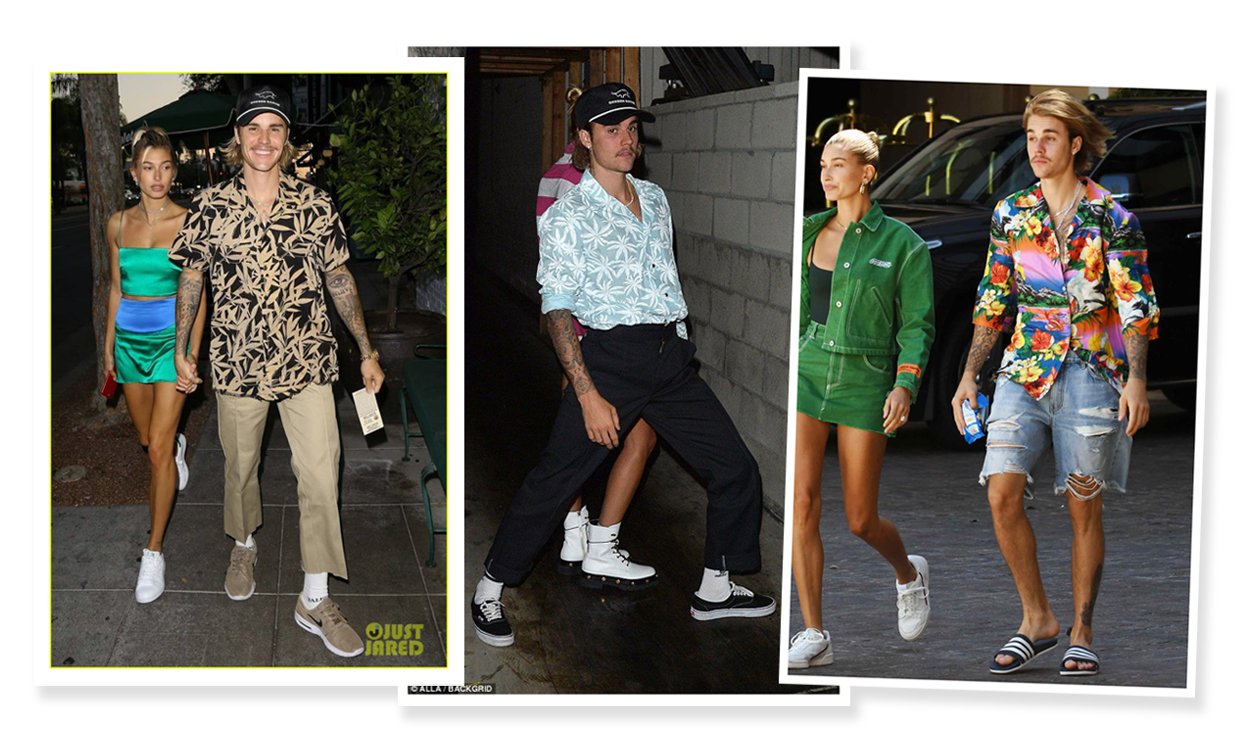 I had to know who his stylist is — sure enough, it's Karla Welch.
Those looks are how my fascination and literal (digital) following of her styling began.
… my obsession followed suit, when I saw that she stands up for a lot of what is right in the world and, like me and JB, Karla is also Canadian.
For way more information on all of her accomplishments, this New York Magazine profile summarizes everything she's done way more eloquently than I ever could.
In 2017, Karla Welch started her own clothing line, x karla, which she founded with her husband, Matthew, which brings us back to the actual point of all this…
x karla T-Shirt Sizing
To preface this section, I'm 5'5.75", weigh 115-117 lbs, and am ~32A.
I give this information because I find it useful for comparing sizing.
For comparison, here are some sizes I normally take:
-US 2, in HVN or Reformation
-Small, Rag & Bone T-Shirts
-UK 8, in ALEXACHUNG
-FR 34-36, in Isabel Marant or Rouje
… and you can catch all my t-shirt sizes & reviews in the "Tee-Off."
So you can judge the t-shirt's opacity, I'm wearing a black bralette underneath… and so you can judge its length, I'm wearing low-rise jeans.
The Crop Tank
My x karla the Crop Tank is a size small.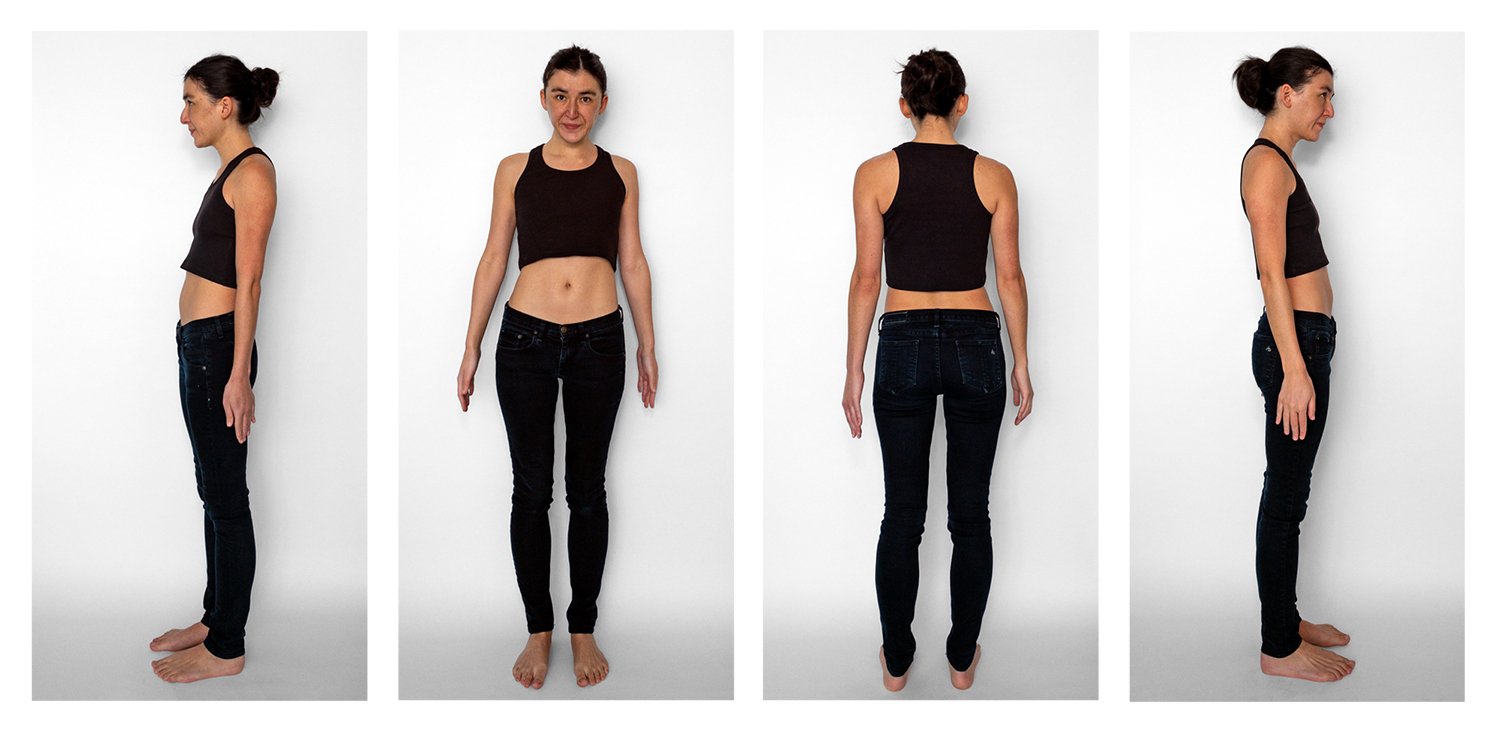 Tracee Ellis Ross, Hailey Bieber, and Megan Rapinoe are not lying when they call it the best tank ever.
Copped with just enough spandex to fit comfortably, x karla nailed it with this one.
The Baby tee
My x karla the Baby tee is a size medium.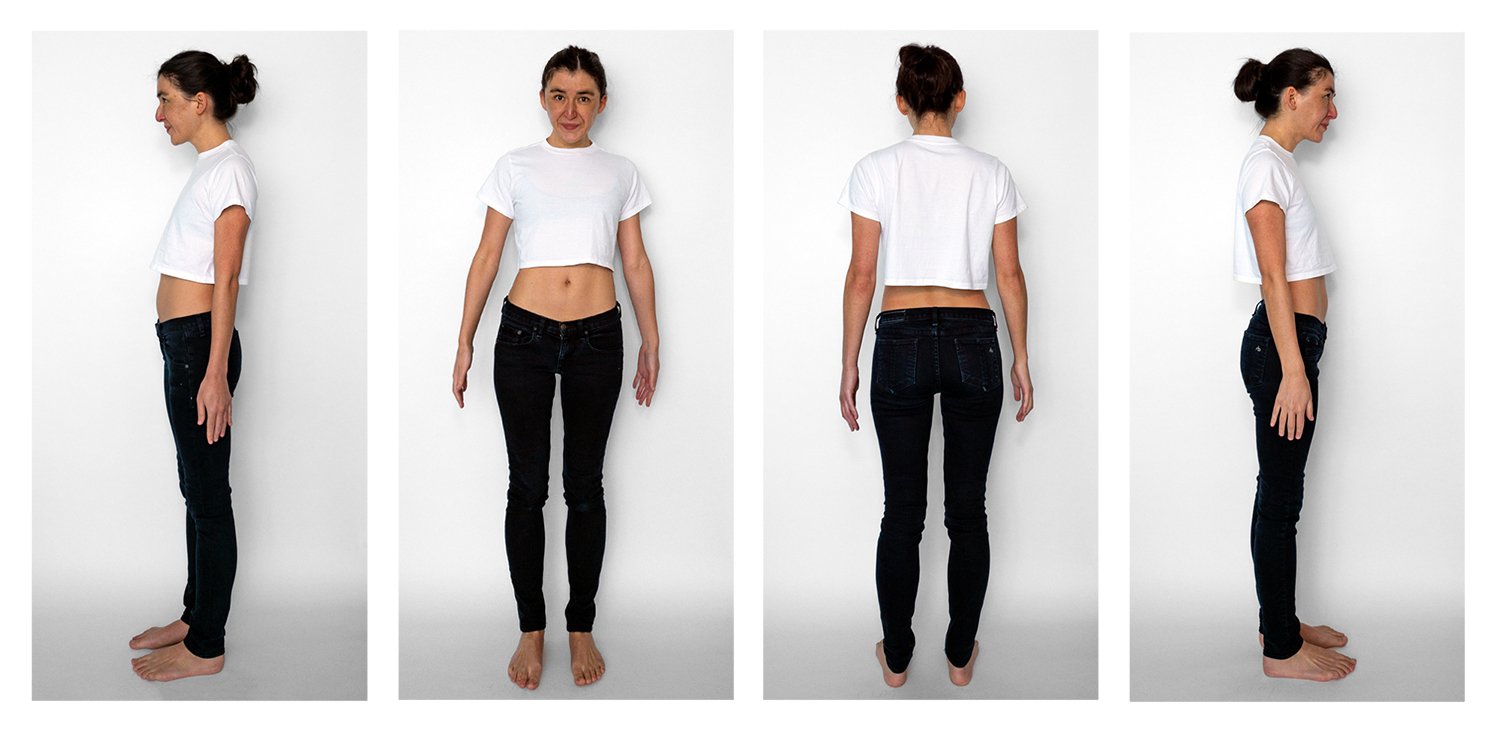 A size up from my usual t-shirt size, the Baby tee is so much more comfortable when it's a little bigger.
I tried a size small, but ultimately a size medium looked and fit better.
The Classic tee
My x karla the Classic t-shirt is a size small.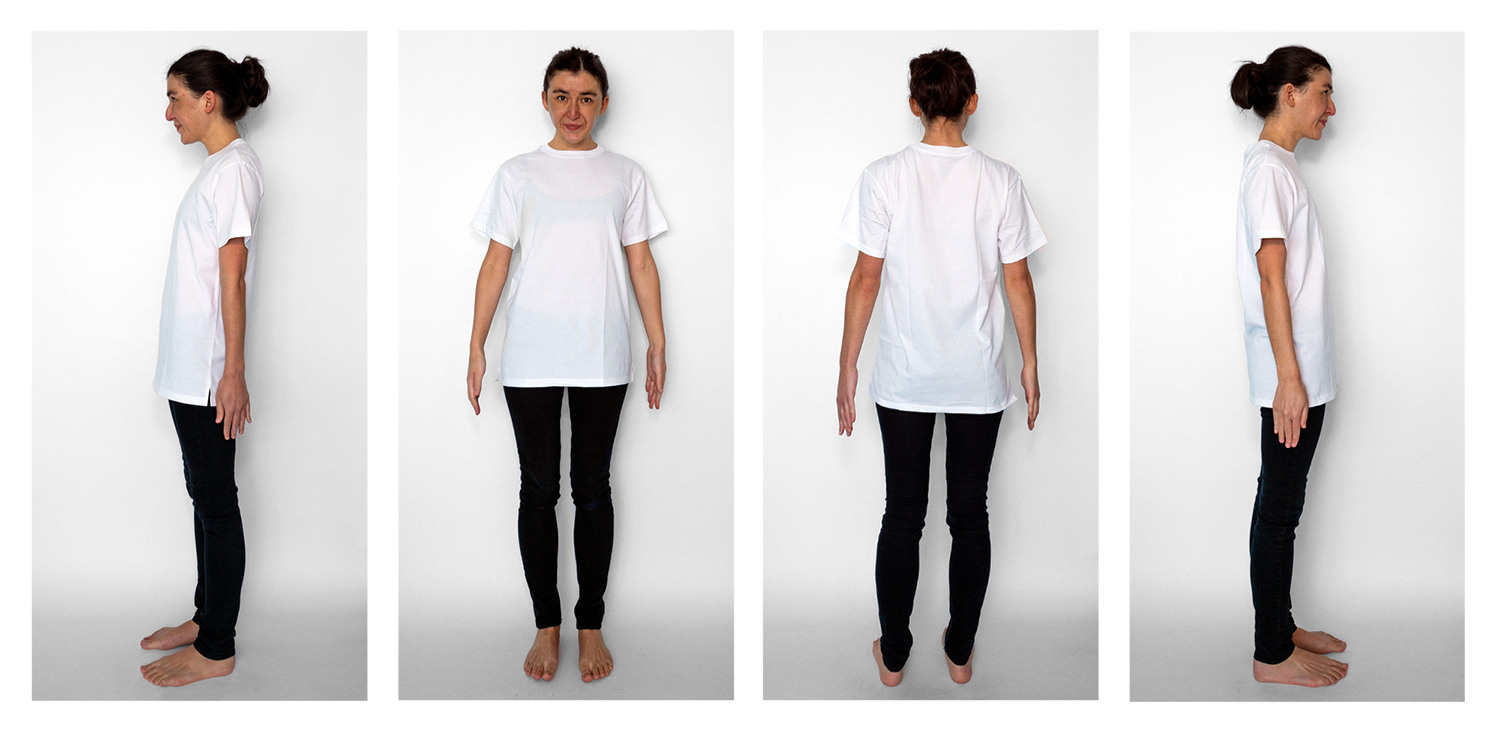 This t-shirt is gender-fluid, so I took a usual size small instead of a medium (like the Baby tee).
Most of x karla tees run a size small and this one is a massive exception.
Look at how the shoulders spill off my own.
… and how spacious the body is.
If you want an oversized-in-all-the-right places kind of t-shirt, this is it.
TLDR: Unless the t-shirt is gender fluid, size up. For tank tops that have spandex in them, take your usual size.
---
x Karla T-Shirt Quality
Let's put x karla's t-shirts to a "pseudo-scientific lab report" test!
For the sake of fun, this white t-shirt quality series is called the "Tee-Off" — I would score it like a round of golf, but I only make it to the sand traps.
Note: This is just my experience, yours could differ.
Hypothesis
x karla's The Classic tee will wash well and hold up over multiple washes.
Air-drying clothes is better for the environment and the garment, so I'm still not going to pop it in the dryer though.
The Classic tee feels slightly heftier than my boyfriend's regular Hanes tees.
The cotton and stitching feel totally secure
Basically, the shirt will be totally fine.
Materials
-x1 x karla the Classic tee
-x1 Pair of pants (yoga pants, sweatpants, or whatever).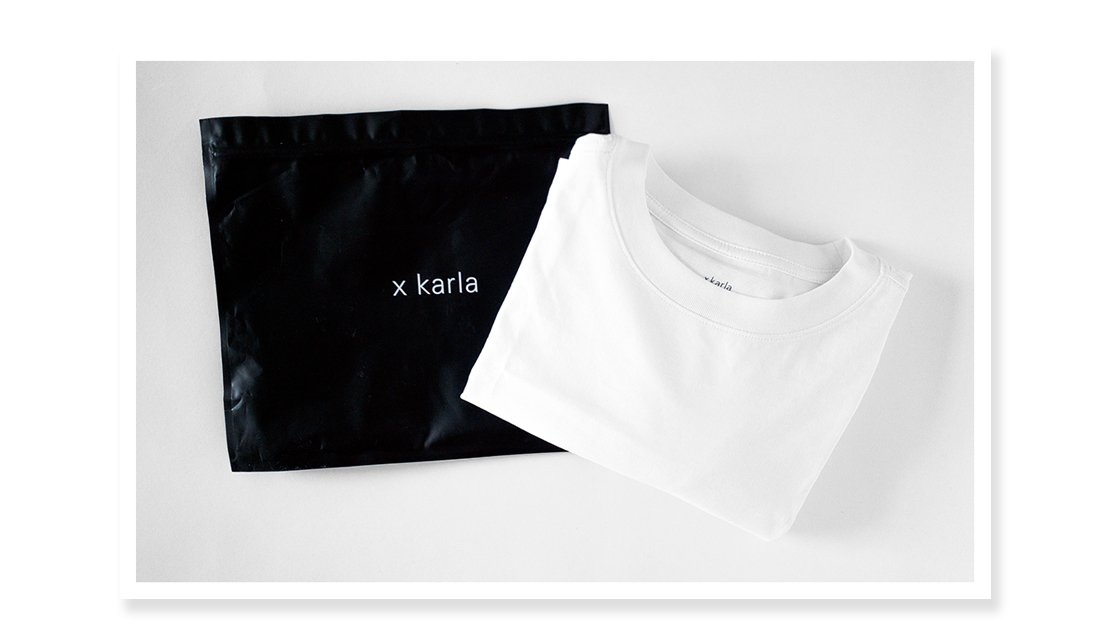 Method
1- Tee must be worn for at least 5 days
2- Tee must be tucked into pants
(To test for pilling or stretching)
3- Tee must be washed & dried at least once
(… and use Shout any stains)
Results
Everything about wearing this t-shirt was effortless.
It was comfortable, not too sheer, and washed well.
… like it washed so well that there are no small pills to report.
Conclusion
I proved my hypothesis was correct.
x karla's The Classic tee held up to wearing and washing.
It didn't shrink, it kept its shape, and its optic white colour.
… plus, when I do finally leave my house, styling this perfectly oversized tee will be a breeze…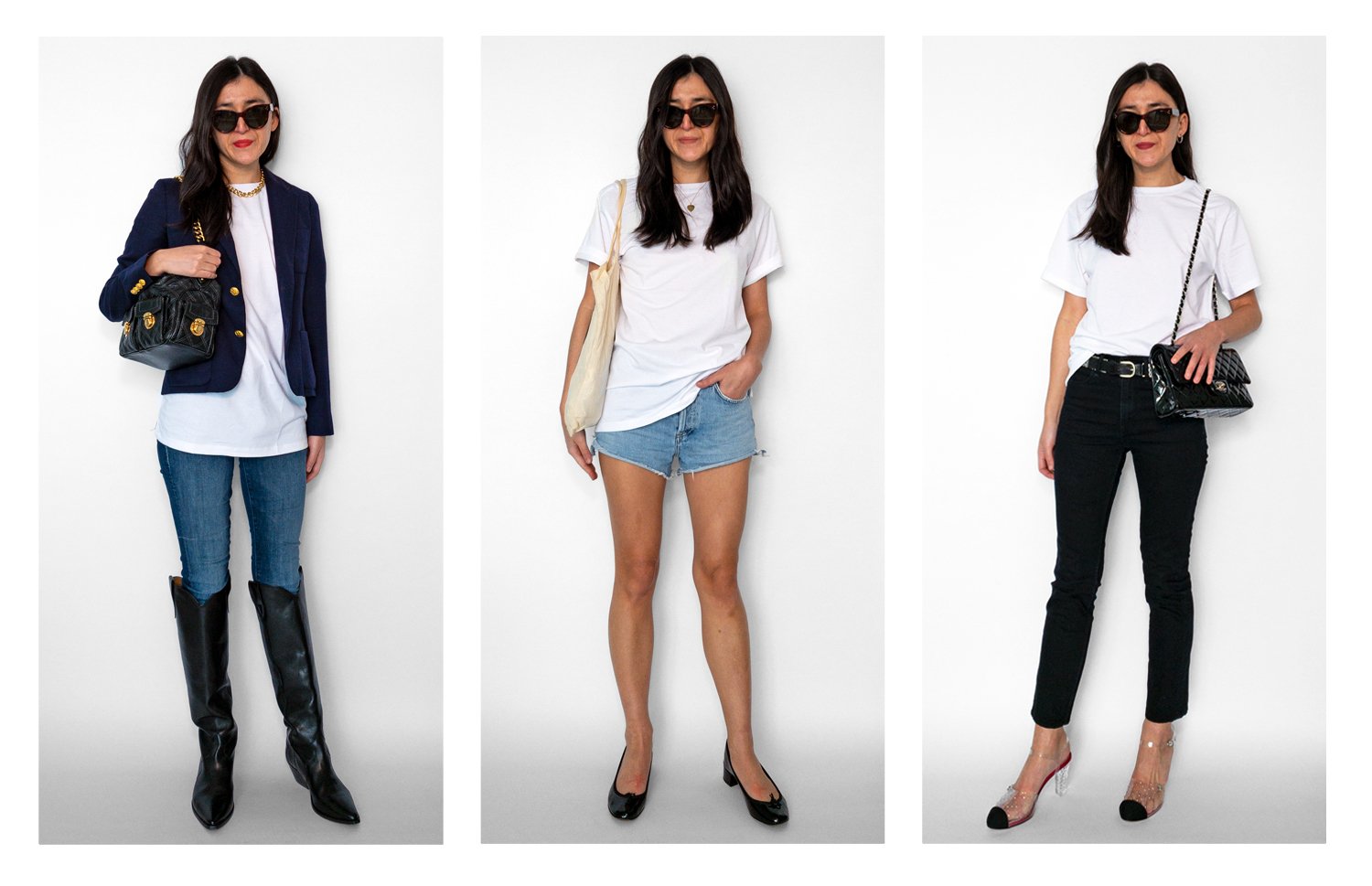 Left to Right: Rugby Ralph Lauren blazer with MOTHER jeans, a Dorsey necklace, Isabel Marant Denvee boots, and a Marc Jacobs bag; AGOLDE Parker denim shorts, with an In God We Trust NYC necklace, a tote bag, and Repetto Camilles; Rag & Bone Cigarette jeans with an Isabel Marant x H&M belt, Chanel Métier D'Art 2017 Mary Janes, and a Chanel Classic Handbag.
---
PROS & CONS
Pros
–100% cotton
–Quality tested
Cons
–Runs small: Except for The Classic tee, order a size up… these tee's are tighter than JB & Hailey.
---
"My prize possession
One and only
Adore ya girl I want ya
The one I can't live without"
-"Favorite Girl," Justin Bieber (2010)
No matter what's popular today, there's one item that you can never knock off the charts:
A simple white t-shirt.
From Karla Welch to Geraldine Saglio, a humble white tee is every stylists' secret weapon.
… and "that's you that's you," x karla's classically simple t-shirts.
Where to Buy x karla
x karla tees are available from MatchesFashion, Revolve, Shopbop, and xkarla.com from $48 USD.
Note: newinspired uses affiliate links which costs you nothing… but means a lot to me. When you use these links, the money newinspired earns gets reinvested in blog content. Absolutely nothing on newinspired is "gifted" or sponsored, I purchase each item with my own money. Affiliate commissions are used to purchase new items to honestly & thoroughly review. If you found this review helpful, consider using them to support newinspired.
---
You might also be interested in…