I know, the Mikoh Hermosa bathing suit top is actually named for the beach in California, Hermosa Beach — not the actual Spanish word, "hermosa"… But the Mikoh top es muy hermosa.
A few days ago I wrote a super comprehensive review of 20 Mikoh bikinis. But a few days ago was also my birthday and I received a new Mikoh bathing suit for it!
The Hermosa top in lychee and the Zuma bottoms in lychee!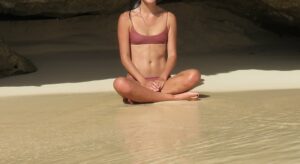 My mass review was very flip floppy "this one is perfect!" "No, THIS one is perfect!" I couldn't make up my mind which of my Mikoh bathing suits I liked the most. That was pre-Hermosa though.
…