Wednesday: Took a visit to my old high school to see their new auditorium, where the school plays and academic ribbon ceremonies now take place, and to learn more about donating a seat.
To be clear, it's not like I live in Bruce Springsteen's song "Glory Days."
While high school could've been better, it also could've been worse.
At the end of the day though, it gave me a strong sense of self and some of the sweetest friends.
I ended up learning that you could inscribe a message on the seat that you donate. So I took great pleasure in giving back to my alma matter and leaving a sweet message to other girls who never got an academic ribbon either.
Wore my "most capable" outfit, which mostly means Chanel pieces.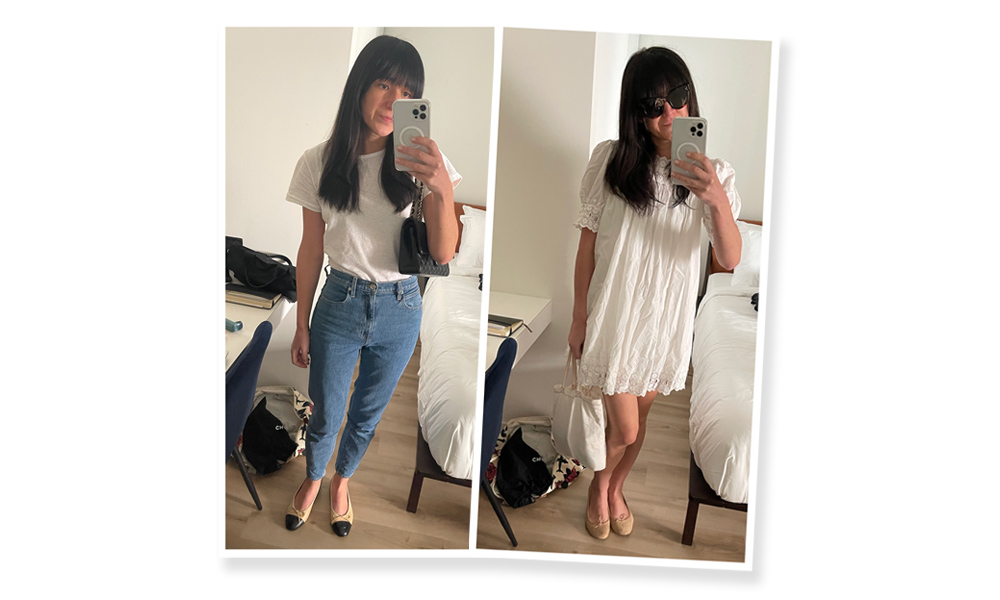 Wednesday, left: SLVRLAKE Beatnik jeans with a Re/Done t-shirt, Chanel Classic Handbag, and Chanel ballet flats; Sunday, right: Dôen Sterling dress with Repetto flats.
Sunday: Lunch (not "brunch") with Sheila and our other friend from high school.
We went to the restaurant that my mum and I always went to, Chez Nick, in Westmount.
Growing up I either had violin lessons around the corner or a standing every-day-after-school appointment at the Children's Hospital for my eczema.
My eczema was so bad when I was little that I was used in clinical trials (unsure if you might spot the lingering scars in shoe sizing reviews!).
For half a year my mum would drive me downtown every day so I could stand under some UV lights for 1 minute, then drive back to Hudson (it didn't end up working). After that appointment, we'd usually go to Chez Nick's to wait out the rush hour traffic — I remember reading most of the Harry Potter books tucked in a booth with my mum reading the newspaper across from me.
Lovely to catch up with another friend, eat at Chez Nick's again, and hear what Sheila's been up to this week.
Diverted from my "brunch" uniform (of that HVN mini Morgan dress) and wore Dôen's Sterling dress instead.
Monday: Popped out to run some errands/pick up toothpaste.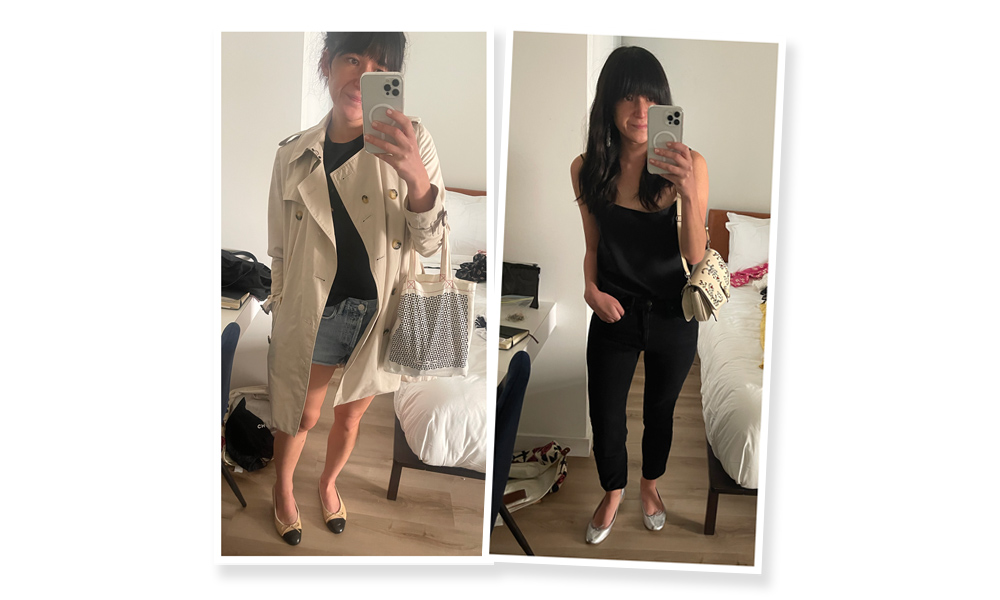 Monday, left: Calder Blake t-shirt with AGOLDE Parker shorts, Chanel ballet flats, and my old trench coat; Tuesday, right: The Row camisole with Rag & Bone Cigarette jeans, Isabel Marant x H&M earrings, Isabel Marant bag, and Repetto flats.
Tuesday: Met up with a girlfriend I've known since junior high for dinner at Donato (also in Westmount).
Coincidentally, her husband is from Wyoming, so right next door to Montana, where my husband and I now call home.
For whatever reason (i.e., previously looking at Lily Aldridge photos), I was feeling a more rock and roll look and manifested it in Rag & Bone Cigarette jeans with a The Row camisole.
Wednesday: Sheila suggested picking up my husband, Caleb (I don't think I've told you his actual name before, but for the sake of not constantly referring to him as "my husband," his name is Caleb… and yes, Lily Aldridge and I share our husband's name in common), from the airport!
Caleb's flight got in late and it was sooo thoughtful of her to suggest it then follow through with it.
We took him to Orange Julep at 1:15am, because it's the perfect spot for a late-night Montreal meal.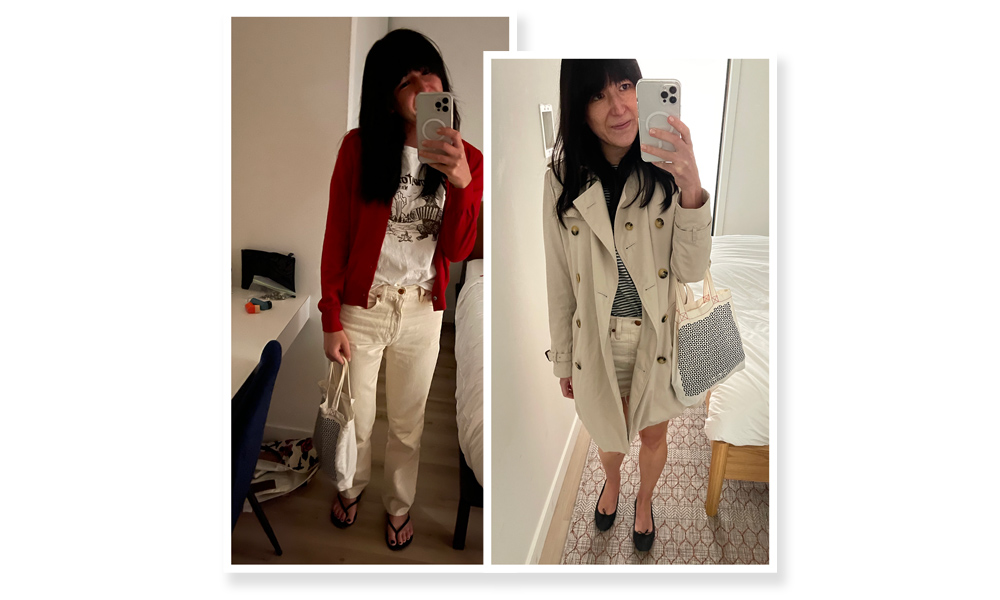 Wednesday, left: SLVRLAKE London jeans with a tee from Yellowstone, CDG cardigan, and TKEES flip flops; Thursday, right: Madewell denim shorts with a Nili Lotan longsleeve, Repetto ballet flats and my old trench.
Thursday: Caleb and I went to Joe Beef for dinner… but, I forgot to take a photo of my outfit.
This is what I wore during the day while I was pointing out everything that was new in Montreal to me, despite everything being new to him anyways.
Friday: OK, so I'm unsure if I should write "Cassandra joined us for dinner" or "Caleb joined us for dinner," because it's Cass' favourite restaurant.
In any case, the three of us went to Leméac for another A+ dinner.
Super sunny day, so took this Réalisation Par dress out for a spin ahead of its upcoming review.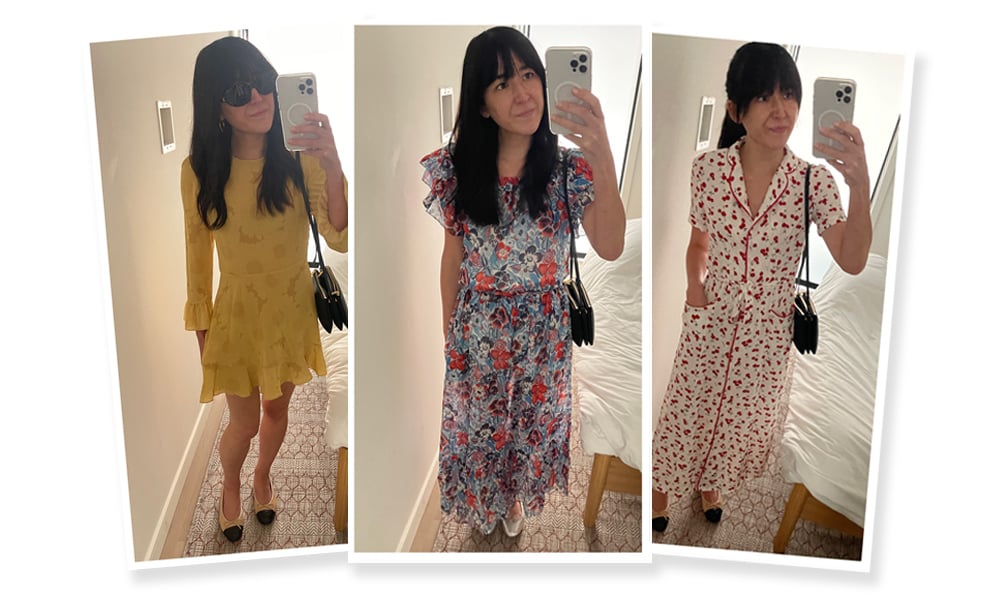 Friday, left: Réalisation Par Mary Jane dress with Jennifer Fisher x Goop hoops, Chanel ballet flats, and a Celine Small Trio; Saturday, middle: The Vampire's Wife Charmer top and matching Loyalist skirt with Repetto ballet flats and a Celine Small Trio; Sunday, right: HVN Long Morgan with Chanel ballet flats and a Celine Small Trio.
Saturday: Caleb and I went to the Nick Cave exhibition over by Place des Arts, so I dressed for the occasion in my The Vampire's Wife top and skirt that I purchased over the holidays.
Afterwards, we got smoked meat at Schwartz — my 100th time, his first.
Sunday: Brunch at Marcus Samuelsson's restaurant at the Four Seasons with one of my close friends from high school.
Such a joy to see her and introduce her to Caleb.
Afterwards my friend and I did our typical walk-about of Holt Renfrew… or that new Holt Renfrew Ogilvy nonsense.
Wore this HVN Long Maria cherry print dress, because I still wanted to wear HVN but am a little tired of the mini Morgan being my default brunch dress.
---
Are you into "brunch?"
Without any judgement or anything like that, I'd be remiss to not mention that I'm masking in public spaces and testing myself once a week to be extra safe since I'm seeing my girlfriends so often.