Frette : Linen :: Wolford : Tights
Rimowa : Luggage :: Wolford : Tights
Eres : Swimwear :: Wolford : Tights
If the SATS' analogies had been formed with designer items, my scores wouldn't have put me in remedial English.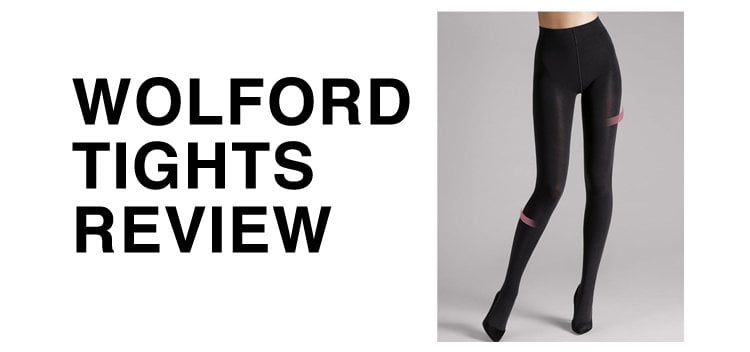 Sometimes there are no arguments what the "top of the line" item is.
New York Times, Racked, Jezebel, and thousands of women around the world all agree: when you want the best hosiery, you go to Wolford.

Ever since 1950, 1000+ people might say they're the best, but spending way over $15 USD on a pair of tights is still daunting… like, are they actually that good?
Let's investigate.
WOLFORD TIGHTS SIZING
For reference's sake, I'm 5'5.75" and weigh 115-117 lbs.
I give this info because it might be useful to you.
A sample of my sizes run below:
-US 2, in HVN or Reformation
-Small, in T-Shirts
-UK 6-10, in ALEXACHUNG or RAEY
-FR 34-38, in Isabel Marant or Rouje
–MOTHER denim, size 24-26
–Rag & Bone jeans, size 24-26 and a size 25 for denim shorts
My Wolford Individual 100 tights are a size small… but I should have taken an extra small.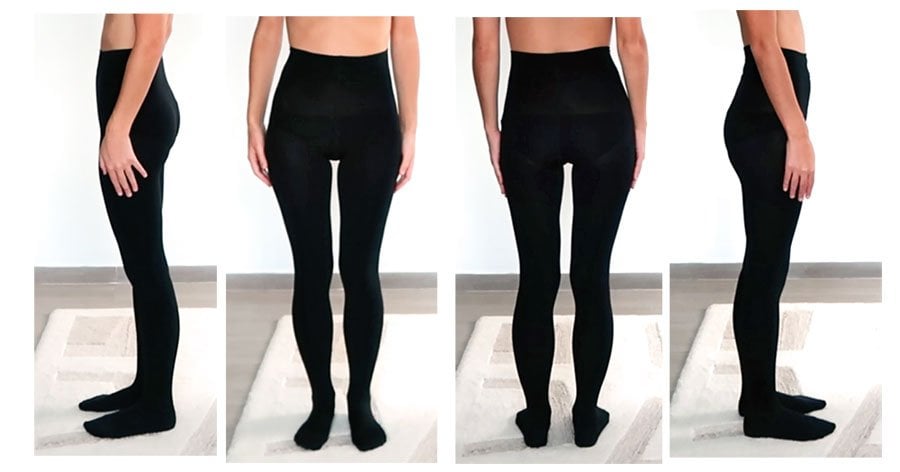 My tights from Urban Oufitters (c. 2009) were a size S/M, while my "cheapest tights on Nordstrom" tights (c. 2012) were a size small.
Wolford's sizing is based on a combination of height and weight. Below is their official size chart. I've highlighted the Imperial translations.
Note: Do NOT listen to their USA size recommendations, an XS is not for a US 4/6. Instead consider the XS = 0/2 USA and go up from there. Size conversions like this are notoriously inaccurate. If you know your FR or UK size, use that instead.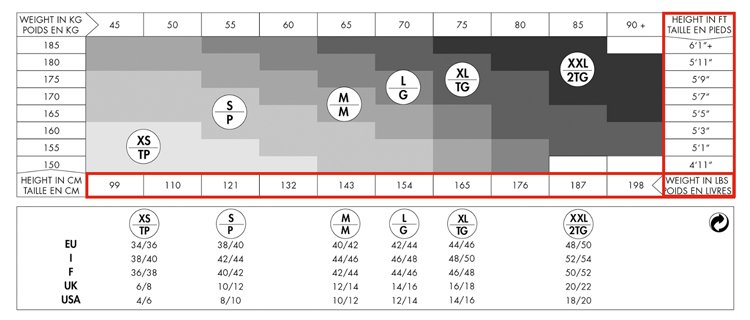 Based on my height and weight, I was on the cusp of XS and S. I chose to size up… which given that tights stretch, I shouldn't have.
You can tell that my Individual 100 tights are too big because the toe is not totally (toe-tally?) secure and the material bunches slightly at my ankles and when I bend my knees.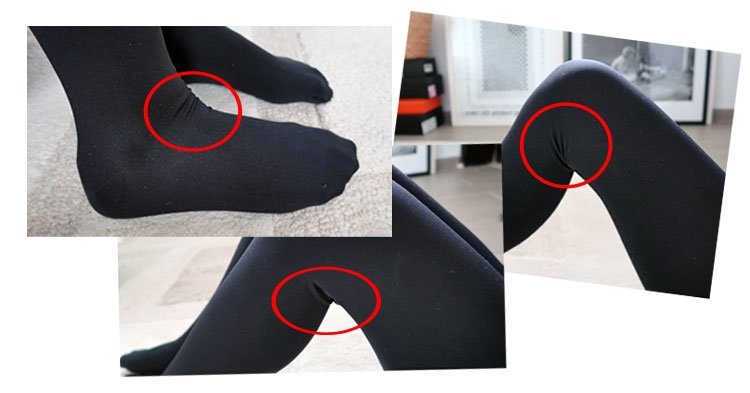 Even though they are a bit too long length wise, they fit perfectly around my waist/stomach and completely stay in place.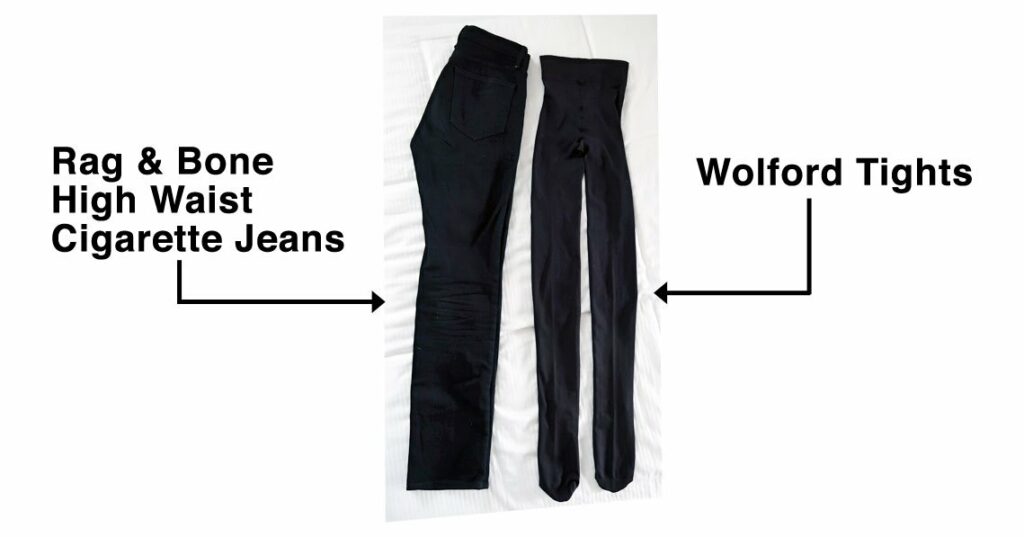 It's not a massive problem, but if you're at the cusp of two sizes on their sizing chart, size down.
---
Want More Tight Reviews?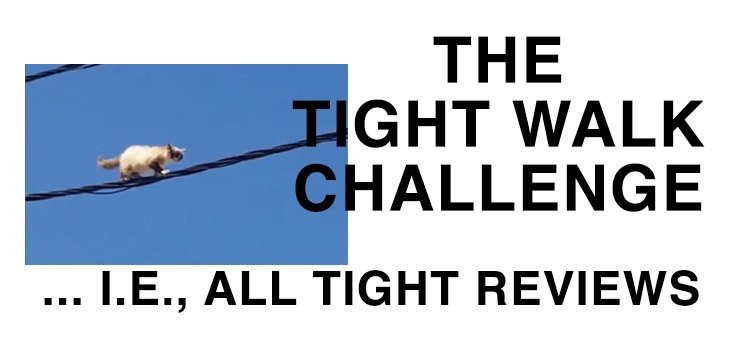 Yeah, I gave this series of reviews a cheesy name, but whatever, the information in these other reviews offer another perspective to other name brand tights.

---
Are Wolford Tights Worth It?
Under sizing, I noted how I haven't bought a new pair of tights since 2012… mainly because I left the North American cold in 2015. I haven't experienced a cold climate since.
Three years later and a trip to Utah came up where the temperature ranged from -1°C to 7°C… after all this time in the heat, this was freezing to me.
On a night out I wore my tights and did not feel any cold regrets. These tights are WARM.
Since I only wore them in the "real" world once, for the sake of this article I wore these tights around the house (with the A/C on at 23°C) for 12 hours for three days straight (ok, I changed to go to the grocery store — it's 28°C outside, what do you want from me?).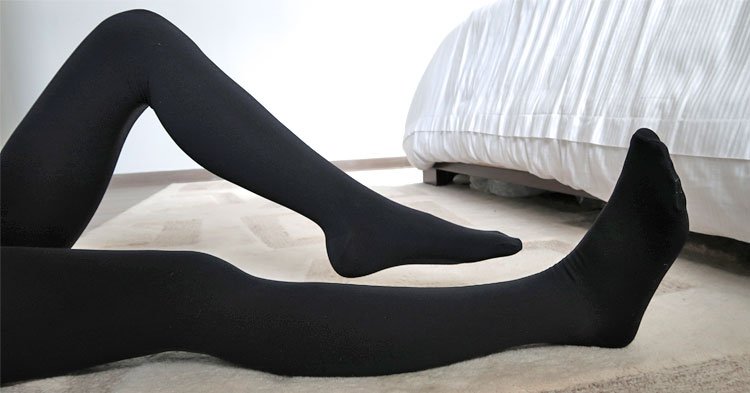 I watched TV on the floor (there's something comforting about being uncomfortable), sat at my desk, unpacked groceries, cooked, trotted up and down the stairs, you know, all the usual daily housebound stuff… after this normal wear (without shoes, no less), my tights did not have any damage to them. No tears during these wears.
Note: This might be gross, but for what it's worth (and with tights it's worth noting), my toenails were neatly trimmed with no sharp edges that could catch and cause a tear.
---
WHY IS WOLFORD SO EXPENSIVE
From grade 9 to 11 I went to private school. When the weather went below 15°C, it was time to switch from knee socks to tights.
Ever since then, I've loved wearing matte opaque tights. Maybe it's the never ending nostalgic in me (or, you know, the tights' cradling compression component), but they are just the most comforting piece of clothing.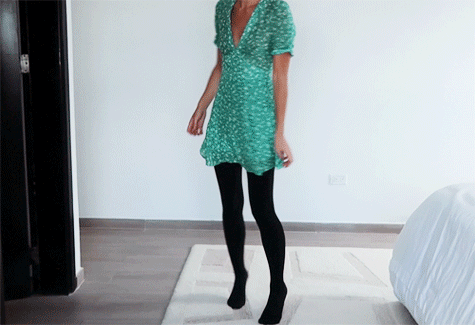 After years of high school uniform catalogue tights and more years of random online bargain bin choices, when I slipped on Wolford's tights, I got it.
I hate to sound like the 1000's of women who wax on about Wolford, but, I get it. The Individual 100 tights are unlike any tights you have worn.
Here's why:
1- 100 Denier
Denier is a unit of yarn weight. It describes the thickness of the tights. These are Wolford's 100 Individual tights, so the "100" stands for the denier. 100+ is extra-thick and as a result, extra opaque and extra sturdy.
For comparison, Standard Fiber notes that a human hair has a 20 denier.
2- Cotton gusset
As if talking about toenails wasn't awful enough, now I'm going to bring crotches into it. The, umm, crotch of these tights is cotton lined, but only on the inside. You know how you can see the white cotton gusset through some tights? That doesn't happen with these due to the dark grey cotton they use and a thinner layer of material on the outside.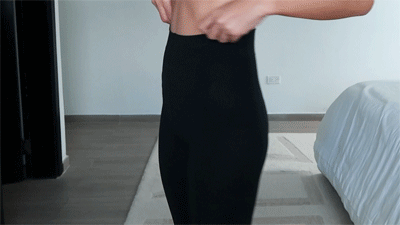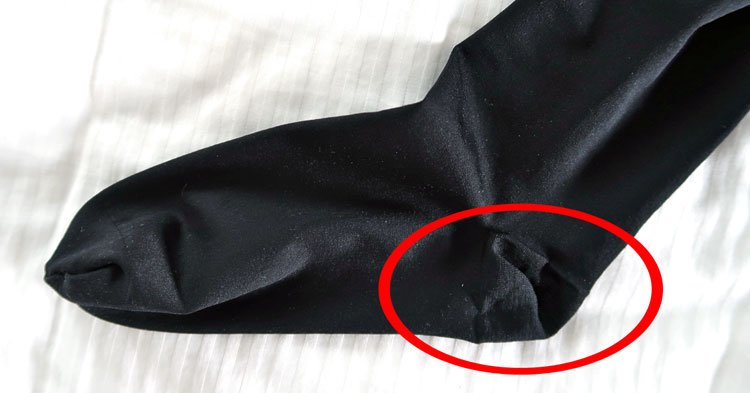 3- Shaped heel
This is something that I've never seen on tights before. There is a spot dedicated for your heel. Not only does your heel feel fancy for having a home, but it also ensures that your tights won't end up with a weird stretch over time…

it also helps with the compression…
4- Compression
Despite the fact that I may have ordered the wrong size, they still compress my legs. The compression helps with blood flow, which in turn prevents your legs from getting tired or swelling.
---
PROS & CONS
Pros
–Legacy: Wolford has been producing their hosiery in Austria since 1950… but it was only after Helmut Newton photographed them in 1996 that Wolford became a desirable brand. With Wolford there's a lot of history to unpack and no one does it better than Racked.
–Compression: Slims your legs more and prevents them from swelling/getting tired faster.
–Opacity: A matte leg just looks so good and the Individual 100s are super opaque and matte.
–Attention to Detail: ex, the heel home.
–That Luxury Feel: You wouldn't think that a pair of tights could feel particularly luxurious… but they can and Wolford tights do.
–Barely any pilling after 3+ years: I mean, that's a lot of wears.
Cons
–High Price: You get what you pay for… but $85 USD is still a lot for tights when you can make do with a pair of $10 tights.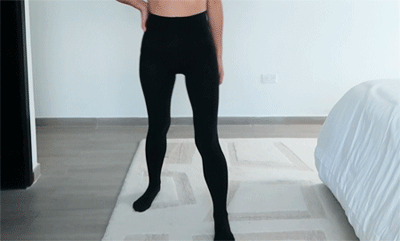 ---
In the 90's, Wolford's slogan was "the second best feeling in the world."
There are a lot of feelings to feel, but after wearing them for 5 days straight, lounging around in these tights is one of the best.
Sometimes things are quality for a reason.
Sometimes things are expensive for a reason.
Sometimes things are classics for a reason.
The SATS may have gotten rid of analogies and Wolford may have eschewed that slogan, but Wolford tights are forever.
If you have any questions about sizing, quality, or if they're worth it, feel free to ask away — I could apparently talk about these tights forever…
My exact pair, the Individual 100, are available here on Shopbop for $85 USD.

Note: newinspired uses affiliate links which costs you nothing… but means a lot to me. When you use these links, the money newinspired earns gets reinvested in blog content. Absolutely nothing on newinspired is "gifted," I purchase each item with my own money. Affiliate commissions are used to purchase new items to honestly & thoroughly review. If you found this review helpful, consider using them to support newinspired.
WHERE TO BUY WOLFORD TIGHTS
Neiman Marcus, Saks, Shopbop, and Zappos have a wide variety of Wolford tights and clothing.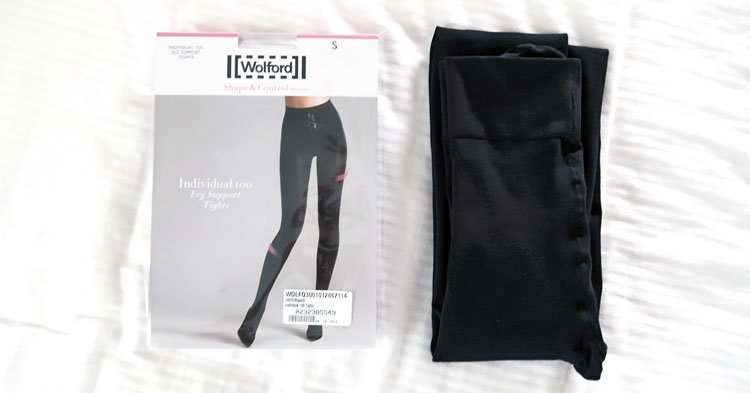 WOLFORD TIGHTS ON SALE
You can always find Wolford hosiery and clothes on sale…
Neiman Marcus and Shopbop have that "sign up for our e-mails 15% off your first order" thing (including Wolford items).
It's an ideal way to save a little bit on these timeless luxury tights.
YOU MIGHT ALSO BE INTERESTED IN…