"KNITWEAR DESIGNED TO LAST YEARS, NOT SEASONS."
-Guest in Residence's mantra
Maybe it's because I've moved to a chilly climate, that I want to add more cashmere to my closet.
Maybe it's because no matter where you live, cashmere is always a good idea.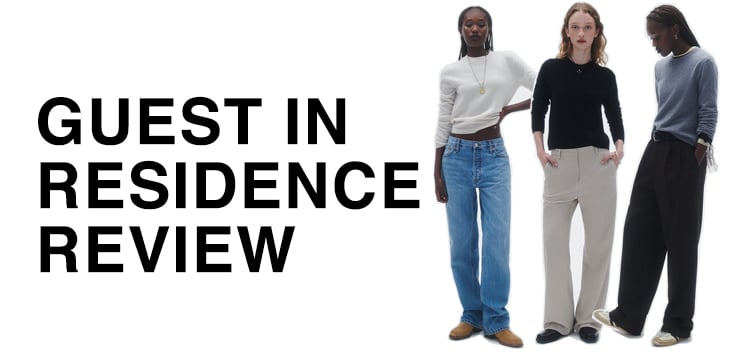 As much as I love Gigi Hadid, celebrity "Creative Director" and "Co-Founded" clothing lines make me worried.
… let alone ones where prices start at $245 for a polo.
Maybe I should rest easy though, since Guest in Residence's other co-founder is Solid & Striped's founder, Isaac Ross.
Also, like the clever team that Gigi and Isaac are, they enlisted Sijeo Kim, a former knit designer from The Row, to be Guest in Residence's design director.
… then, they also count on Gabriella Karefa-Johnson as the brand's stylist.
Suffice it to say, I have high hopes for Guest in Residence's cashmere…
---
Guest In Residence Sizing
For reference, I'm 5'5.75" and weigh 115-117 lbs.
For comparison, here are some sizes I normally take:
-US 2, in HVN or Reformation
-Small, in T-Shirts
-UK 6-10, in ALEXACHUNG or RAEY
-FR 34-38, in Isabel Marant or Rouje
… and, generally, a size small in t-shirts
My Guest in Residence Shrunken Crew, in Cherry (an SSENSE exclusive colour), is a size small.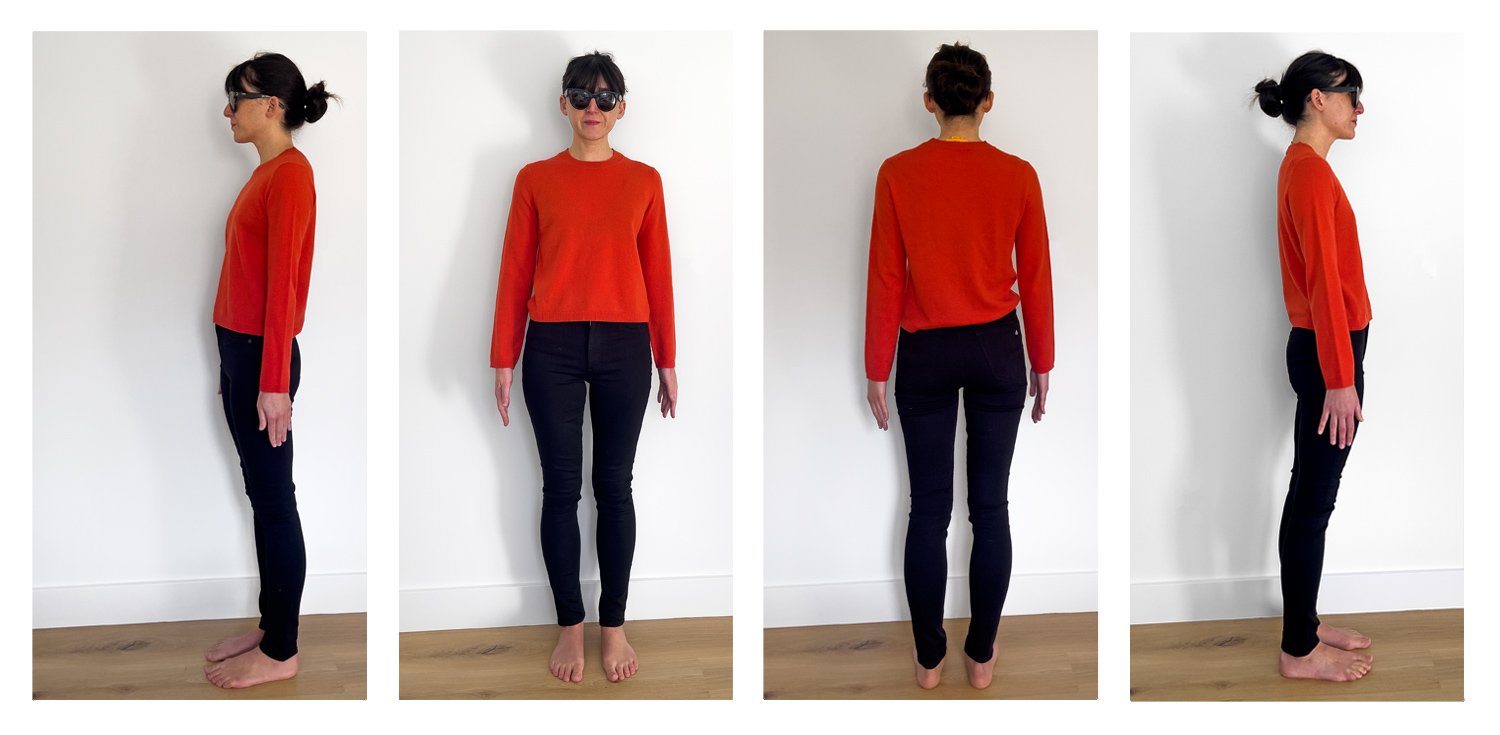 As you can see, the tag is prone to sticking out.
You couldn't ask for a better fit for this Guest in Residence sweater, let alone any sweater.
The sleeve are just right.
The shoulders fit mine just right.
… and the length is just right paired with a pair of high-waisted jeans.
---
You might also be interested in…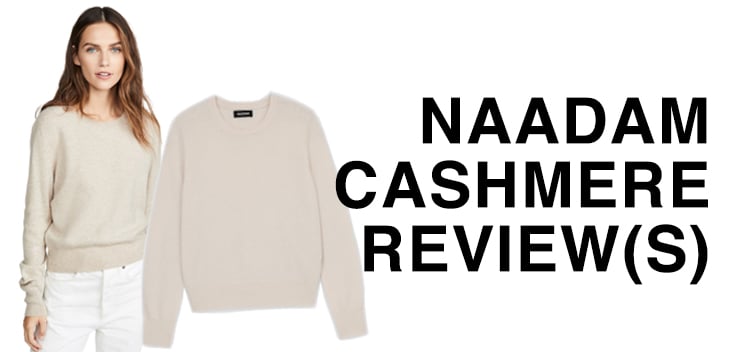 ---
Is Guest In Residence Worth It?
Let's put Guest In Residence's Shrunken Crew to a middle school "scientific lab report" test!
Before we dive in, the evaluations in this challenge are based on my research that's been compiled into this guide to quality cashmere.
You can find other Cashmere Challenges here.
Note: This is just my experience, yours could differ.
Hypothesis
The Shrunken Crew sweater is a "lightweight knit" so I'm assuming that the plies are on the lower-end for this sweater.
… especially because when I reached out to Guest in Residence to find out, they said:
"We apologize but we cannot disclose the ply information at this time."
I'm assuming that this means it's a single (1) ply.
… which also makes sense, since the Shrunken Crew seems to be an entry-level product ($265) for a brand that runs up to $695 for "heavyweight" knits.
There's no shame in their sweaters being 1 ply though — Naadam's are… but, Naadam sweaters also cost 63% less.
Given the we-cannot-disclose-ply-information-at-this-time-so-I'm-assuming-probably-1-ply, I'm going to assume the worst for this sweater in the pill department.
Materials
-x1 Guest in Residence Shrunken Crew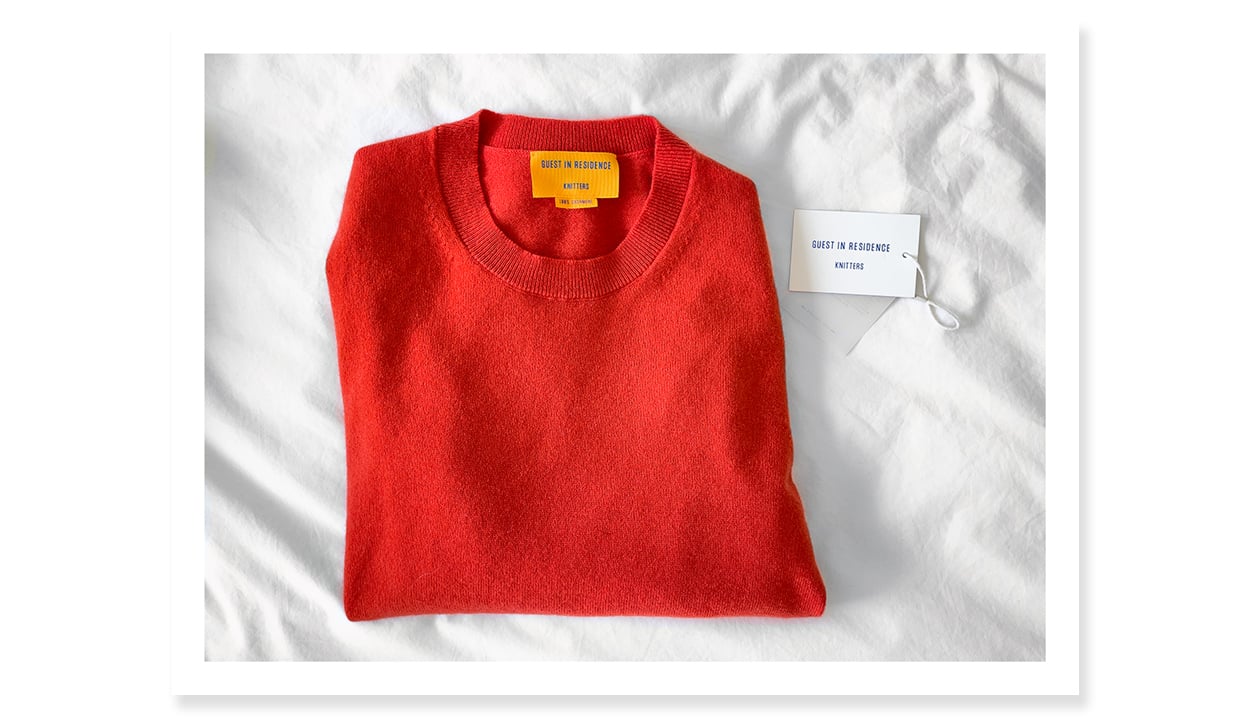 Method
a- Sweater is to be worn for at least seven days between 10:00am to 6:00pm.
b- Sweater will be worn against another textile for three of those hours. 
(Pilling occurs when two materials rub against each other, so this is part of the experiment.)
c- Sweater must be washed according to manufacturer's instructions once.
Results
It pilled!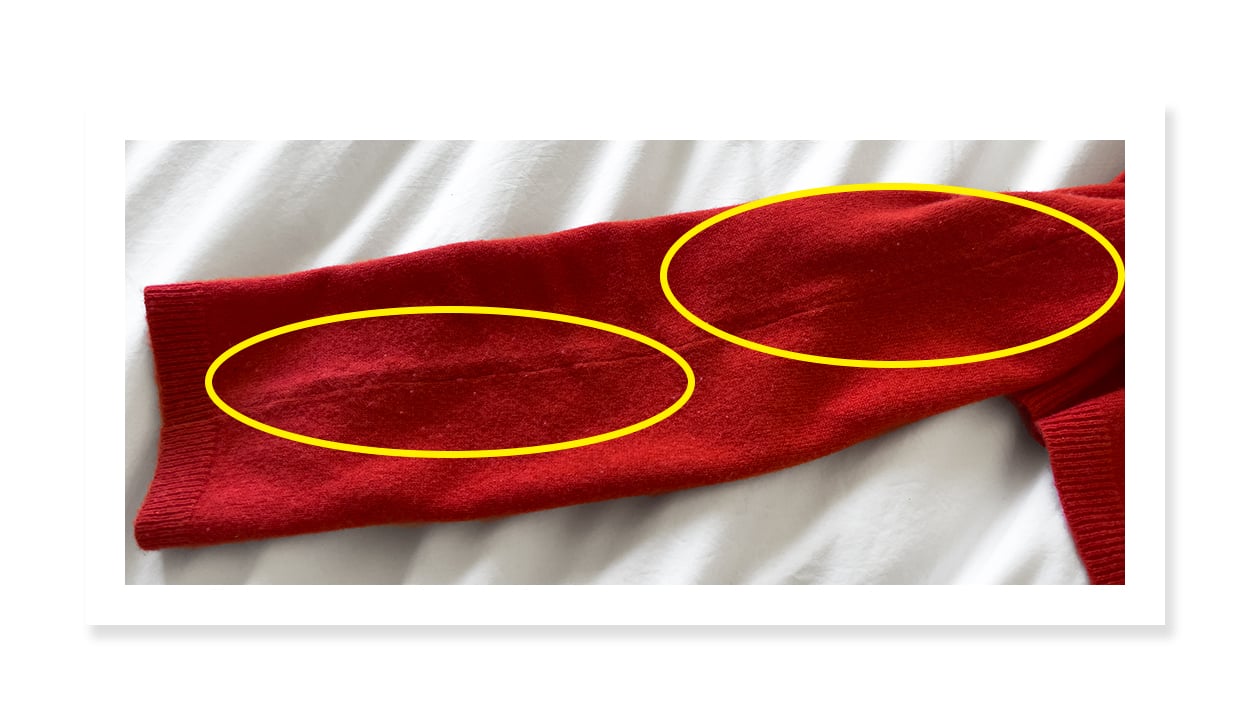 … and not just in the usual places.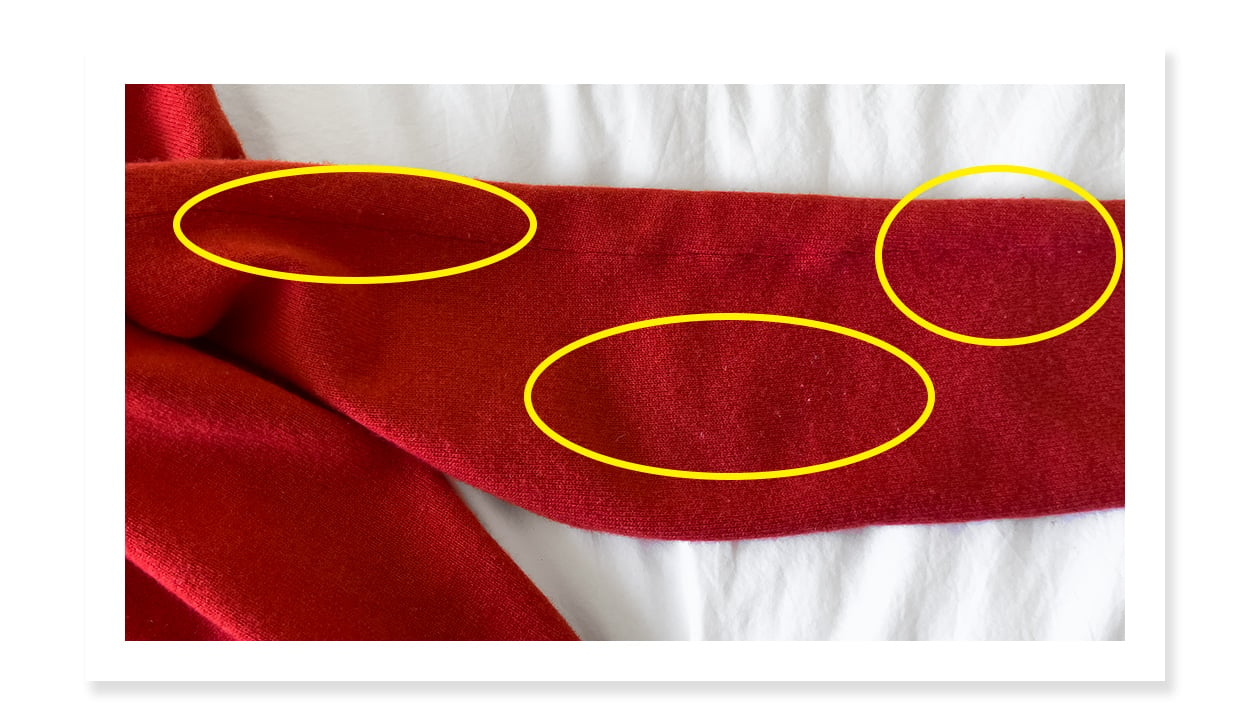 The Shrunken Crew somehow managed to pill on the front right half of the sweater.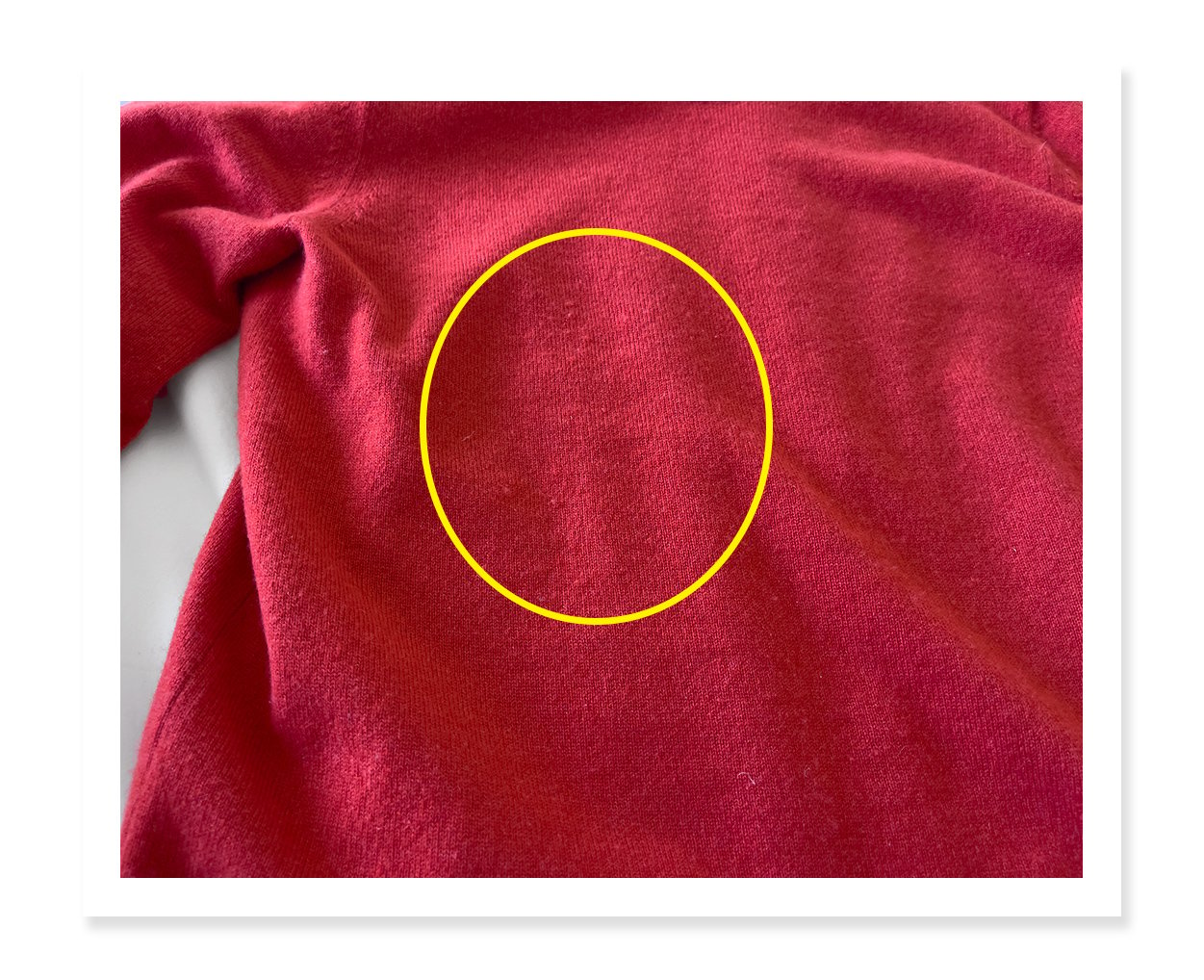 Honestly, I'm not 100% sure what caused that other than maybe folding my arms, my Guest In Residence Big Scarf rubbing against it (while thin, it's a great scarf tbh!), my jacket's lining rubbed against it, or maybe it happened when I picked up my dog — but that wouldn't make sense, because I pick him up on the other side…
In any case, it pilled on the arms/sleeves (which was to be expected since my temporary desk has a linen tablecloth on top of it, but not to this degree) and on the front of the sweater.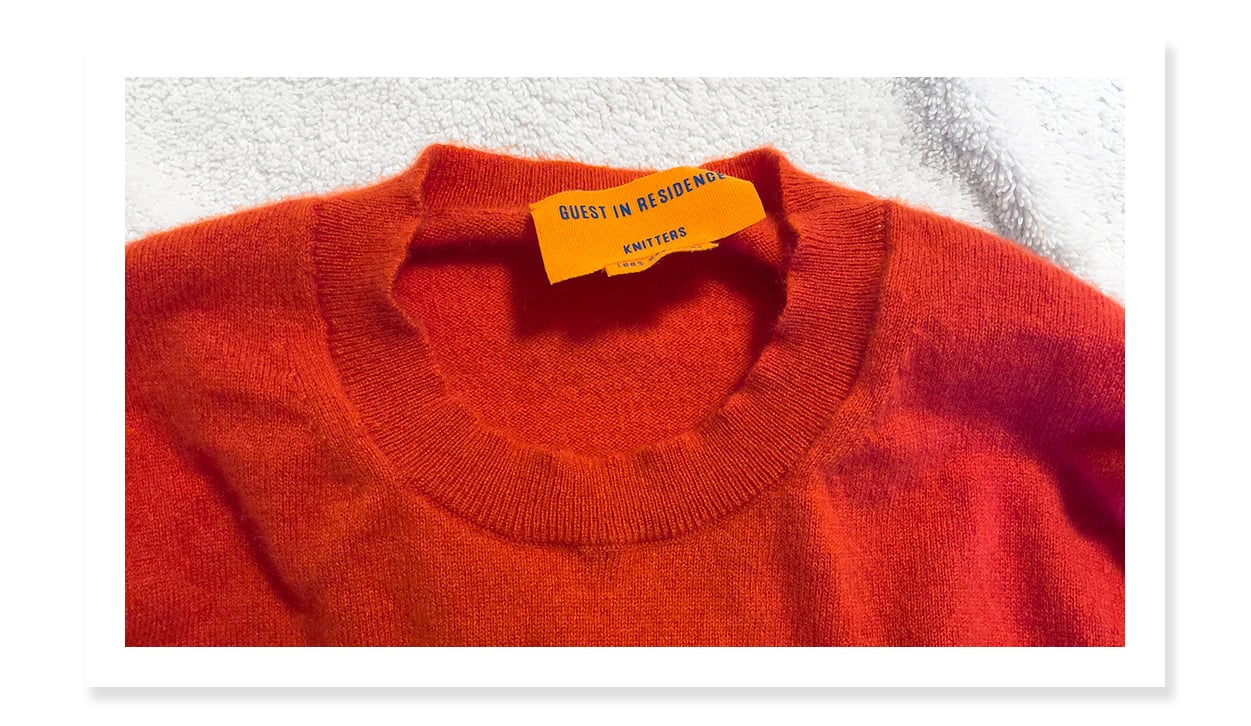 … and after its wash (machine delicate/delicate detergent), the collar became puckered.
Conclusion
When a sweater pills, it's always disappointing.
No matter the price point, that feeling of "what a waste" creeps in.
This Guest in Residence knit a well-designed sweater aesthetically, but it just doesn't feel entirely worth it after putting it to the test.
… unless you prioritize the modern fit of the Shrunken Crew over the pilling — then, of course, that's up to you!
Personally, I'm on the fence.
As for washing, I don't know what to tell you. The water was cold, the cycle was handwash, rinse and spin were on two, and the detergent was delicate.
The puckering is likely a sign of shrinkage, since the collar is more dense than the rest of the sweater, or it could be tension from the knitting process and tension of the seems… or it could also be the yarn quality.
Basically, just like how I'm unsure how the front pilled, I have no idea why the collar puckered after following the care instructions.
---
Pros & Cons
Pros
–100% cashmere: I've been duped before when I didn't read the fine print from a brand that I thought was 100% cashmere… but Guest in Residence's clothing is, really, all 100% cashmere.
–Great fit: A modern fit on the type of clothing that usually has a very basic fit.
Cons
–Pilling: It just really badly pilled.
–Does not wash well: As the puckered collar shows…
Also, not a "Pro" or "Con," but it should be mentioned that their customer service should be a little more transparent with answering product questions.
A sweater isn't some secret 100 year-old bouillabaisse recipe or intellectual property at risk of being stolen and duplicated — it's a sweater, just tell customers what the ply count is.
---
"We are guests on this planet and in our bodies. Guests in our clothes. Guests when we travel or step out of our comfort zone. We can even feel like guests to ourselves, navigating life while learning who we are. The one guarantee as a guest is that your trip isn't permanent. Therefore, time is a guest's ultimate luxury. We designed Guest In Residence with time in mind. While our own time may be finite, we set out to create future heirlooms, constructing pieces with integrity and intention. We hope our pieces represent well-lived lives for generations."
-Guest in Residence's, uh, other mantra
As they said, we're guests in Guest in Residence's cashmere clothes.
Maybe Guest in Residence is still in the "learning who we are phase" — at just over one year old, it's still a really young brand.
So, maybe we should excuse that the cashmere pilled, the collar puckered, and that customer service couldn't ask a designer for the ply count.
But just like our time is finite, I bet this sweater's longevity is on an even shorter clock.
Guest in Residence cashmere is available at Bergdorf Goodman (where you can save 15% on your first order), FWRD, Net-A-Porter, Shopbop, and SSENSE, among other retailers.
… or from Guest In Residence directly.
Note: newinspired uses affiliate links which costs you nothing… but means a lot to me. When you use these links, the money newinspired earns gets reinvested in blog content. Absolutely nothing on newinspired is "gifted" or sponsored, I purchase each item with my own money. Affiliate commissions are used to purchase new items to honestly & thoroughly review. If you found this review helpful, consider using them to support newinspired.
---
You might also like…