3 years after my "How To Style Crocs" article and I'm back at it.
By "back at it," I mean, trying to make ugly shoes look pretty.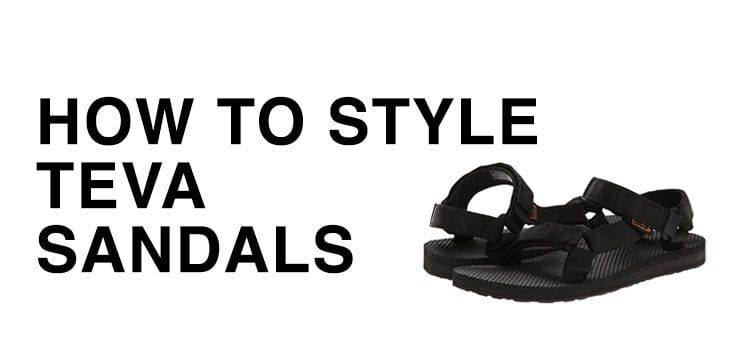 … or, for optimism's sake, making ugly shoes look pretty.

In this case, we're talking about Teva sandals.
Maybe you had a pair when you were 9 and now, 2 decades later, you're like, "dang, those shoes were so easy, I want to wear them again!"
If that's you, let's get into it…
---
How to Wear Teva Sandals
My mum never bought me a pair when I was little, so these strappy velcro sandals are a totally new concept.
… BUT, I do remember all (ok, most) of my friends having these sandals.
Their parents would order them from a catalogue in January and come May, my friends would have these fresh sandals velcroed to their feet.
Emblazoned with blue zigzags or aqua and orange tribal prints, Teva sandals were the sandal to see and be seen in at the Hudson Yacht Club (sounds fancy, but trust me, it wasn't).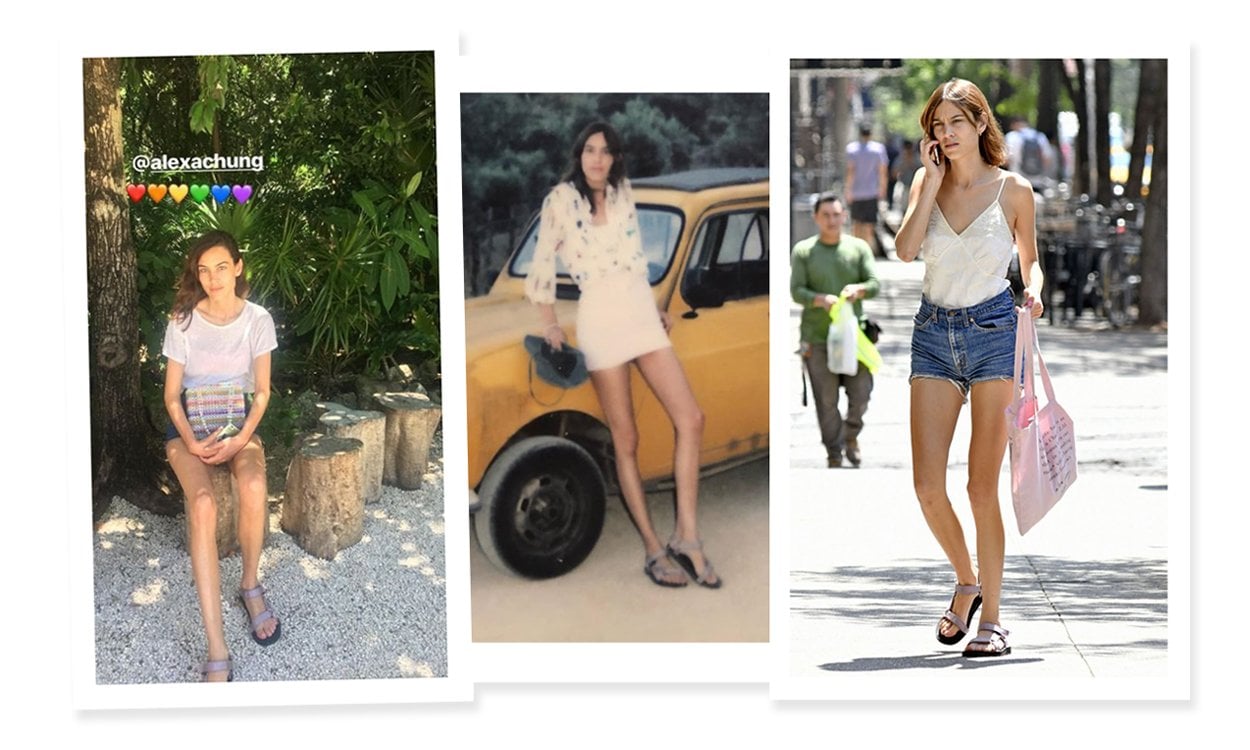 With Alexa Chung leading the way and, like, everyone else following suit, Teva sandals are again the sandal to see and be seen in from the streets of Stockholm to beaches in Formentera (sounds fancy, but don't trust me, I haven't been!).
Similar to my friends' childhood outfits, the key to Alexa and co.'s outfits are their subtle nod to the 90's.
Let's look at what that means for particular clothing pieces…
---
Wait! Do You Need Teva Sizing Advice?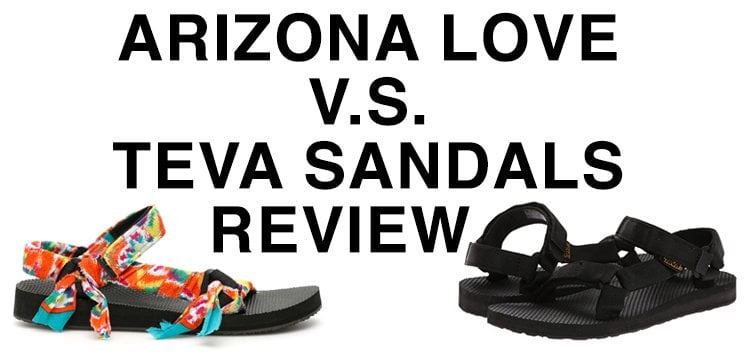 I've got you covered…

---
What To Wear with Teva Sandals
Shorts and Tevas
For me, I want to balance the "ugliness" of Tevas with a neutral top (black or white).
You can get a 90's vibe with accent pieces from that era (like the oversized blazer or a nylon bag).
A white button down screams Britney, while a simple cami calls out for Noel Gallagher.
… and a simple white t-shirt simply looks good (a graphic tee could also work TBH!).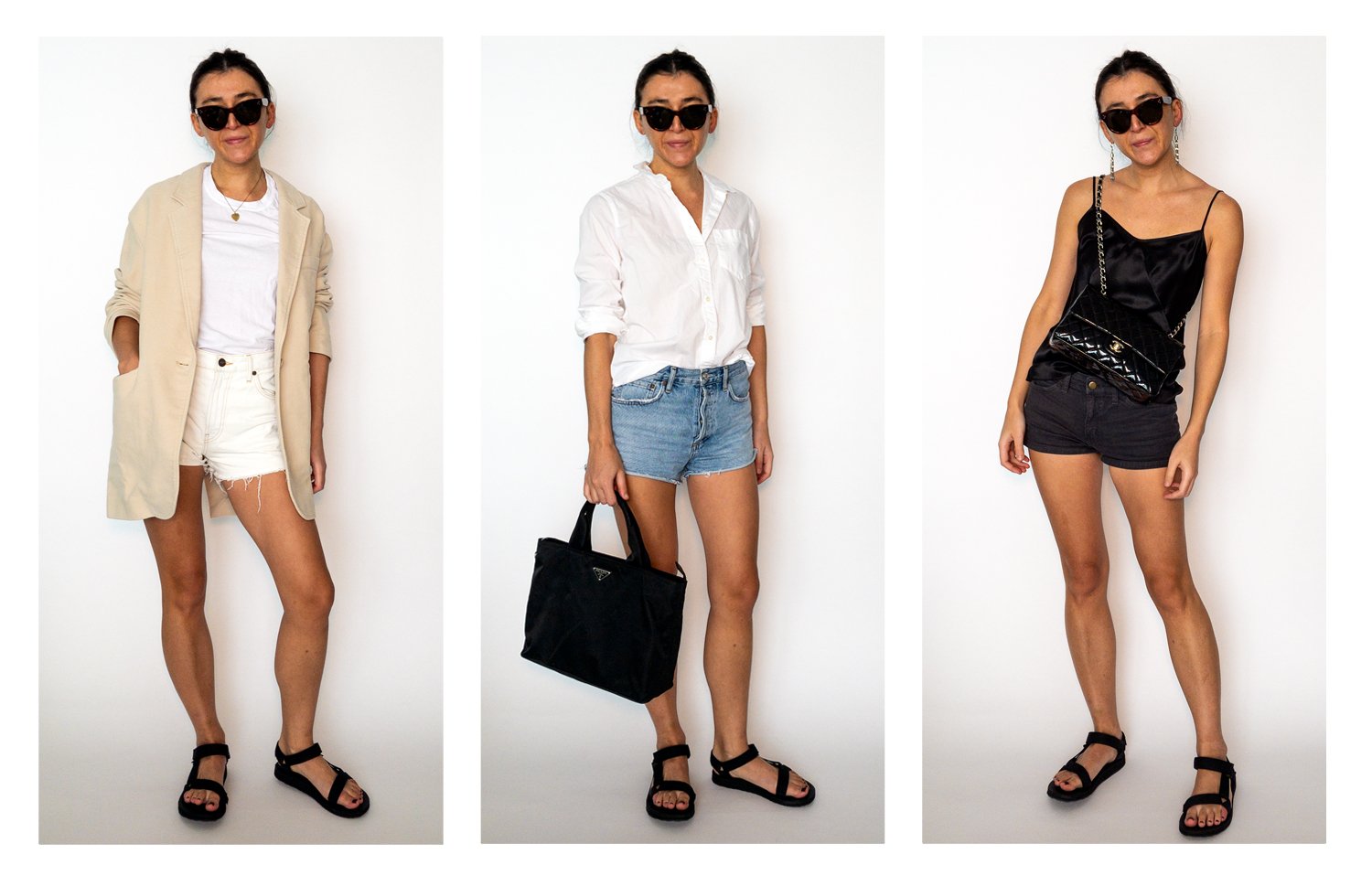 Left to Right: Re/Done shorts with a James Perse t-shirt, In God We Trust NYC necklace, and an Isabel Marant Étoile Natty coat; AGOLDE shorts with a J.Crew shirt and a Prada nylon tote; American Apparel shorts with a T by Alexander Wang cami, Isabel Marant x H&M earrings, and a Chanel bag.
---
Jeans and Tevas
I know I said jeans, but I'm throwing you a curveball by including an outfit with Everlane's Chino Pants.
… they're just too 90's not to include.
Again, simplicity is the key to styling Tevas — and that includes styling Tevas with jeans…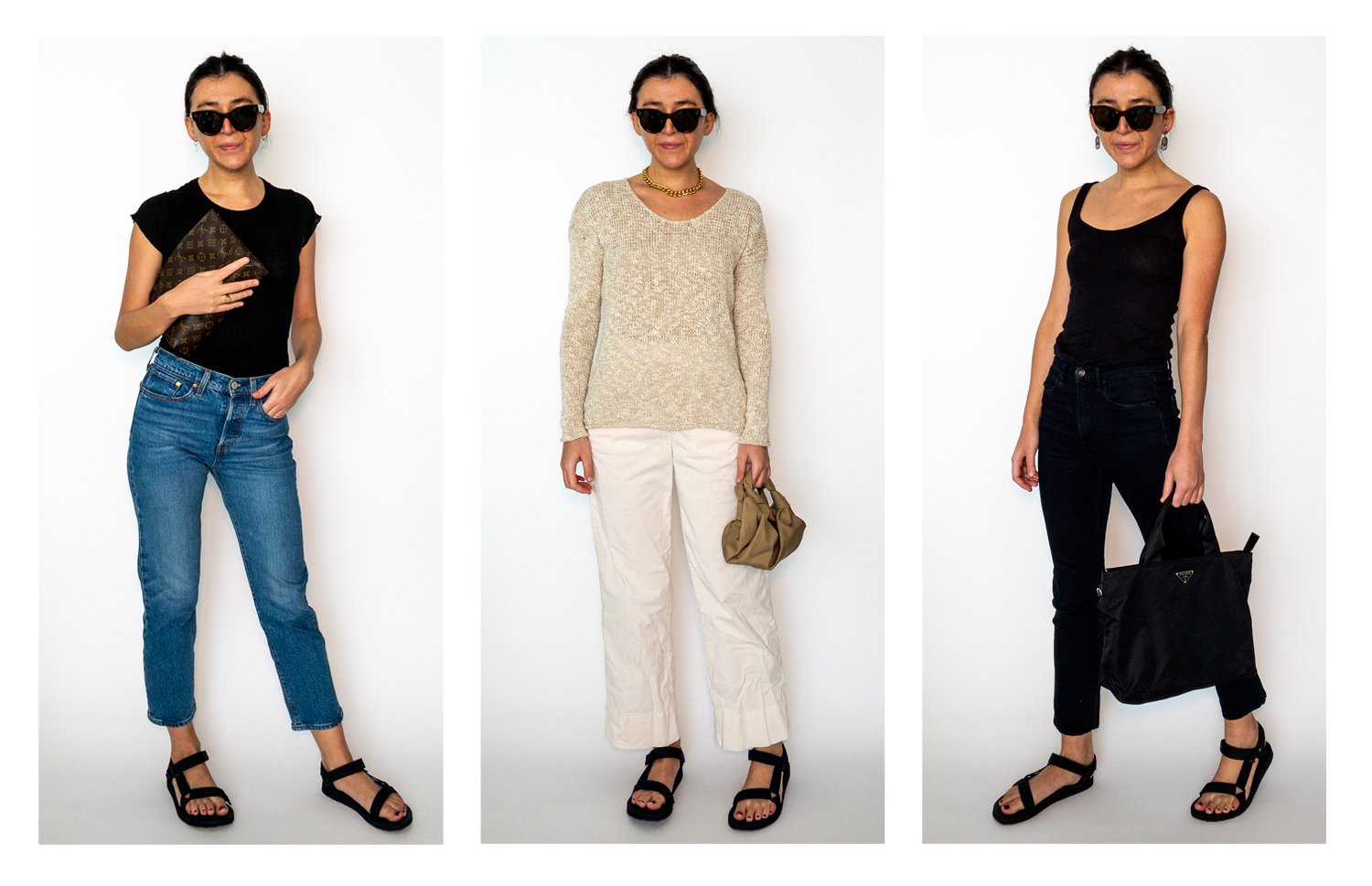 Left to Right: Levi's Wedgie jeans with a Calder Blake Lauren t-shirt, Mejuri shell earrings, and a Louis Vuitton makeup bag; Everlane Chino pants with a Lily Aldridge x Velvet sweater, Dorsey necklace, and The Row Ascot bag; Rag & Bone Cigarette jeans with a Vince tank top, vintage earrings, and a Prada nylon tote.
---
Dresses and Tevas
For me (and most), the most 90's style dress is a slip dress — bias cut and silky, you know what I'm talkin' about.
Also super 90's? Dresses that have a high crew neck.
Stick to black to keep your outfit subtle or a 90's floral print to jazz things up…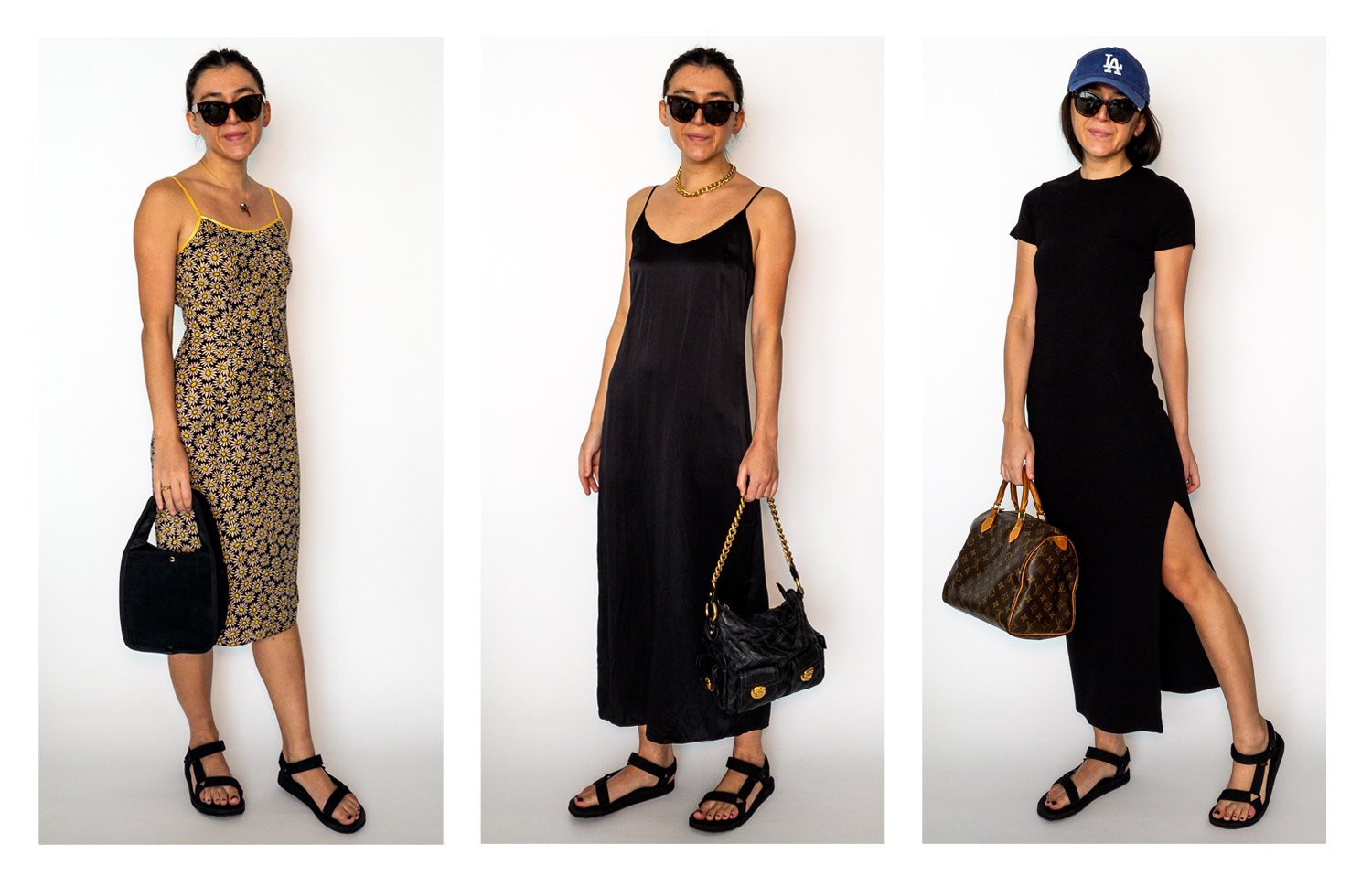 Left to Right: HVN Susan dress with a vintage necklace and an Opening Ceremony bag; La Perla slip dress with a Dorsey necklace and a Marc Jacobs bag; Stateside dress with a baseball cap (any team will do!) and a Louis Vuitton Speedy.
---
Over 20 years have passed since the last time everyone was wearing Teva sandals.
What was once a practical sandal for children (and adventurers) is now another "ugly" shoe for the fashion set.
Either way, Tevas are still as practical as the first day your parents strapped them on your feet… and they're still as fun to wear.
Do you need help styling Teva sandals? Feel free to ask away in the comments!
Note: newinspired uses affiliate links which costs you nothing… but means a lot to me. When you use these links, the money newinspired earns gets reinvested in blog content. Absolutely nothing on newinspired is "gifted," I purchase each item with my own money. Affiliate commissions are used to purchase new items to honestly & thoroughly review. If you found this review helpful, consider using them to support newinspired.
---
YOU MIGHT ALSO BE INTERESTED IN…