It's been a while since I reviewed an "Instagram It-Brand."
There was one thing holding me back from ordering a dress from Rat & Boa…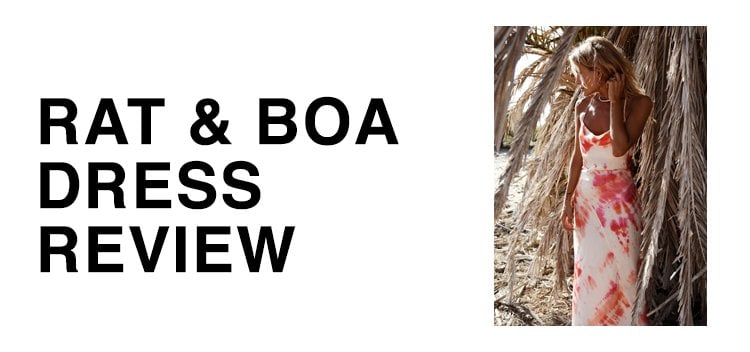 "WHAT SIZE AM I SUPPOSED TO ORDER??"
Unlike their models, I'm not a bronzed leggy goddess.

My legs don't go on for days and even if they did, before this package arrived, it's been a lot of days since I've been anywhere near bronzed.
But, we've gone over Rouje's sizing, exhausted Réalisation Par's dresses, covered Reformation's and even dabbled in With Jéan.
… so, what about Rat & Boa?
Rat and Boa SIZING
For reference's sake, I'm 5'5.75", weigh 116-118 lbs and am a ~32A.
This information is (somewhat) useful for comparing sizing.
My dress sizes run below:
-US 2, in HVN or Reformation
-Small, in T-Shirts
-UK 6-10, in ALEXACHUNG or RAEY
-FR 34-38, in Isabel Marant or Rouje
In general, I recommend you take your "true" size for Rat & Boa — or your same larger Réalisation Par size, ex, I would never take an XS in most dresses, but for Réalisation Par, I only sometimes do.
Ariel Dress
My Rat & Boa Ariel dress is a size small.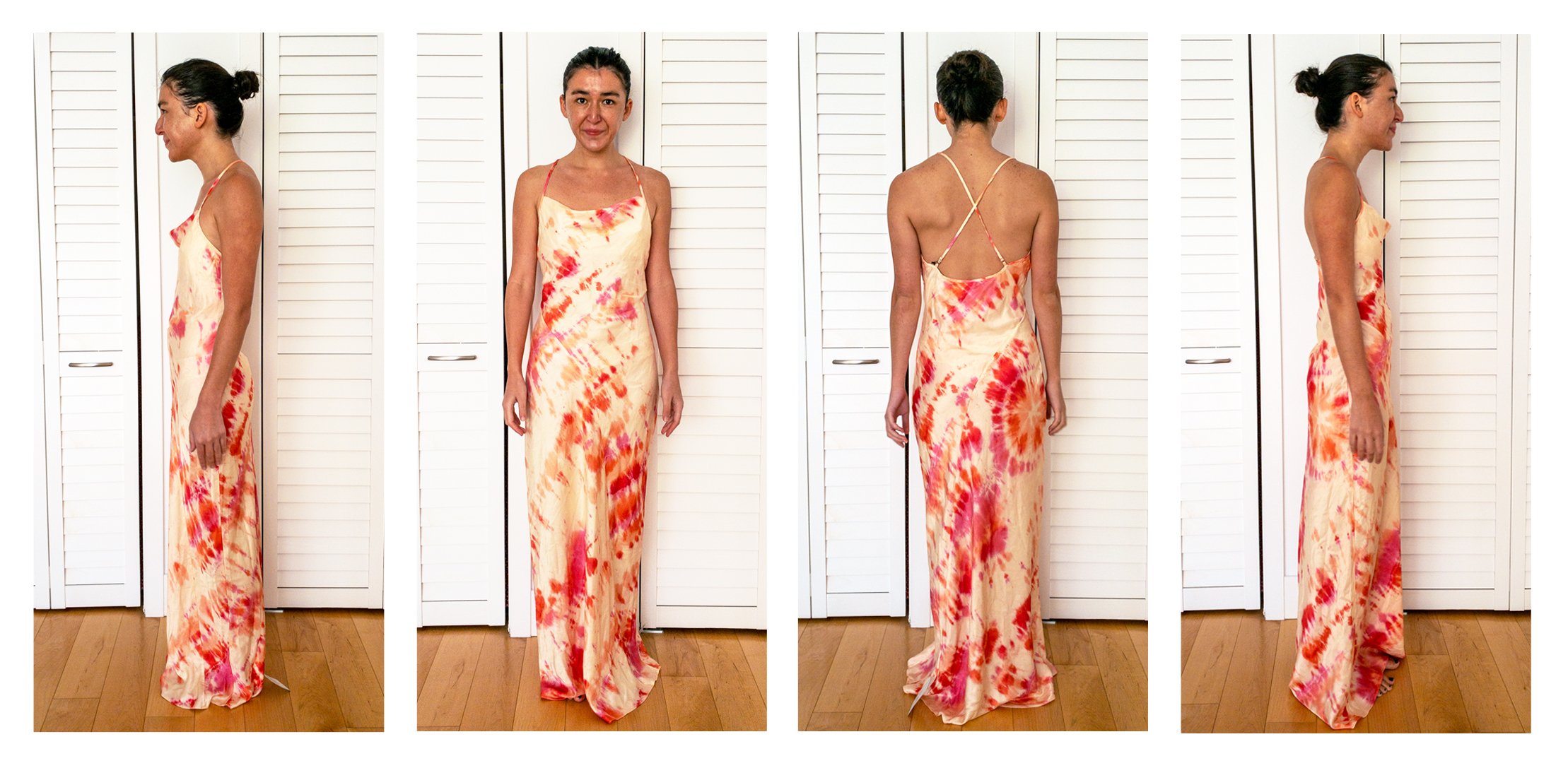 In a size small I can easily step in & out, while the bias cut skims what (little) curves I have.
The majority of Rat & Boa's dresses are bias cut (like Réalisation Par's Naomi skirt), which means they have a super second skin feel.
The bias cut gives the Ariel dress a fluid shape and a whole lot of sexy slinkiness.
Stevie Dress
Next, Rat & Boa's semi-namesake dress, the Stevie dress — also in a size small…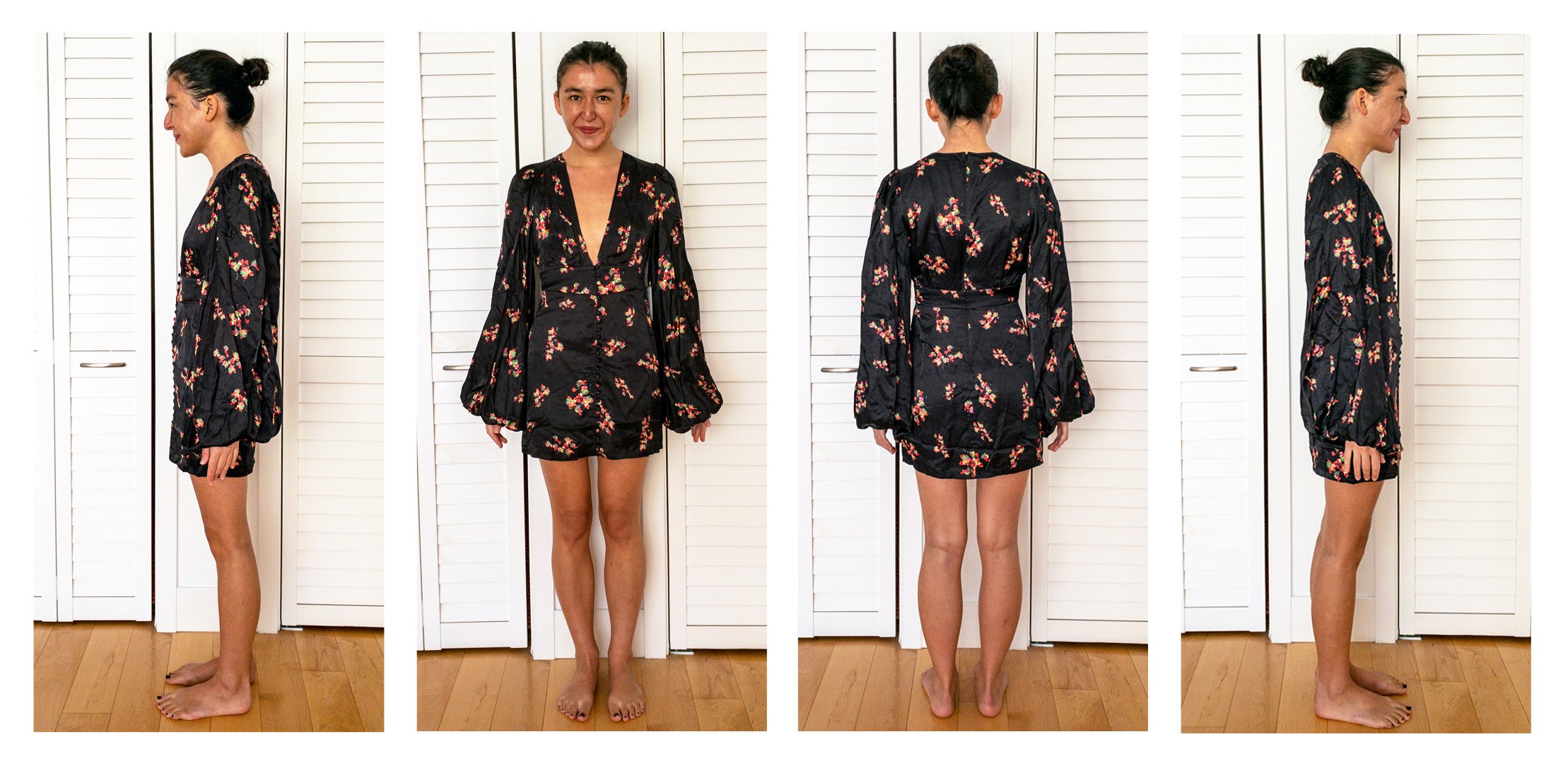 It has a long zip down the back, which makes it easier to get over my ~90cm hips.
Super short with super long sleeves (elasticated at the ends), the Stevie dress makes more of a statement than their bias cut dresses…
It's put together, it borders bohemia, it flatters flatter chests… the Stevie, like its namesake Stevie Nicks, is slightly magical and super strong.
---
IMPRESSIONS
These are dresses that you want need to be seen in.
They're dresses that you put on and think: I want to dance tango now (even if you, uhh, don't dance).
They're dreamy summery vacation dresses.
… I mean look at them, if they don't cry "take me somewhere warm," I don't know what does.
Rat and Boa Returns
I returned the Ariel dress.
While the Ariel flowed but gently hugged my curves, I actually really wanted the Gisele dress more.
Ordering your dress on Matches Fashion makes Rat & Boa returns 100x easier.
I simply packaged the Ariel up, stuck on the pre-paid return label and sent it back.
… but I kept the Stevie because that plunging neckline is deeper than any Fleetwood Mac song.
---
PROS & CONS
Pros
–Natural Blend Material: Sometimes Rat & Boa uses 100% viscose, but for the most part their dresses are a blend of silk and something else so it drapes exactly the way they want it to.
–Quality Details: Every detail is thought of from elastics at the end of the sleeve to a lined top for the Ariel.
–Surprisingly Flattering: I've gained weight lately and to be honest, I wasn't sure how these dresses would look — I think they don't look half bad.
–Adjustable Straps: Their bias cut maxi dresses have adjustable straps, so no worries if you need it longer or shorter.
Cons
–Not Everyday Wear: It'd be nice if Rat & Boa's dresses were more day or night, but oh well.
---
While barely there, Rat & Boa's dresses only look like they're intimidating to wear.
Those Instagram models' legs go on for days, but with confidence and attitude (and a long weekend in the sun), anyone can pull their dresses off.
Rat & Boa's dresses have more substance than they let on.
… unsurprising from a brand who got their name from a Stevie Nicks quote.
There's magic in these dresses… or at least they'll make you feel magical.
Available exclusively on Matches Fashion or Rat and Boa from $120 USD.
Note: newinspired uses affiliate links which costs you nothing… but means a lot to me. When you use these links, the money newinspired earns gets reinvested in blog content. Absolutely nothing on newinspired is "gifted," I purchase each item with my own money. Affiliate commissions are used to purchase new items to honestly & thoroughly review. If you found this review helpful, consider using them to support newinspired.
---
YOU MIGHT ALSO BE INTERESTED IN…