From the OTT "new Bottega" bunch, the bisou Paris vintage crowd, the Scandi norm-core pack, even the #CottageCore crowd, everyone on Instagram dresses the same.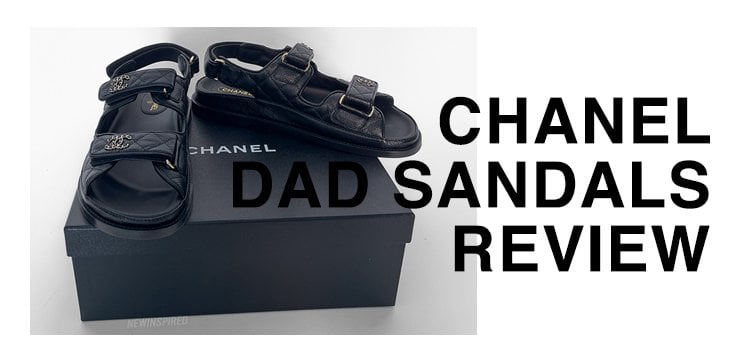 While I will moan and complain about how Instagram ruined personal style, I still got sucked in and bought a pair of the most Instagrammy ~influencer~ shoes that transcends every hashtag…
The dad sandal.

… and not just any dad sandals — the Cadillac Rolls-Royce of all dad sandals.
The Chanel dad sandals.
After bouncing around waitlists in the USA and not being able to purchase a pair, I finally found a pair of Chanel dad sandals in my size at the boutique in Panamá.
So, the question we all want answered (including myself), are these worth the hype?
Chanel Dad Sandals Sizing
For comparison, my other shoe sizes run:
-Adidas Stan Smiths, US 8
–Chanel Shoes, FR 39
–Christian Louboutin, IT/EU 39.5
–Golden Goose, IT/EU 39
–Hermès, FR 39
–Isabel Marant, FR 39-40
-Nikes, US 8.5
–Repetto, FR 39.5
My Chanel Dad Sandals, from 21C in quilted black leather, are a size 39.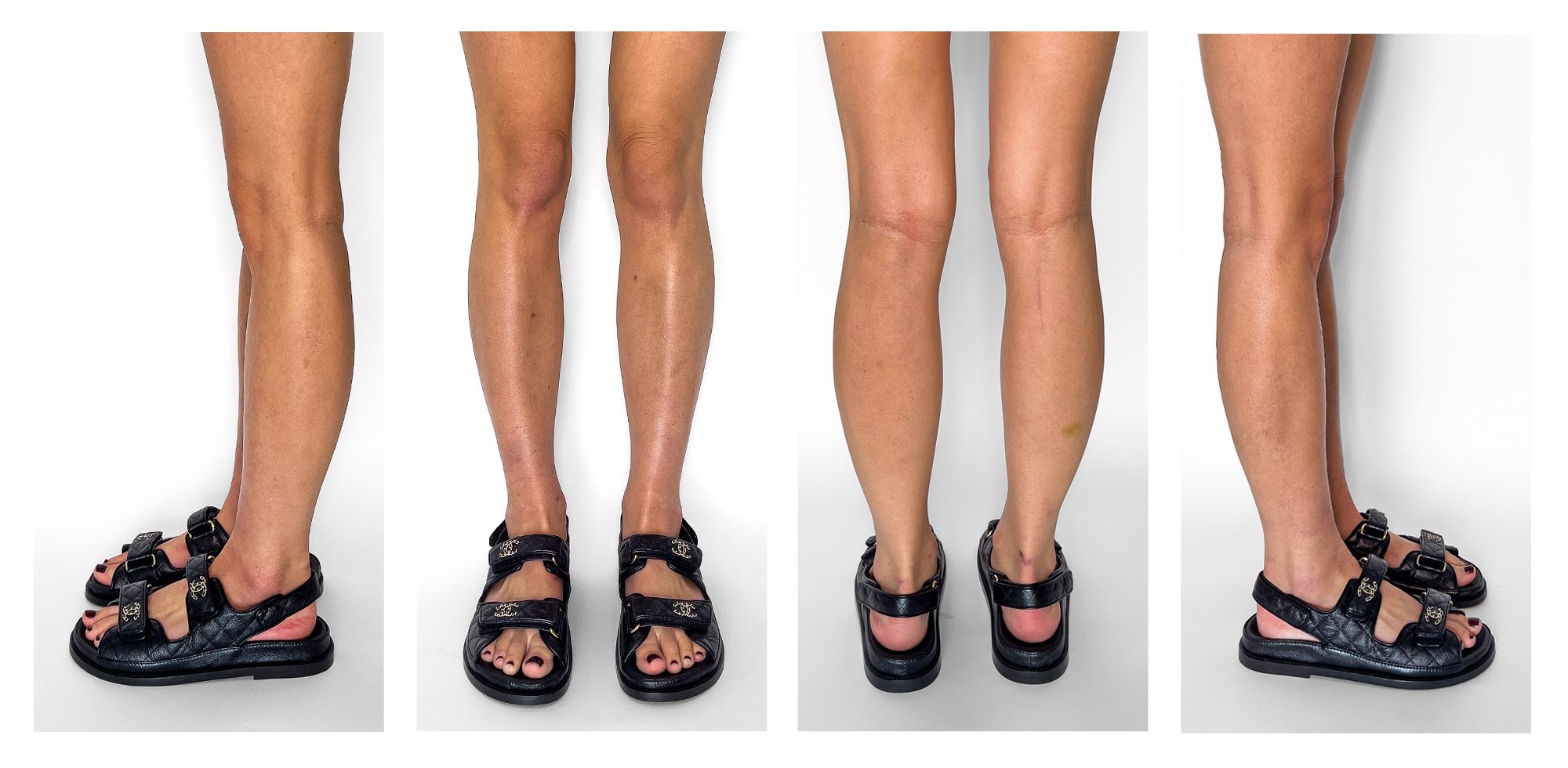 Chanel dad sandals run true to Chanel sizing.
Should your feet err on the bigger size (like mine), you could consider sizing half a size up in case you want to wear socks with them and secure your nomination for "Father of the Year".
If your size isn't readily available, I guess you could size half a size down and adjust the velcro so that it's not inline with the fluffy piece and your heel has more space.
However, I prefer the velcro fully closed (and don't care about superlatives), so I stuck with a 39.
---
Chanel Dad Sandals Price
These leather Chanel sandals cost $1,450 USD. If you can find Chanel fabric dad sandals, those start around ~$1,250 USD.
Unlike Chanel slingbacks or ballet flats, these shoes are not classics.
… and if you're strapped for cash, this is your out — let me be the first to say: you definitely do not need them.
Should you be obsessed with the look, but not the price…
Chanel Dad Sandals Dupe
There are tons of Chanel dad sandals dupes on the market…
… and it could be worth buying a dupe instead since they are trendy sandals and you never know if you might buy a fake pair on the resale market.
However, if you feel comfortable that the Chanel Dad sandals you found are authentic, you can find a pair on The Real Real or Vestiaire Collective.
Here's what an authentic pair's serial placement and sole looks like: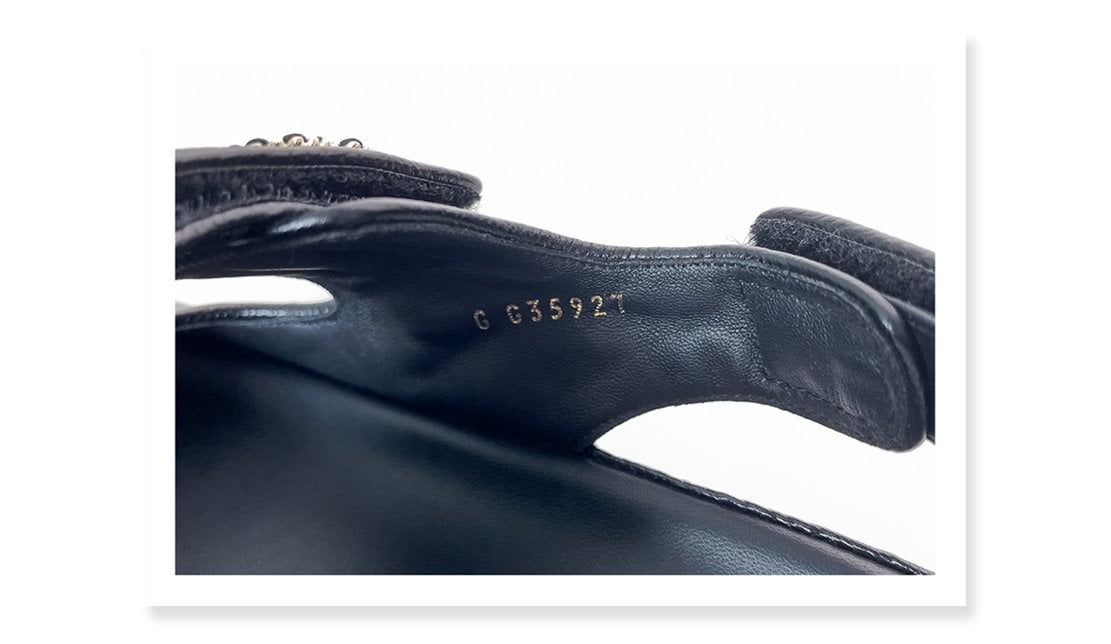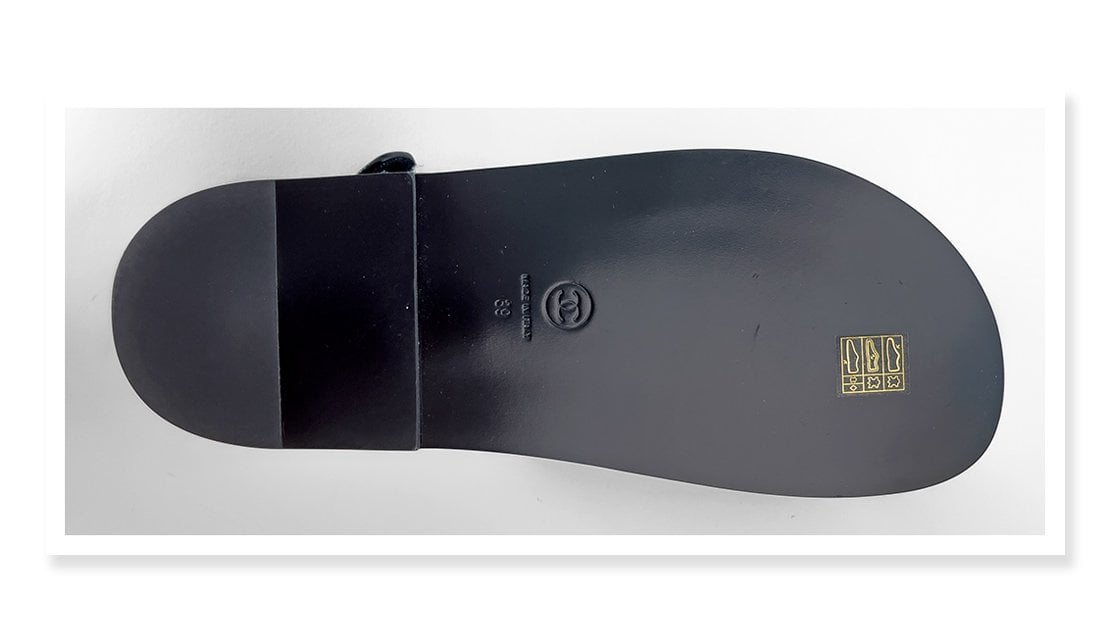 ---
You might also be interested in…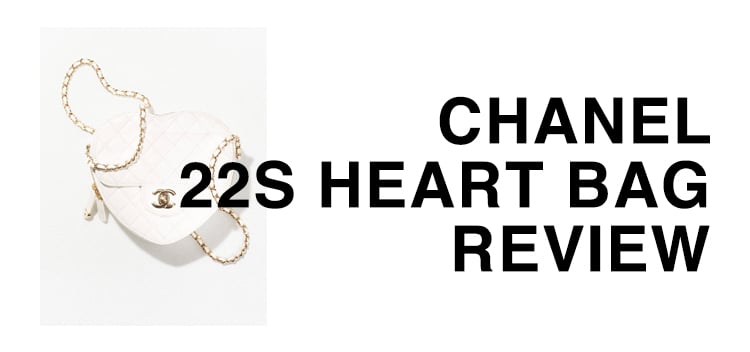 ---
Impressions
Dissimilar to The Row Ginza flip flops, on the surface, these sandals are just plain ugly.
Sure, they're Chanel, but…
Chanel has also sent out quilted leather ankle monitor pouches down the runway and made camo print messenger bags and boots that can only be described as Mlle. Yeti makes an appearance at Paris Fashion Week.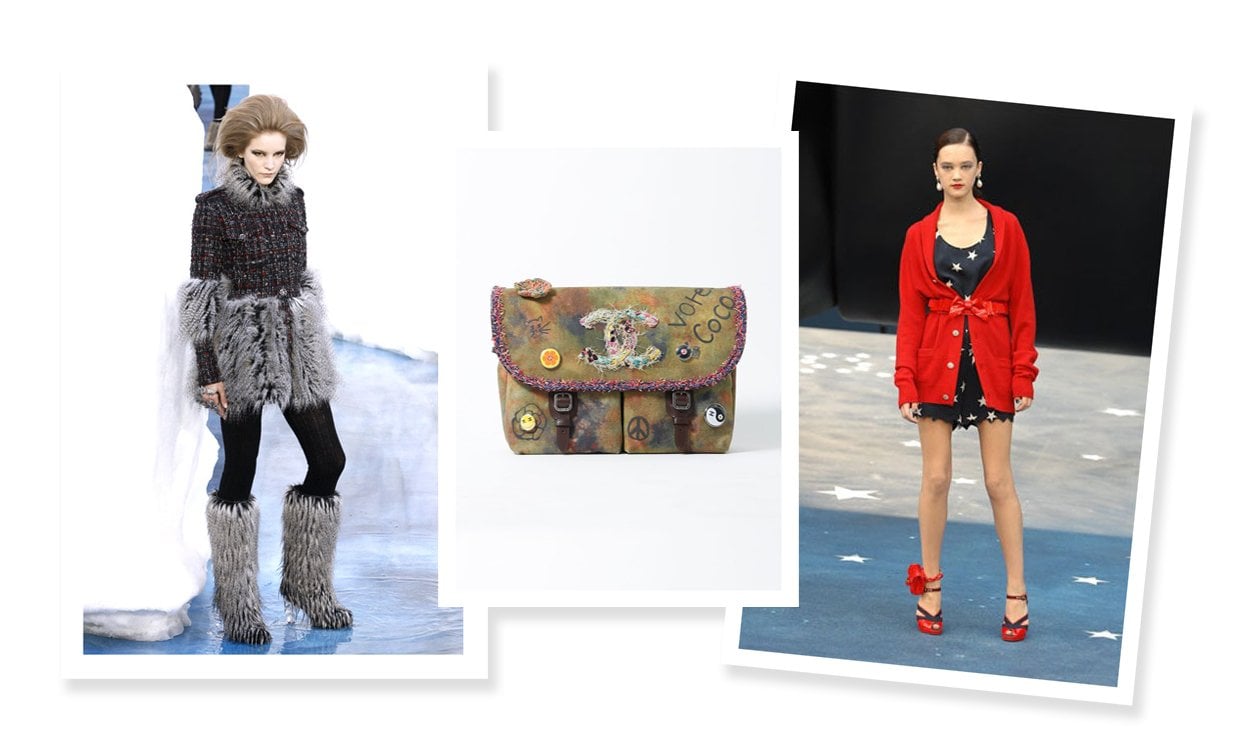 What I'm trying to say is, in the last decade alone, the house of Chanel has made shockingly ugly items before.
… and like those items, Chanel dad sandals also cross that aesthetically unpleasing line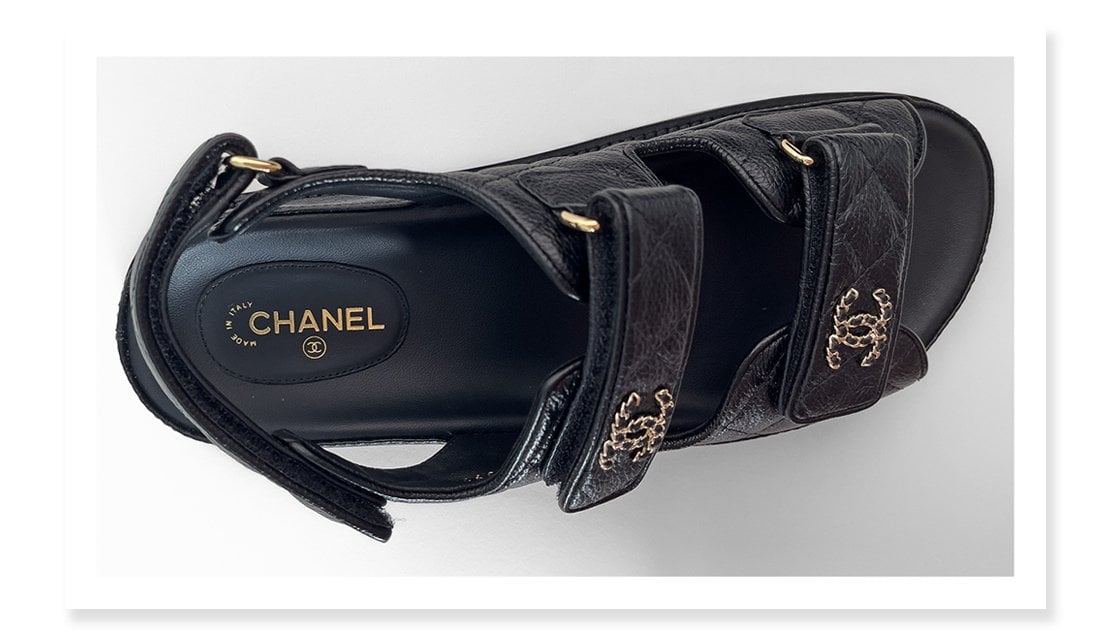 It's like Dave Chang's show, Ugly Delicious, on the surface, a steaming sense-tingling bowl of delicious curry could look, well, ugly.
However, its savoury yet sweet smells pull you in to want to try it — then you go back and sit back down with a second or third heaping plate of rajma.
When these sandals first came home with me from the boutique, I was like, "I've made a huge mistake."
After walking around in them, ignoring the farting noises (from the sandals, not the rajma, the sandals make a noise that can only be described as a fart), and trying them with more outfits, my initial thoughts deceived me as they turned to "should I get another pair from the new 22C collection?"
---
Chanel Dad Sandals Outfits
From #RevolveAroundTheWorld influencer to a Dôen day dreamer to just plain Jane jeans and a t-shirt, these sandals can fit any style…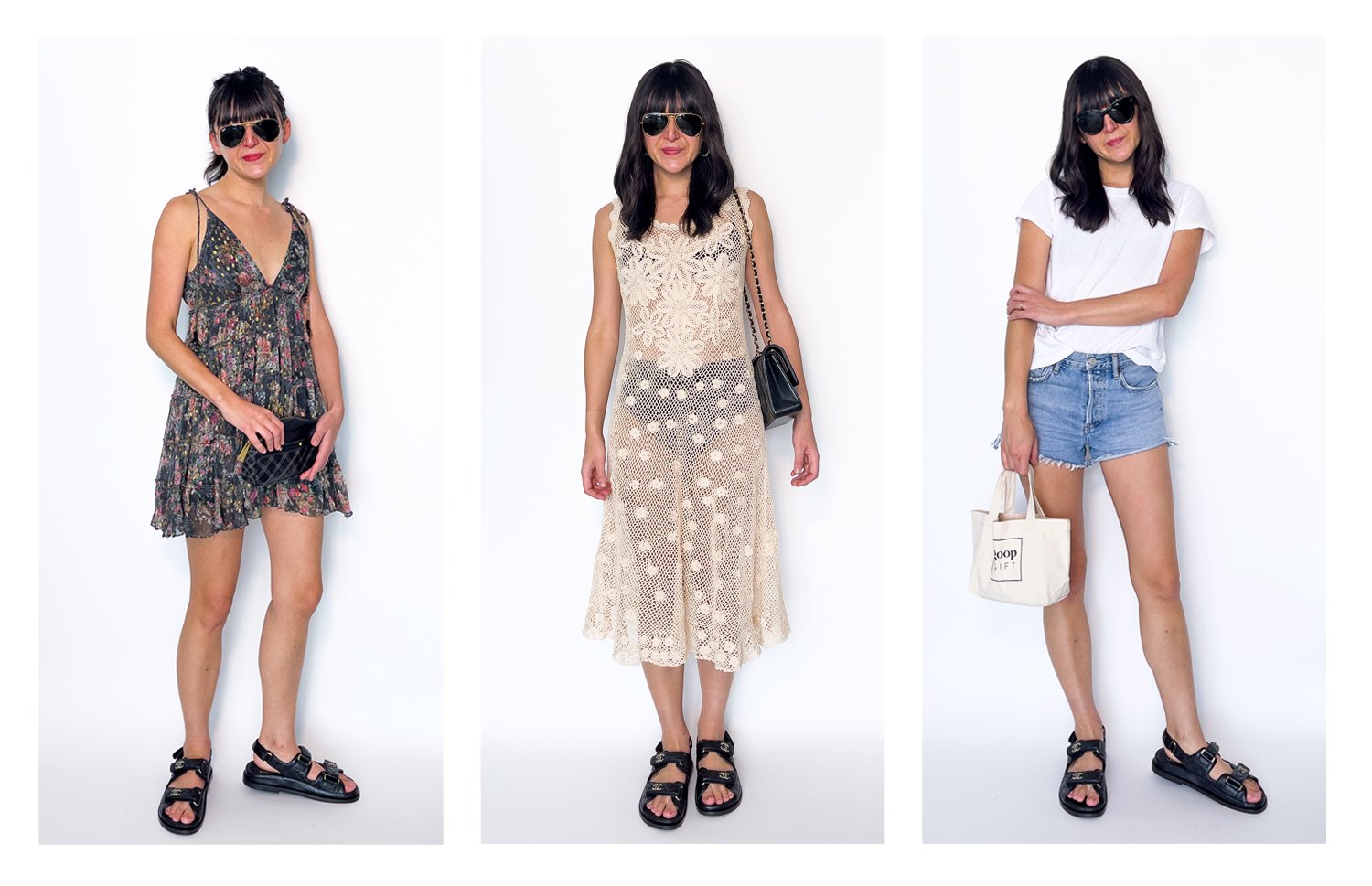 Left to Right: Rococo Sand Jane dress and a Marc Jacobs clutch; Dôen dress, Sylvia Toledano earrings, and a Chanel Classic Handbag; AGOLDE Parker shorts, James Perse t-shirt, and a Goop tote.
… which makes me wonder if this is why they're so prolific on Instagram.
---
PROS & CONS
Pros
–Cushioned sole: The cushioned leather bed with molded space for your toesies which makes them more comfortable than your Ancient Greek or K. Jacques sandals.
–Adjustable straps: So your foot feels nice and secure.
–Trendy: Sometimes you just want to participate in a trend…
Cons
–Trendy: No two ways about this — Chanel dad sandals are a supremely trendy shoe… which makes them kinda not worth the price tbh.
–Farting noise: No, seriously, they make a farting noise when I walk.
–Back strap digs into my achilles tendon: While I feel like a fearless fashion Greek God in them, that pesky tendon gets in the way yet again.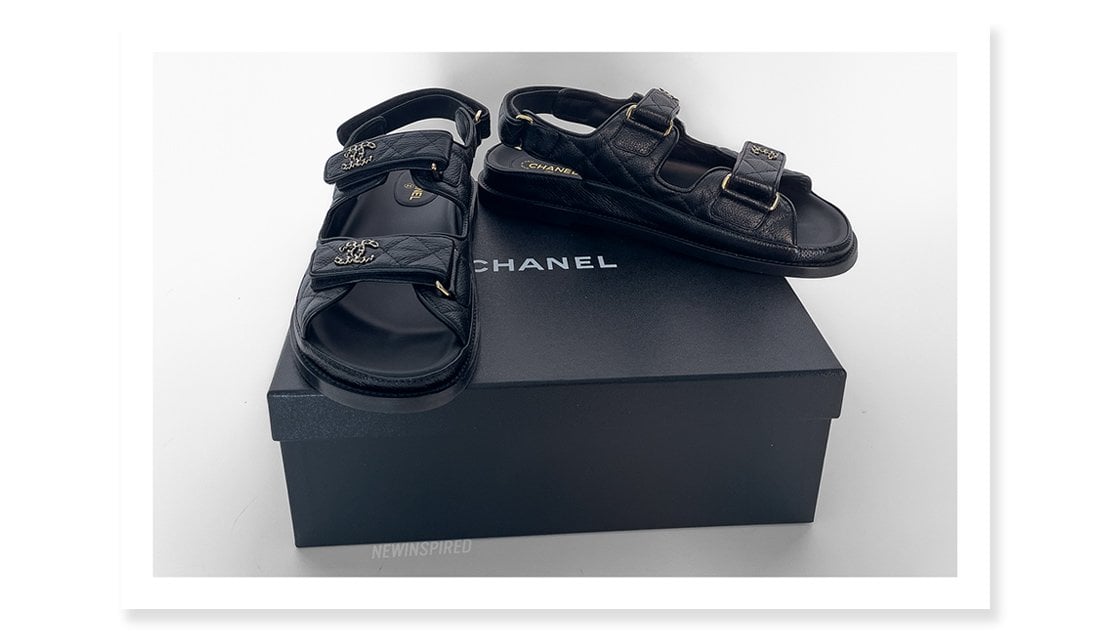 ---
"Never say never in fashion, because you'll be wearing 'never' in two years' time."
-Alexa Chung
From trying out Tevas, buying (and loving) Crocs, and even now with dad sandals, you I shouldn't be quick to dismiss a trend.
The fate of this new Instagram fashion world and having fun in this world of make-believe lies in pushing the boundaries and wearing things you told yourself you'd never wear.
So whether they're authentic or dupes, wear them with pride and just have fun with it.
If you can find them, you can grab a pair at your closest Chanel boutique from $1,250 USD.
Alternatively, if you're sure they're authentic, The Real Real or Vestiaire Collective may have Chanel Dad Sandals at a lower price.
Note: newinspired uses affiliate links which costs you nothing… but means a lot to me. When you use these links, the money newinspired earns gets reinvested in blog content. Absolutely nothing on newinspired is "gifted" or sponsored, I purchase each item with my own money. Affiliate commissions are used to purchase new items to honestly & thoroughly review. If you found this review helpful, consider using them to support newinspired.
---
You might also be interested in…