"For the girl, on eternal vacation."
-Ciao Lucia's About Page
Ciao Lucia's opening "About Us" statement offends me.
Mainly because in 2020, like none of us have been on an eternal vacation — let alone any vacation.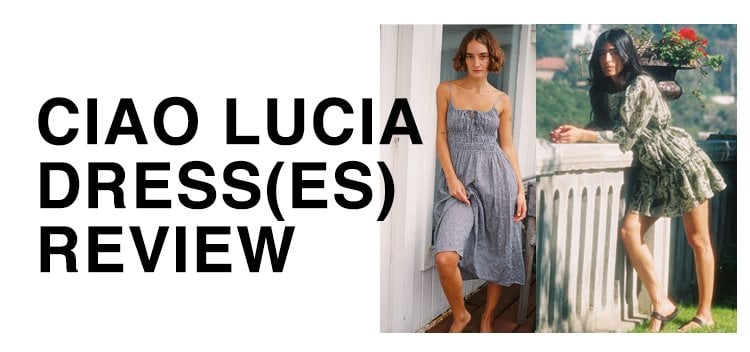 … like not even my mindset has been on holiday.

Still, wanting to at least feel like I'm on vacation, Ciao Lucia's effortless dresses got me curious.
Could wearing them mentally transport me out of my living room and to a terrace in Cinque Terre?
CIAO LUCIA SIZING
For reference, I'm 5'5.75" and weigh 115-117 lbs.
For comparison, here are some sizes I normally take:
-US 2, in HVN or Reformation
-Small, Rag & Bone T-Shirts
-UK 8, in ALEXACHUNG
-FR 34-36, in Isabel Marant or Rouje
(Dresses are shown with black underpinnings to show the garments' opacity.)
Ciao Lucia Gabriela Dress Sizing
My Ciao Lucia Gabriela dress is a size extra-small.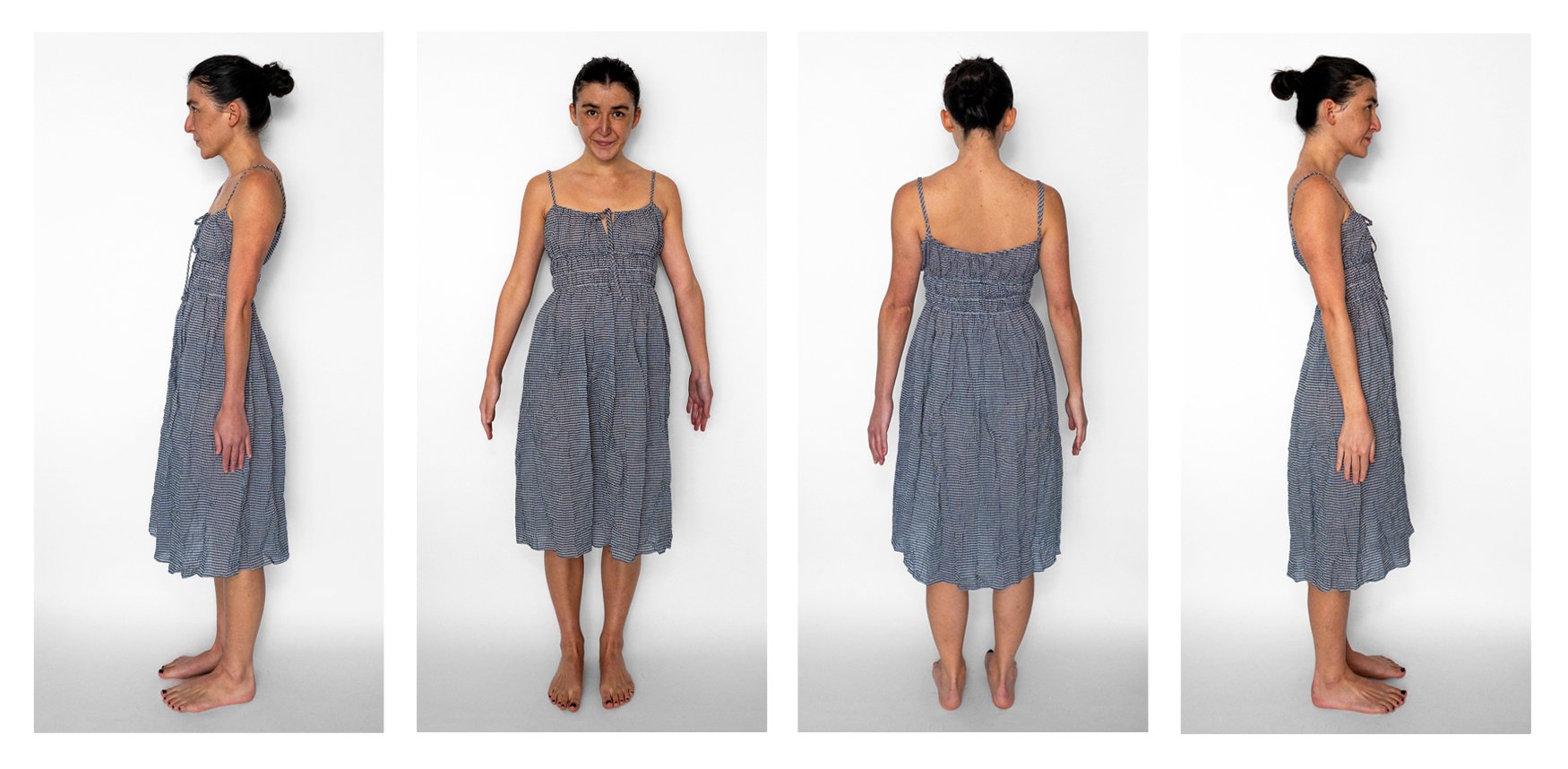 While I'm usually a size small, Ciao Lucia advises you to size down in the Gabriela dress, so I did.
… and I'm glad I did.
In an XS, the Gabriela dress is perfect.
It has adjustable straps, so you can make them higher and avoid armpit bulges (idk what those are called, but you know what I mean?).
The keyhole closure is also adjustable and can be tied as loose or as tight as you want.
Under the bust is a row of smocking, which is quite comfortable — even in an XS.
… basically, Ciao Lucia's Gabriela dress does indeed run one size small and an XS is perfect for me.
For what it's worth, mine is 51% tencel, 48% cotton, and 1% polyester, but I'd still imagine the other styles run a size small as well.
Ciao Lucia Alessandra Dress Sizing
One size up from the Gabriela dress, my Alessandra dress is a size small.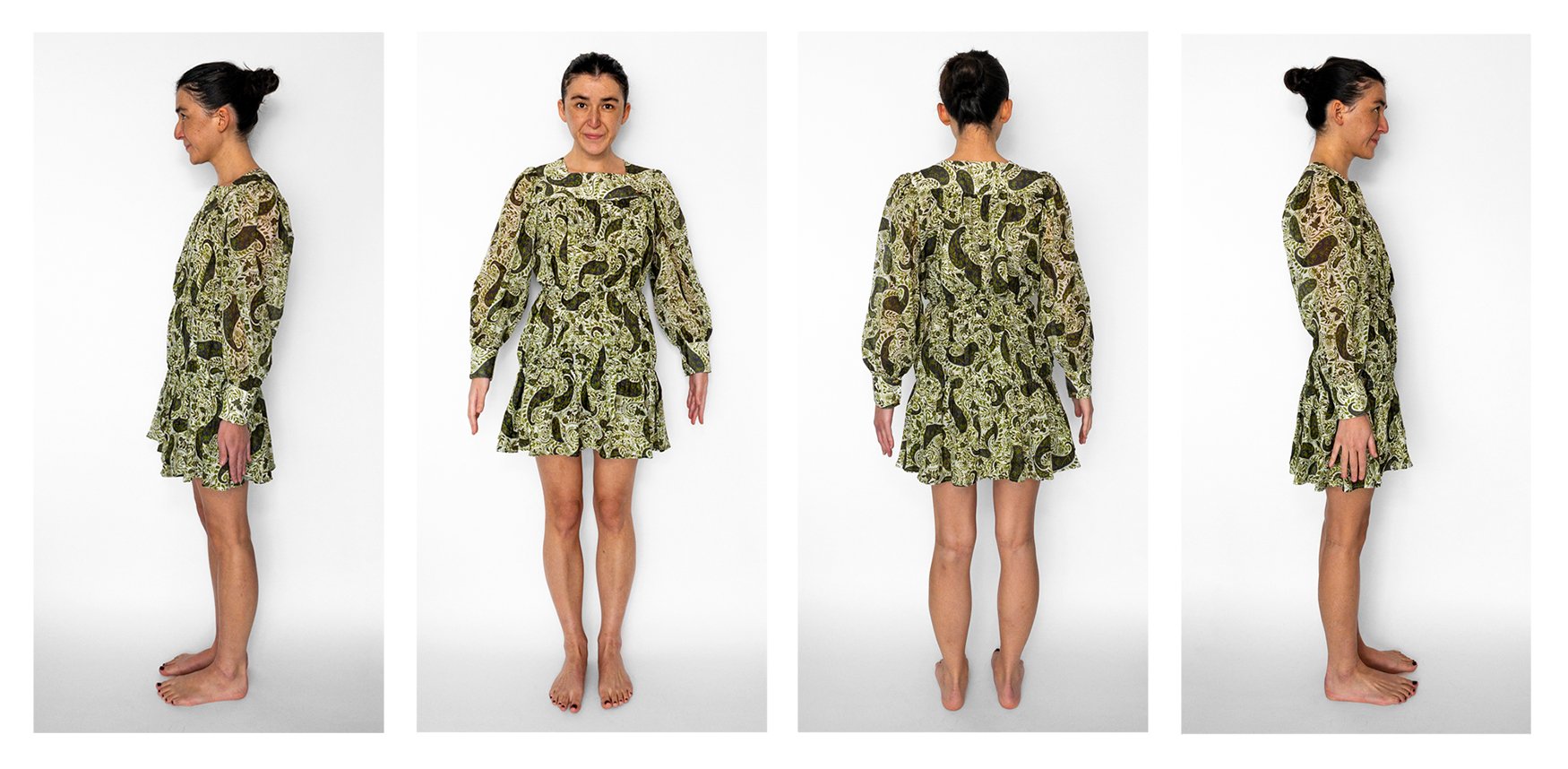 For this one, Ciao Lucia says it's true to size.
I 100% agree that Ciao Lucia's Alessandra dress fits true to size.
Depending on how long your torso is, the first set of ruching is by your lower ribcage and the second ruching is just by your hips.
The cuffs are fastened by two buttons.
… while the top has one button and an inner-button that lets you pop the dress over your head without messing up our hair too much.
When you have makeup on or your hair is done, the top buttons are great to undo and pull the dress on without mucking it up too much.
---
IMPRESSIONS
If slippers switched places with sandals, we'd stroll through the cobblestone stradas.
If mint tea was traded for Mint Juleps, we'd order another round at the Sunset Lounge.
If my Nintendo Switch swapped the place in my (stress-related) eczema encumbered hands with a crumpled map, we'd explore all the hidden backstreets.
Basically, if sweatpants hadn't been the must-have clothing, I would own every single Ciao Lucia dress at this point.
… and I'd wear them something like this…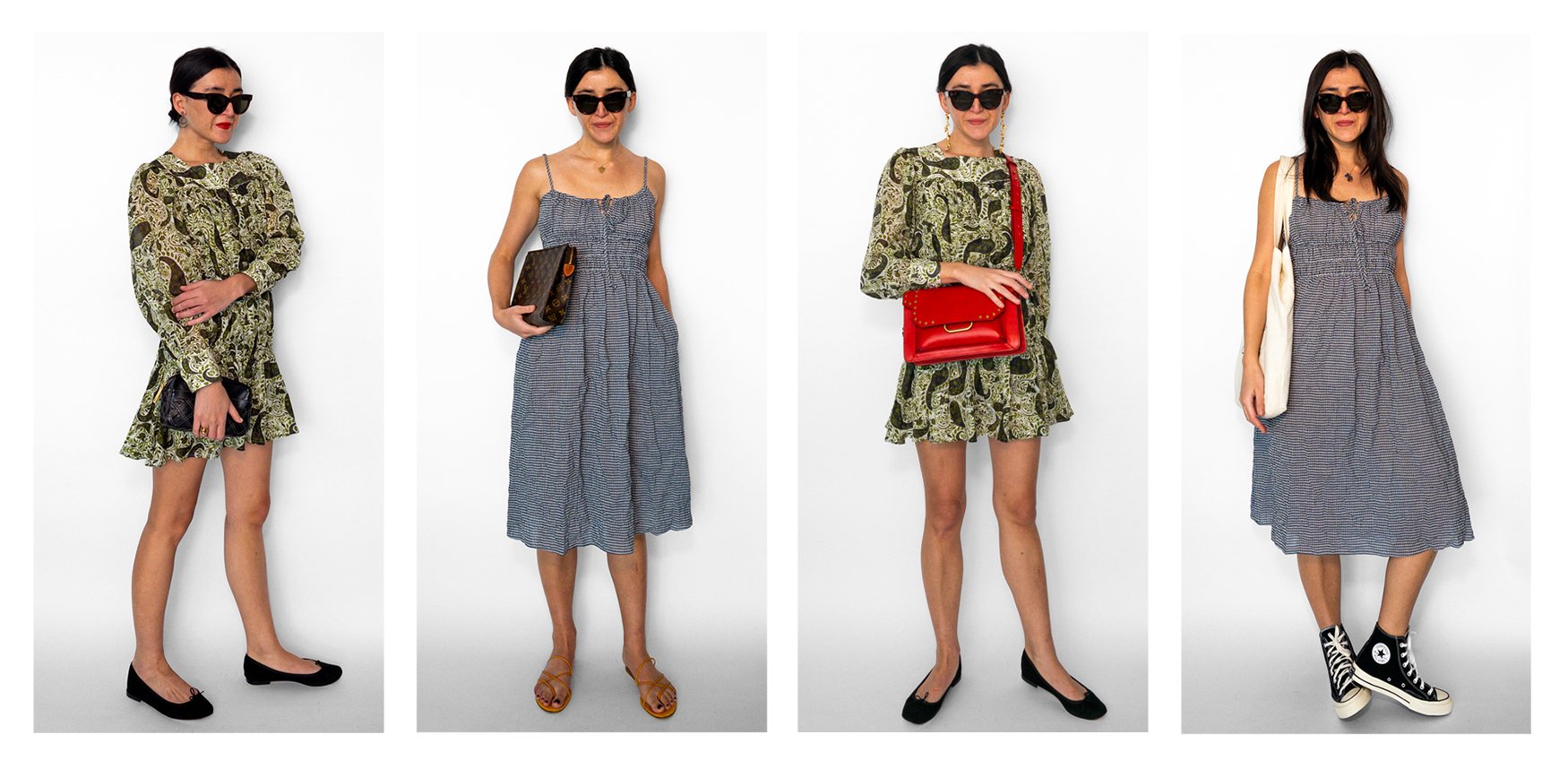 Left to Right: Alessandra dress with Repetto Cendrillon flats, vintage earrings, and a Marc Jacobs clutch; Gabriela dress with Emme Parsons Chris sandals, an In God We Trust NYC necklace, and a Louis Vuitton Toiletry pouch; Alessandra dress with Repetto Cendrillon flats, ALEXACHUNG earrings, and an Isabel Marant Maskhia Bag; Gabriela dress with Converse, vintage necklace, and a tote bag.
---
PROS & CONS
Pros
–Pockets: After moaning that Hill House's nap dresses & Sleeper's lounge dresses don't have pockets, finally I found a comfortable dress, the Gabriela, that also has pockets.
–Adjustable straps: The Gabriela dress' straps are adjustable, so you can slightly tailor the fit.
–Supremely comfortable: The Gabriela dress is 51% tencel, 48% cotton, 1% polyester, while the Alessandra is 30% silk & 70% cotton… both feel good and look good.
Cons
–No extra buttons: The Alessandra dress has 7 buttons total, but they didn't include extra buttons.
---
Listen, wearing these dresses in my living room didn't mentally whisk me away, but…
It is what it is.
Right now, I'm more than happy to stay home & wear my dresses in the living room, planning future vacations.
And you know what?
These dresses will be waiting when we're ready to safely jet again.
Note: newinspired uses affiliate links which costs you nothing… but means a lot to me. When you use these links, the money newinspired earns gets reinvested in blog content. Absolutely nothing on newinspired is "gifted" or sponsored, I purchase each item with my own money. Affiliate commissions are used to purchase new items to honestly & thoroughly review. If you found this review helpful, consider using them to support newinspired.
---
YOU MIGHT ALSO BE INTERESTED IN…