If you're here coming from Google, you know what the deal with Italic is.
If you're here because you're a regular reader (hiya!), basically Italic creates a range of products from the same manufacturers as high-end brands like Chanel, Frette, Hermès, etc…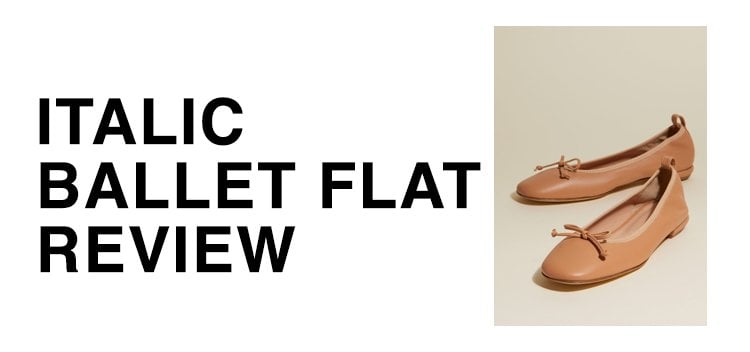 There is one crucial thing you need to keep in mind with Italic:
You're buying the product based on the idea that it's high-quality, because of the manufacturer.
… and because I have been buying & wearing Chanel ballet flats for over 10 years and Italic says they use the same manufacturer as Chanel for their ballet flats, I think that makes me the right person to review & compare them…
What's Italic?
It costs $120 USD per year to join Italic's members-only shopping club.
Italic is like a clothing/lifestyle kinda Costco for Millenials — only, you don't have to buy 5 Dutch ovens or 10 cashmere sweaters in one trip… and they don't sell hotdogs.
Both Italic and Costco make most of their profits from their membership fee.
You know how Costco's "Kirkland Signature" wines are made by the same wineries as high-end brands? That's kind of like what Italic does as well.
Italic's supply chain looks like this…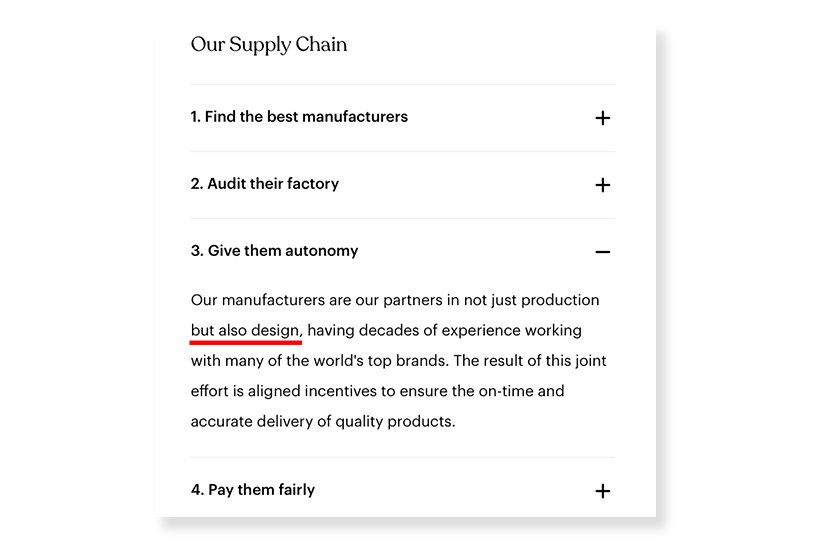 So essentially, Italic uses the same manufacturer (and their factories) as luxury brands to design and manufacture similar products for them to sell at a much lower price.
---
Italic Shoe Sizing
For comparison, my other shoe sizes run:
-Adidas Stan Smiths, US 8
–Chanel Shoes, FR 39
–Christian Louboutin, IT/EU 39.5
–Golden Goose, IT/EU 39
–Hermès, FR 39
–Isabel Marant, FR 39-40
-Nikes, US 8.5
–Repetto, FR 39.5-40
My Italic Bella Flats, in tan, are a size 9.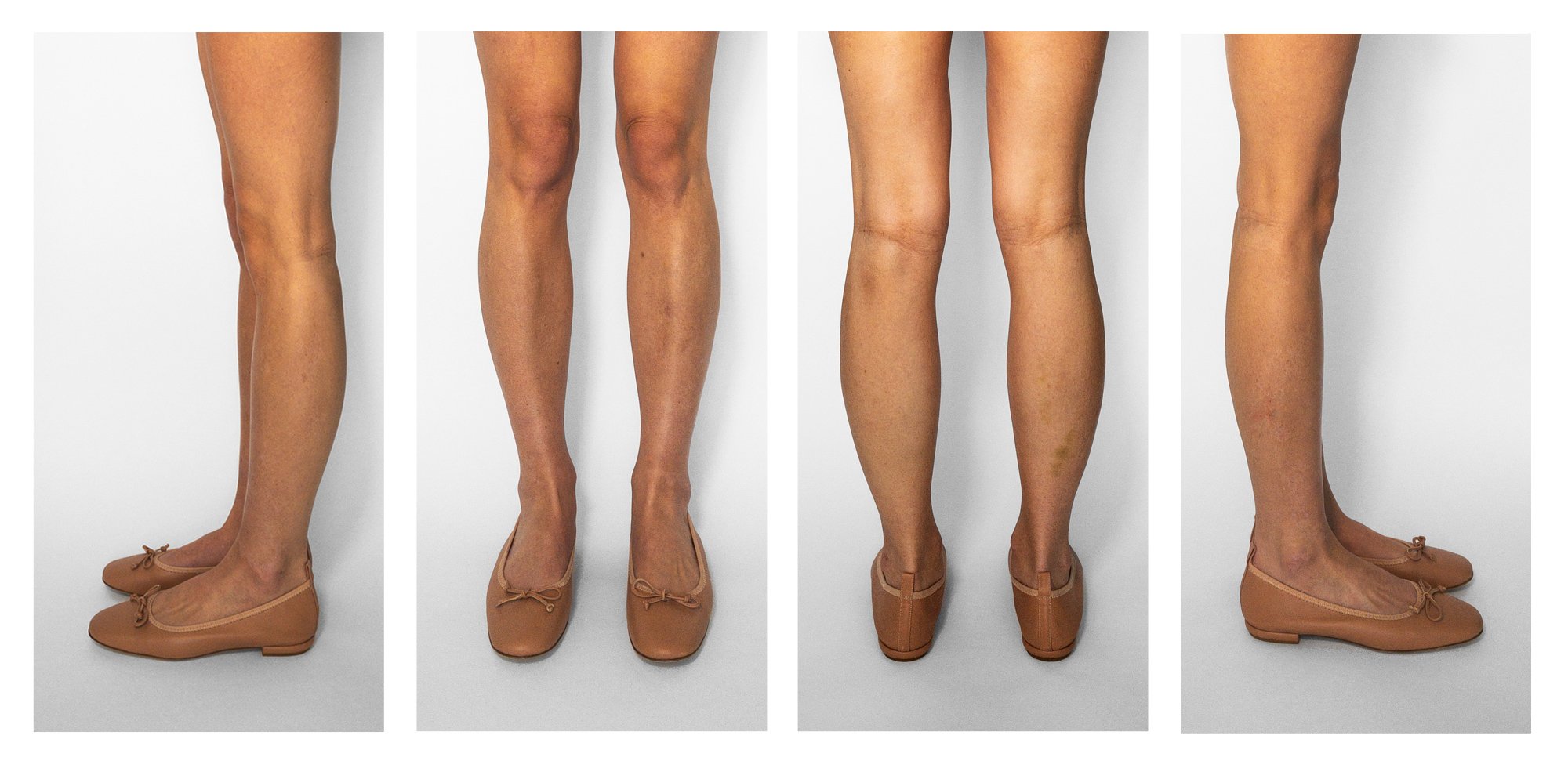 … usually I'm a size US 8-8.5, but most of the time, American brands (or in this case, a company?) that sell shoes made in Europe just subtract 30 from the size and then list it as a USA shoe size not realising that there's a size difference, so I went with my gut instinct and ordered a size 9. Upon receipt, sure enough, Italic's Bella Flats had "39" stamped on the soles.
A size 9 is definitely the right size, because my feet don't slip out and my toe is almost at the end…
… but they're quite stiff in the toe area and really hurt my toes, especially the big toes, when I walk.
Italic's Bella Flats feature a heel tab to make it easier for you to put them on.
The heel tab would be fine if the heel didn't cave in at the sides. In reality, you have to spend a couple of seconds wiggling your heel into the shoe before inserting with the tab… so, it's not entirely easy.
---
Ballet Flat Breakdown
Let's put Italic's Bella Flats to a "pseudo-scientific lab report" analysis!
For the sake of fun, this ballet flat quality series is called the "Ballet Flat Breakdown," because I'm gonna breakdown everything you would wanna know about these ballet flats.
Note: These are my opinions, yours could differ.
1- Heel Height
1.4 cm-ish
2- Soles
Suede leather soles with a rubber heel that's swathed in leather.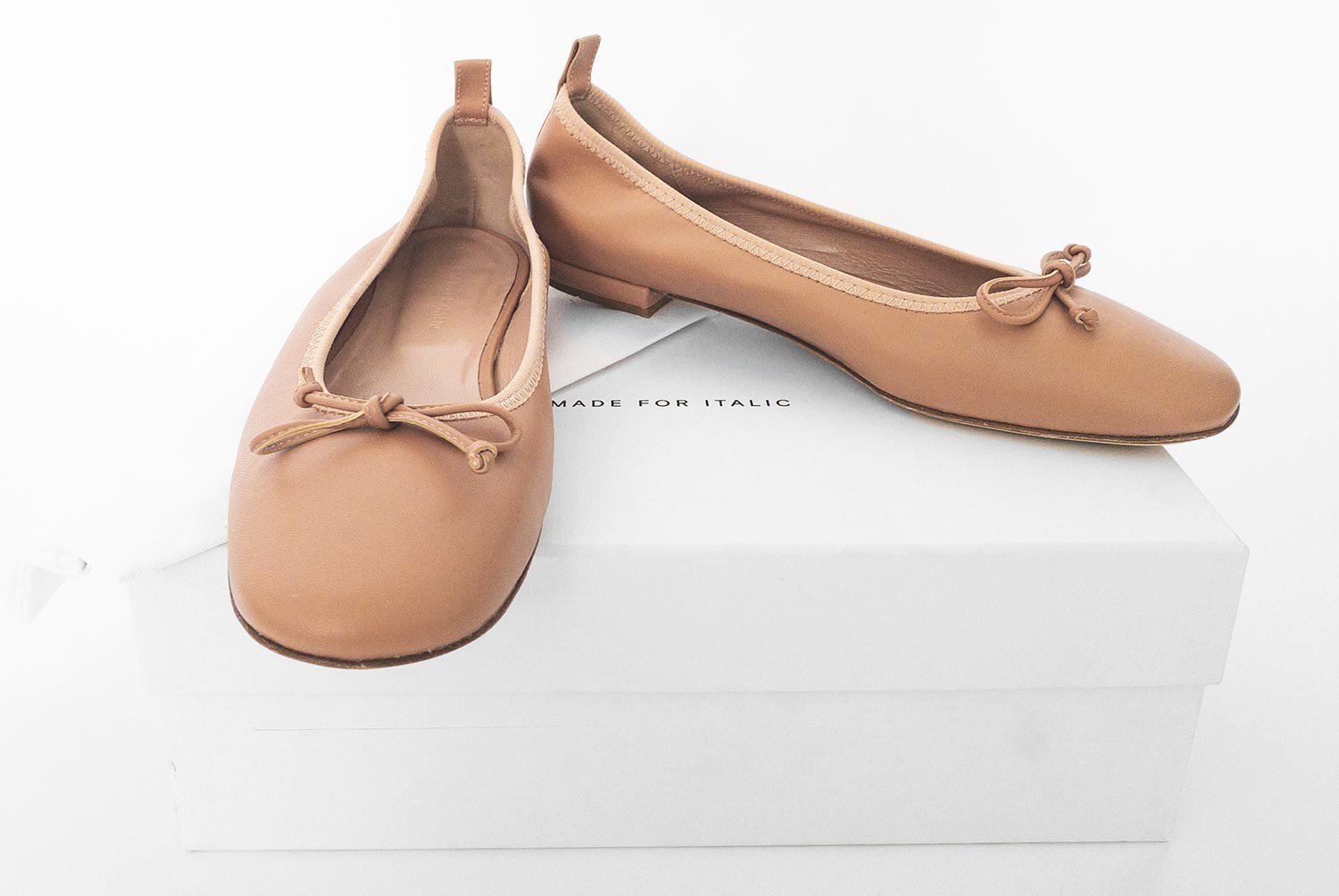 3- Adjustable Bow
Italic's Bella Flat bow is purely ornamental — they don't make your ballet flats tighter.
4- Toe Cleavage
No cleavage at all.
These ballet flats are cut relatively high.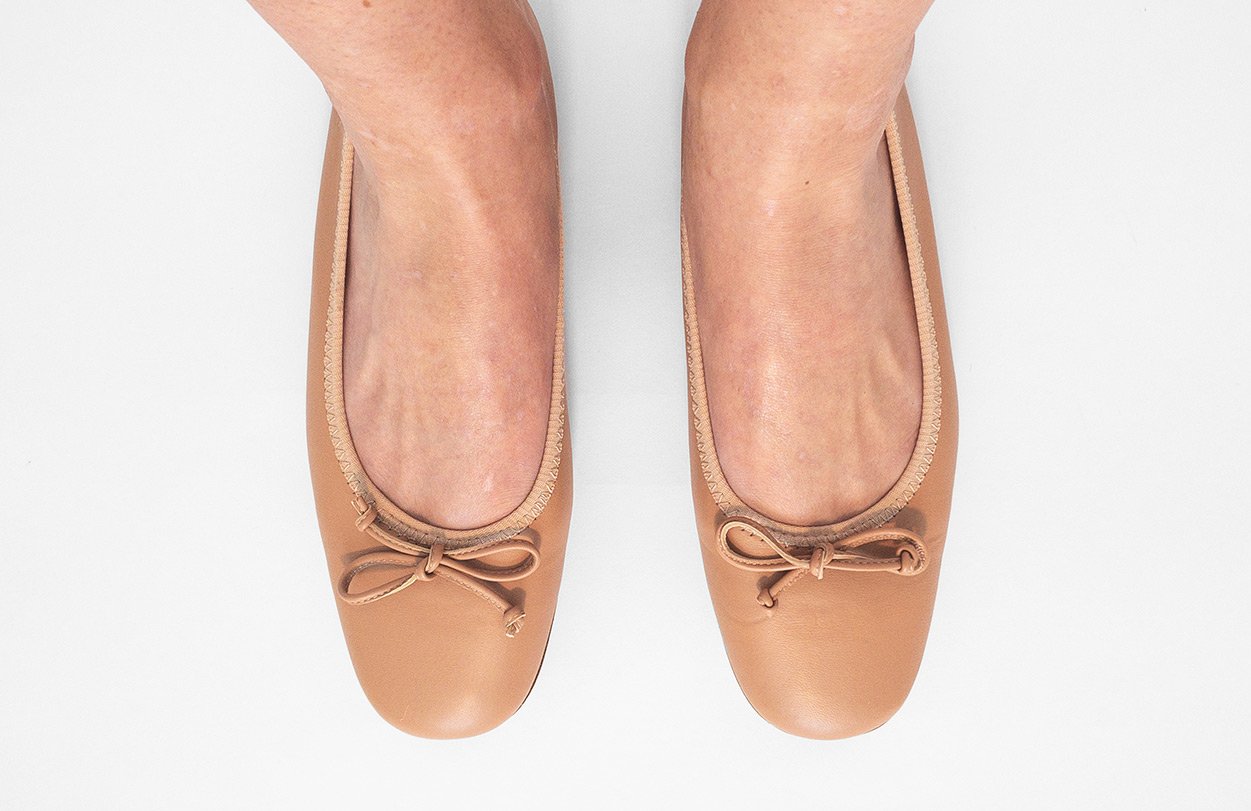 5- Are They Comfortable or Not?
For 15 minutes, I took a walk around my apartment wearing them. My toes hurt while walking and I got a blisters on my achilles tendon… in an era of slippers, blisters aren't uncommon lately.
… but back to my toes.
My toes and big toe especially hurt when I walk in Italic's Bella Flats…
That kind of pain hasn't happened to me since I wore $60 Steve Madden ballet flats in high school.
Whatever the poor-construction reason may be for that pain, here's how they look on.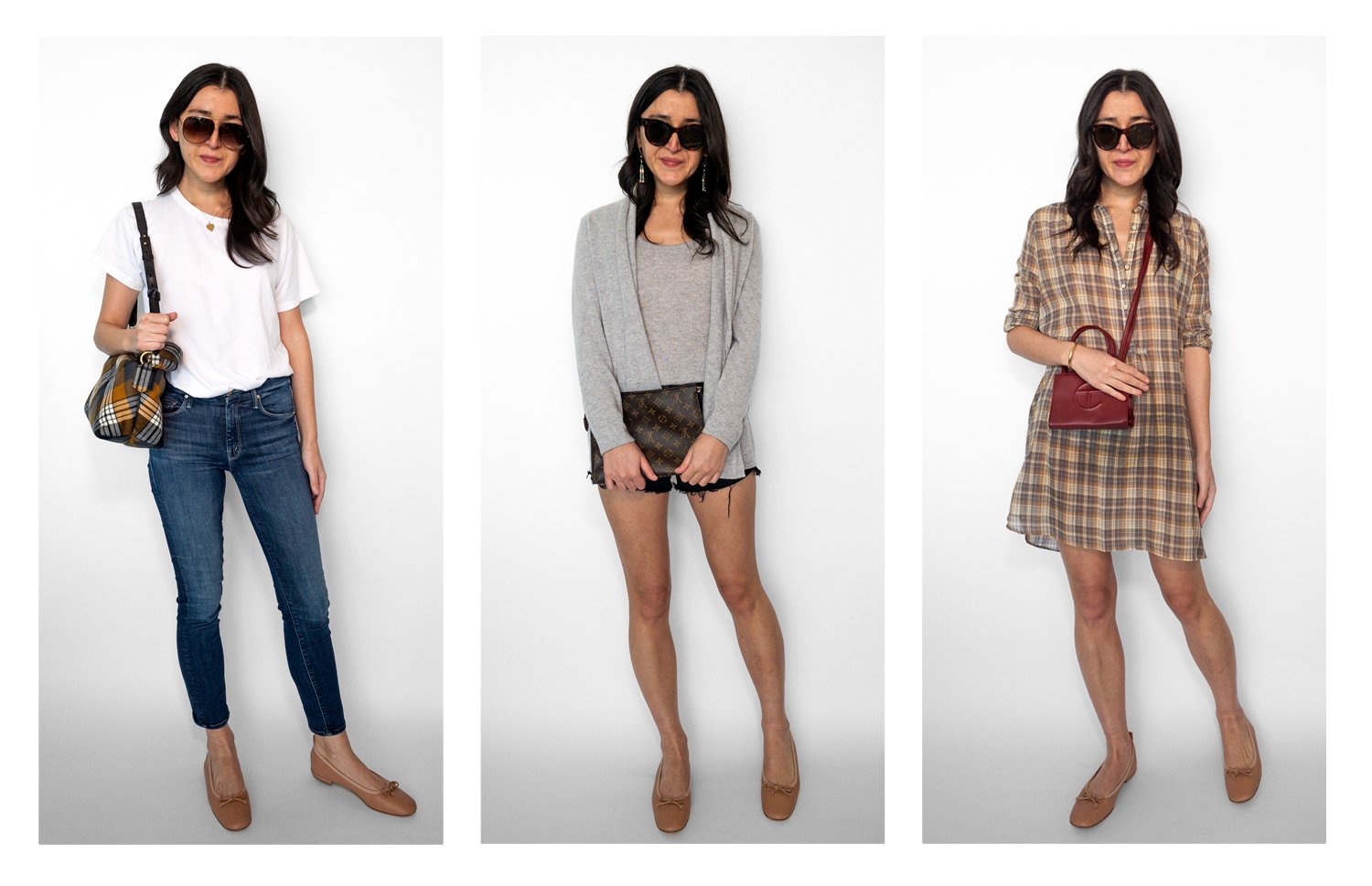 Left to Right: MOTHER jeans with a Calder Blake t-shirt, In God We Trust NYC necklace, and a Dries van Noten Pillow tote; AGOLDE Parker shorts with a Neiman Marcus Cashmere Collection tank top and cardigan, Isabel Marant Besame earrings, and a Louis Vuitton Toiletry pouch; Maje dress with a Jennifer Fisher bangle and Telfar Small Tote Bag.
---
Italic Ballet Flats vs. Chanel Ballet Flats
Despite the shared manufacturer, Italic Bella Flats are quite a bit different than Chanel ballet flats.
Remember Italic's Supply Chain process? How the manufacturer designs the shoes and makes them?
The differences likely stem from the idea that Chanel brings their own unique designs to the factory for production… instead of having the manufacturer design and produce them.
For me, the biggest differences are that Chanel ballet flats look elegant, are designed in a way that don't hurt your big toes when you walk, and are high-quality.
… but let's run through the nitty-gritty aesthetic differences, then get into the difference in quality.
Heel Tab
Chanel ballet flats do not have a heel tab, whereas Italic's do.
Personally, I dislike heel tabs — ballet flats are supposed to errr on the side of elegance and a heel tab diminishes the lithe look.
Heel
Chanel's is wooden with a rubber cap and Italic's is something (probably wooden?) that's covered in leather with a rubber cap.
Toe
Chanel's are an almond shape, while Italic's are more of a rounded rectangle.

Soles
Both have leather soles.
Leather
Chanel uses lambskin or goatskin leather for the exterior. Italic Bella Flats uses Napa leather for the exterior and kid leather for the interior.
Bow
Italic and Chanel's bows are similarly & purely non-functional, they both rely on…
Elastic
The elastic around the opening is what helps you get the fit you want for both pairs.
However, Italic's elastic stitching is exposed, whereas Chanel's is hidden.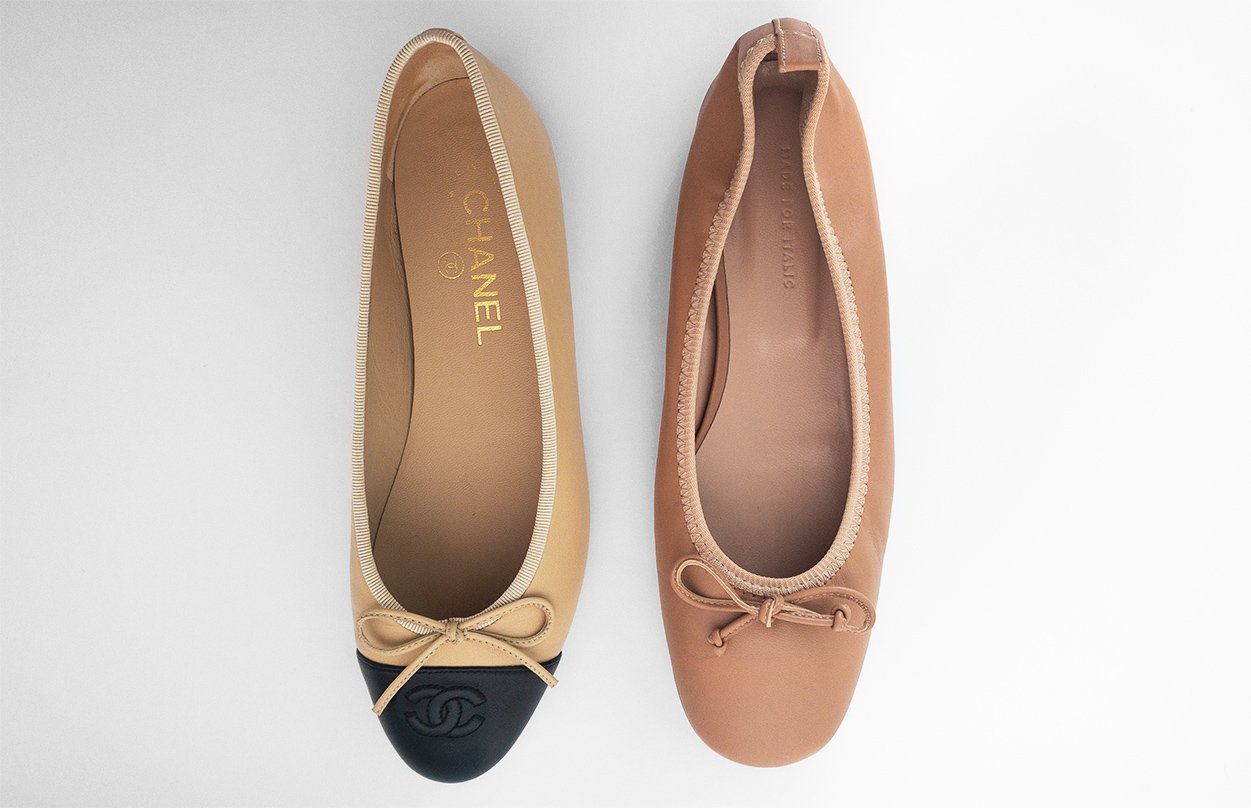 Place of Origin
Since they share the same manufacturer, obviously, they're both Made in Italy.
… but, the biggest & most important difference between Italic & Chanel's ballet flats?
---
Are Italic Shoes Quality?
Over 13 years, I've had 7 pairs of Chanel ballet flats — they're chic, comfortable, and quality shoes. However…
Italic's ballet flats are not well-made.
There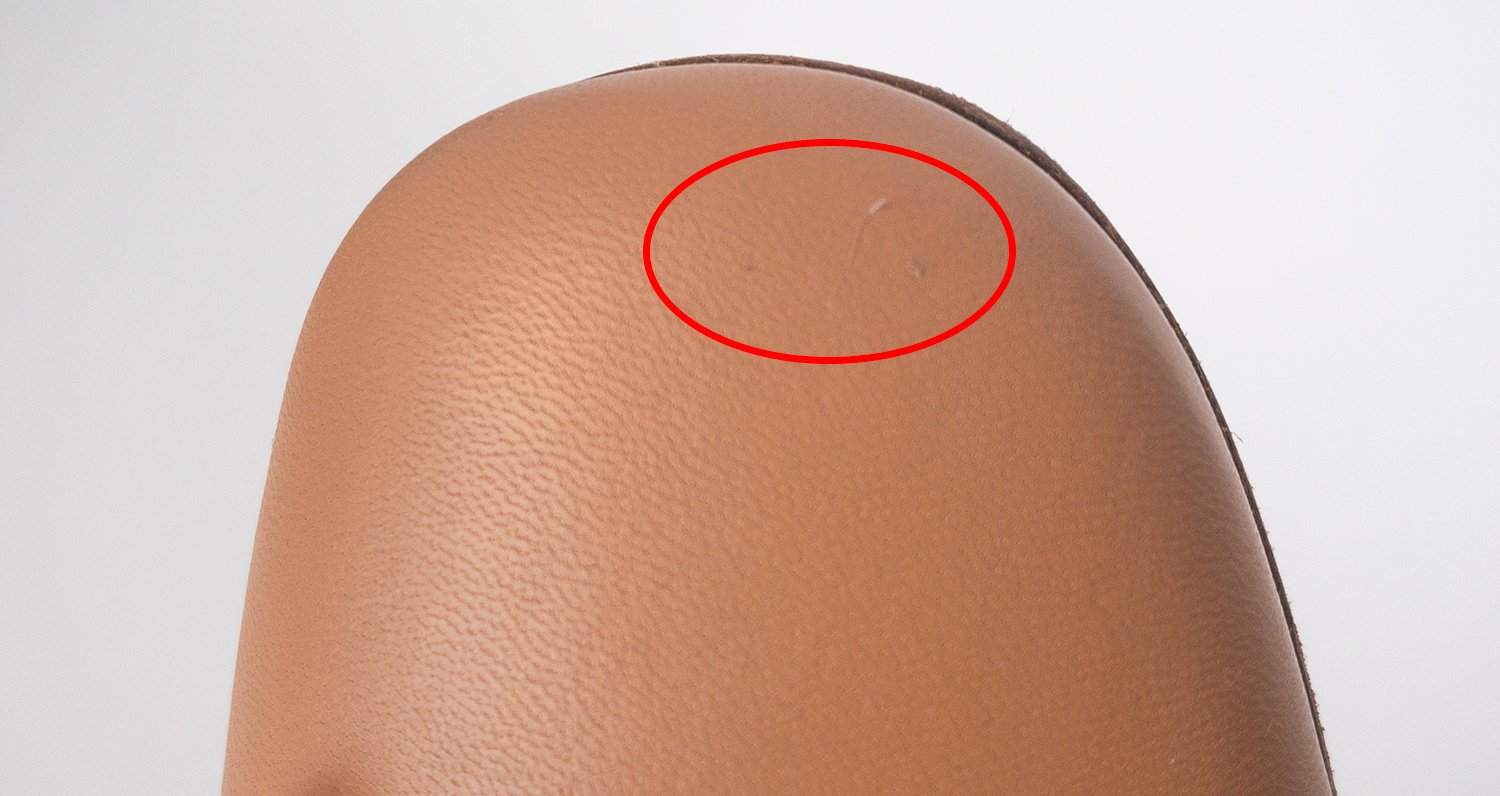 is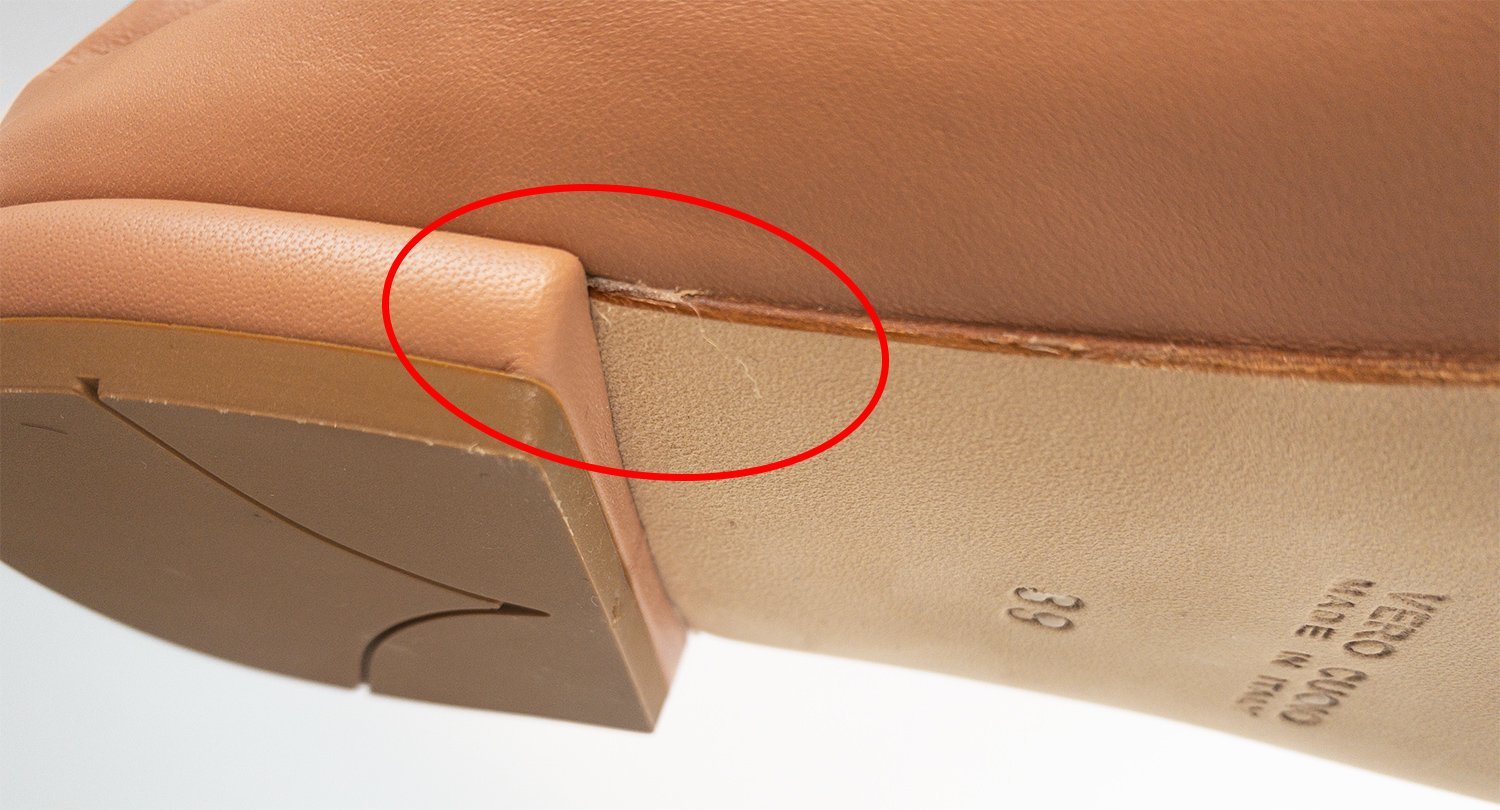 glue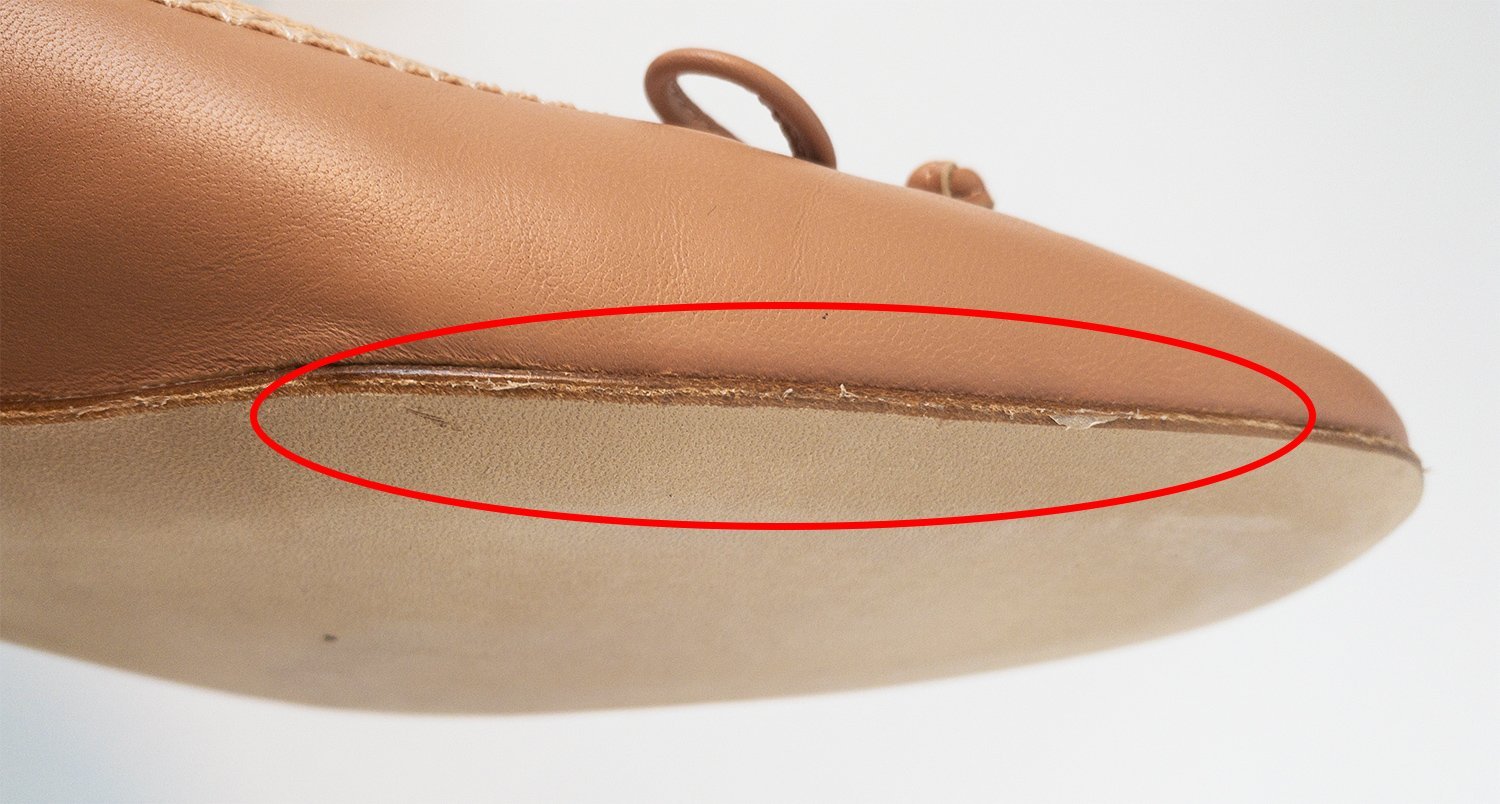 everywhere.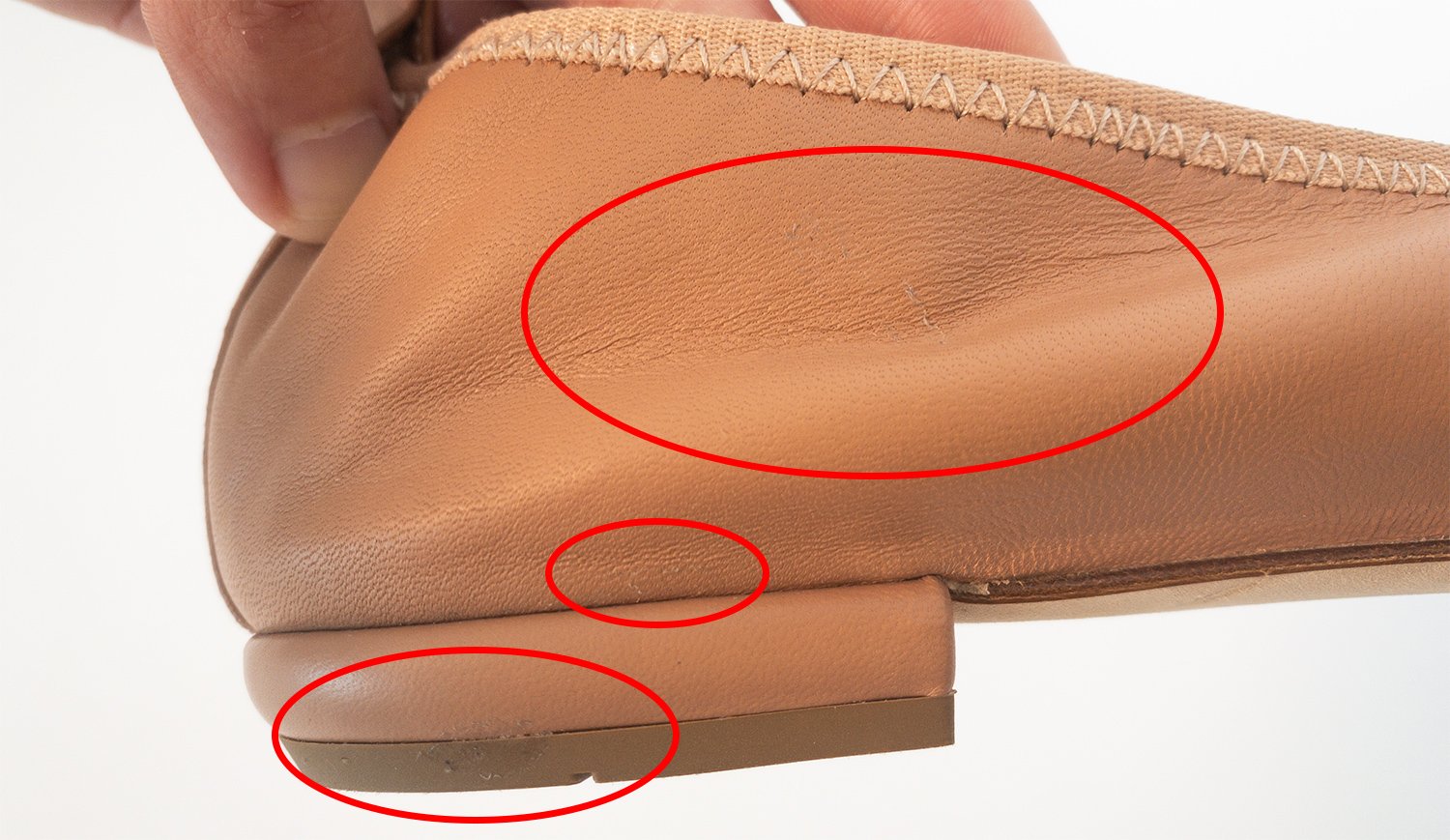 … like, it looks like the manufacturer went crazy with a glue gun.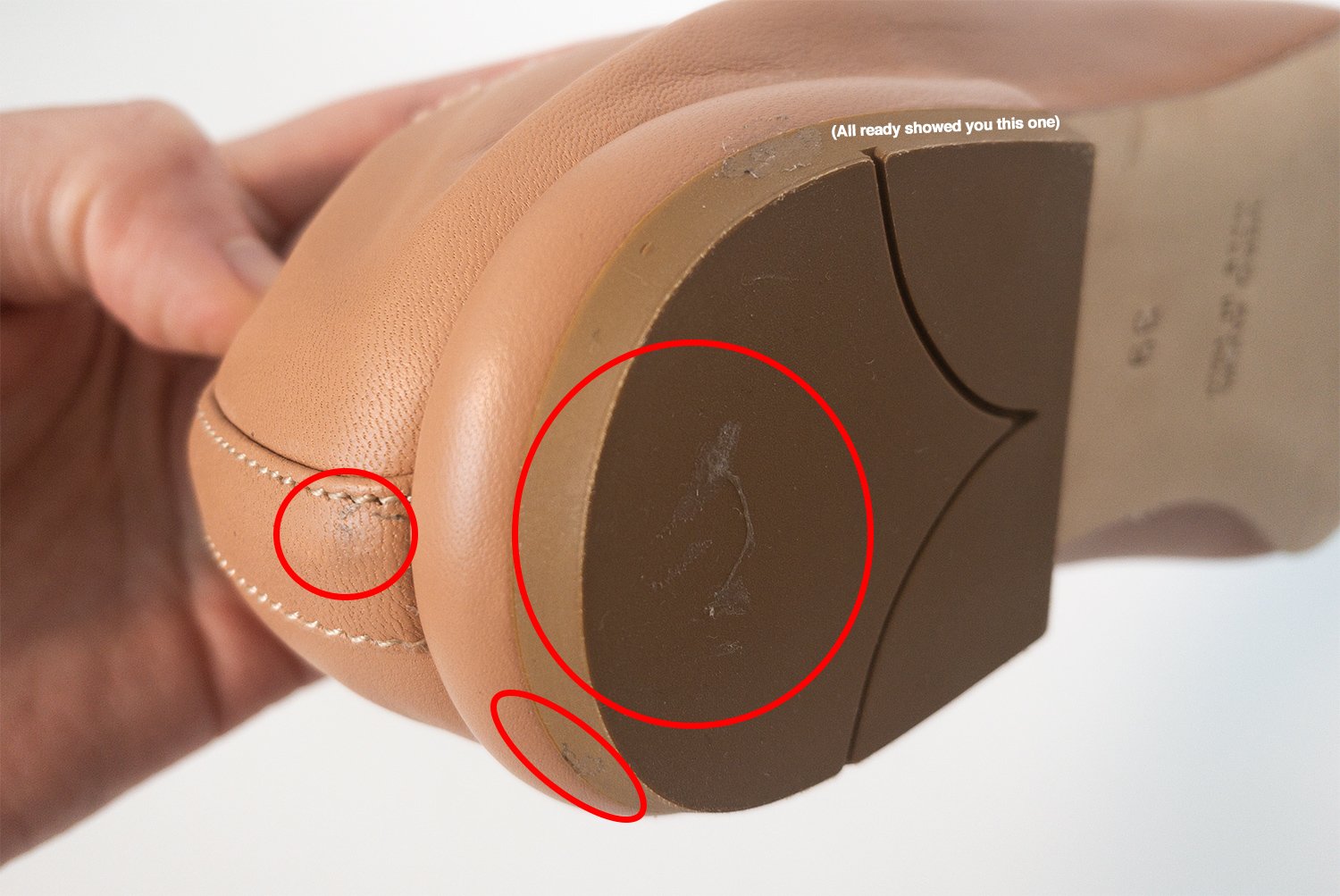 The sole also isn't adhered well on one side.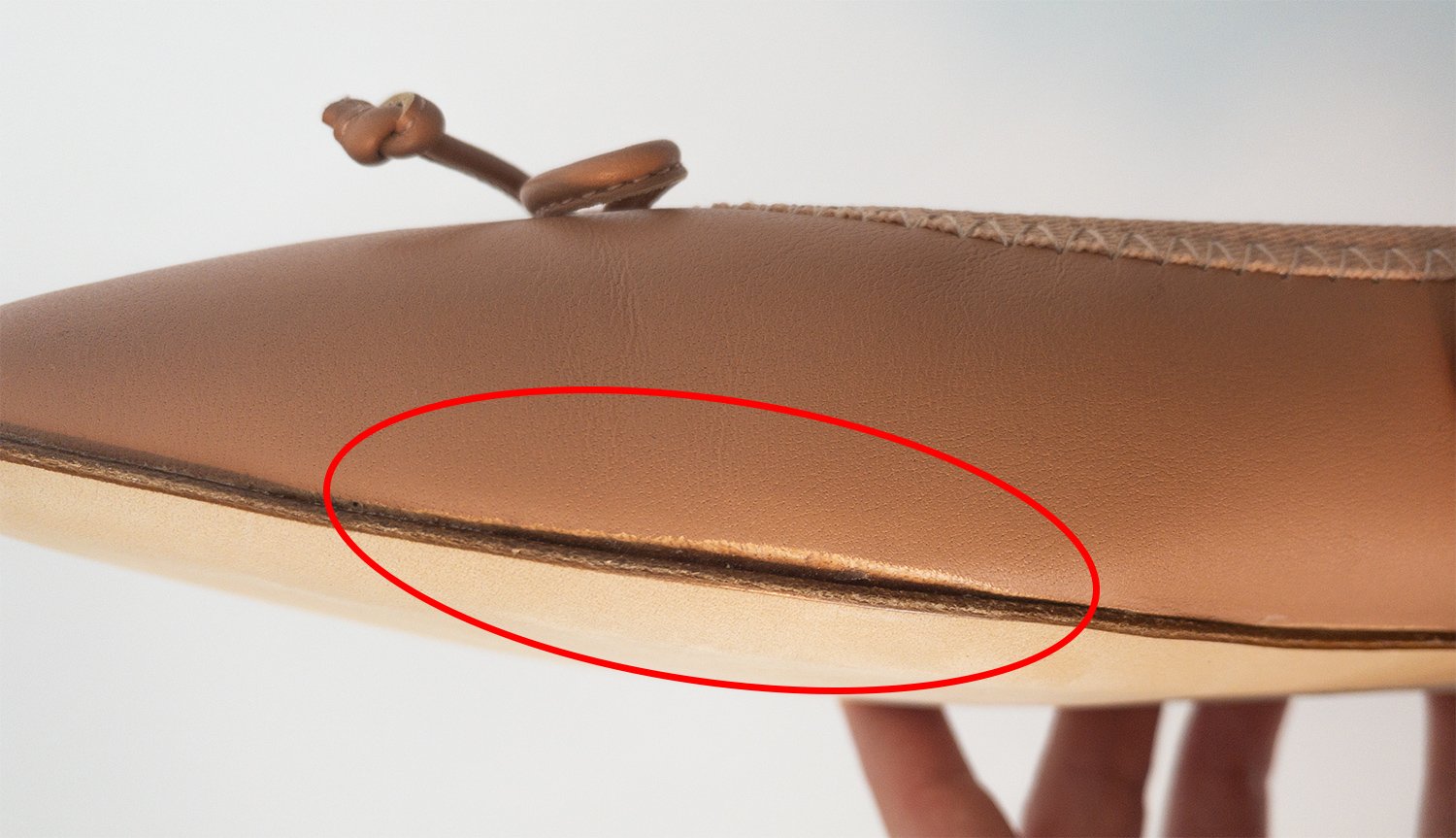 … and even with all that glue inside the shoe…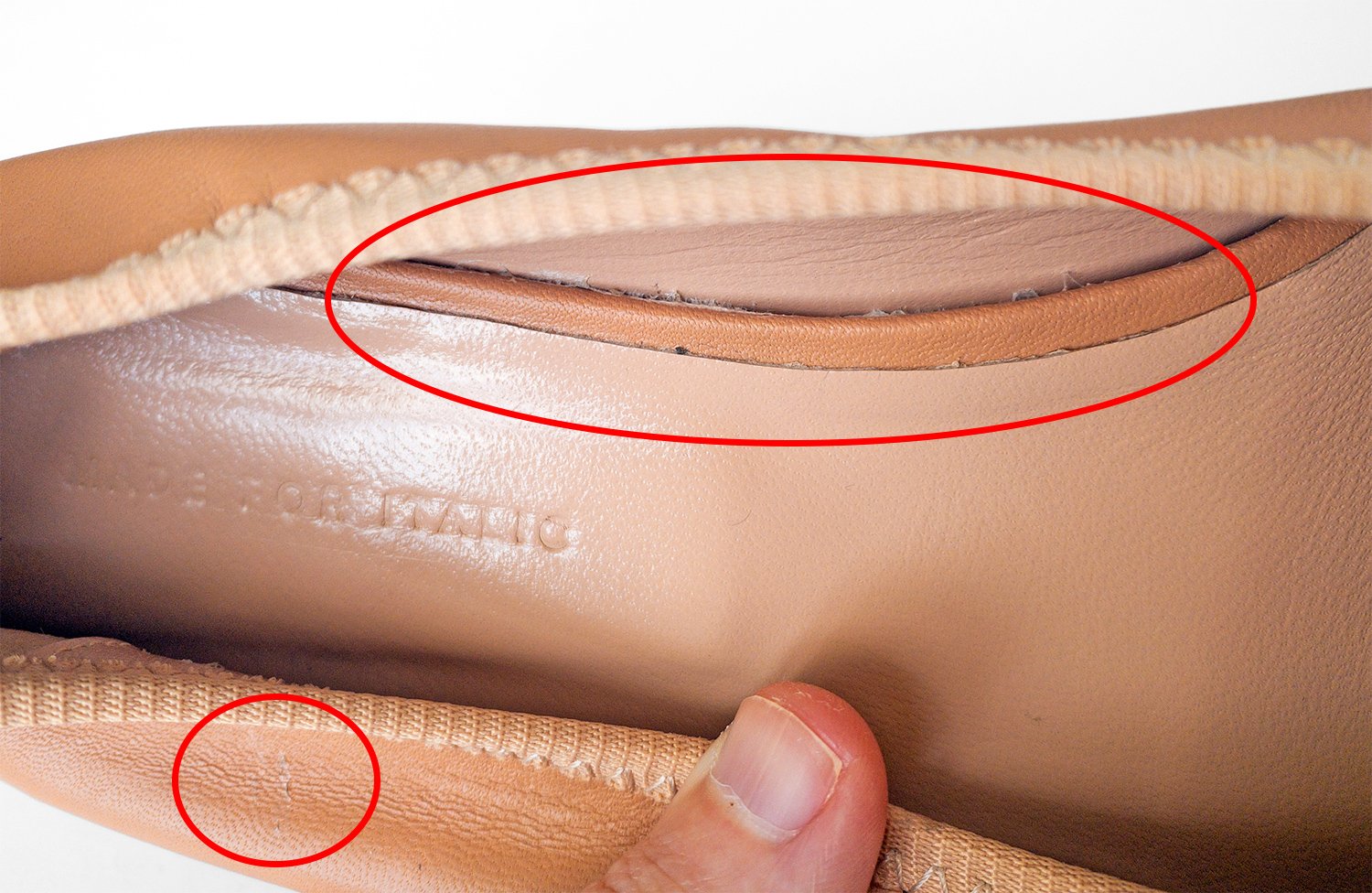 … the insole wasn't inserted properly either.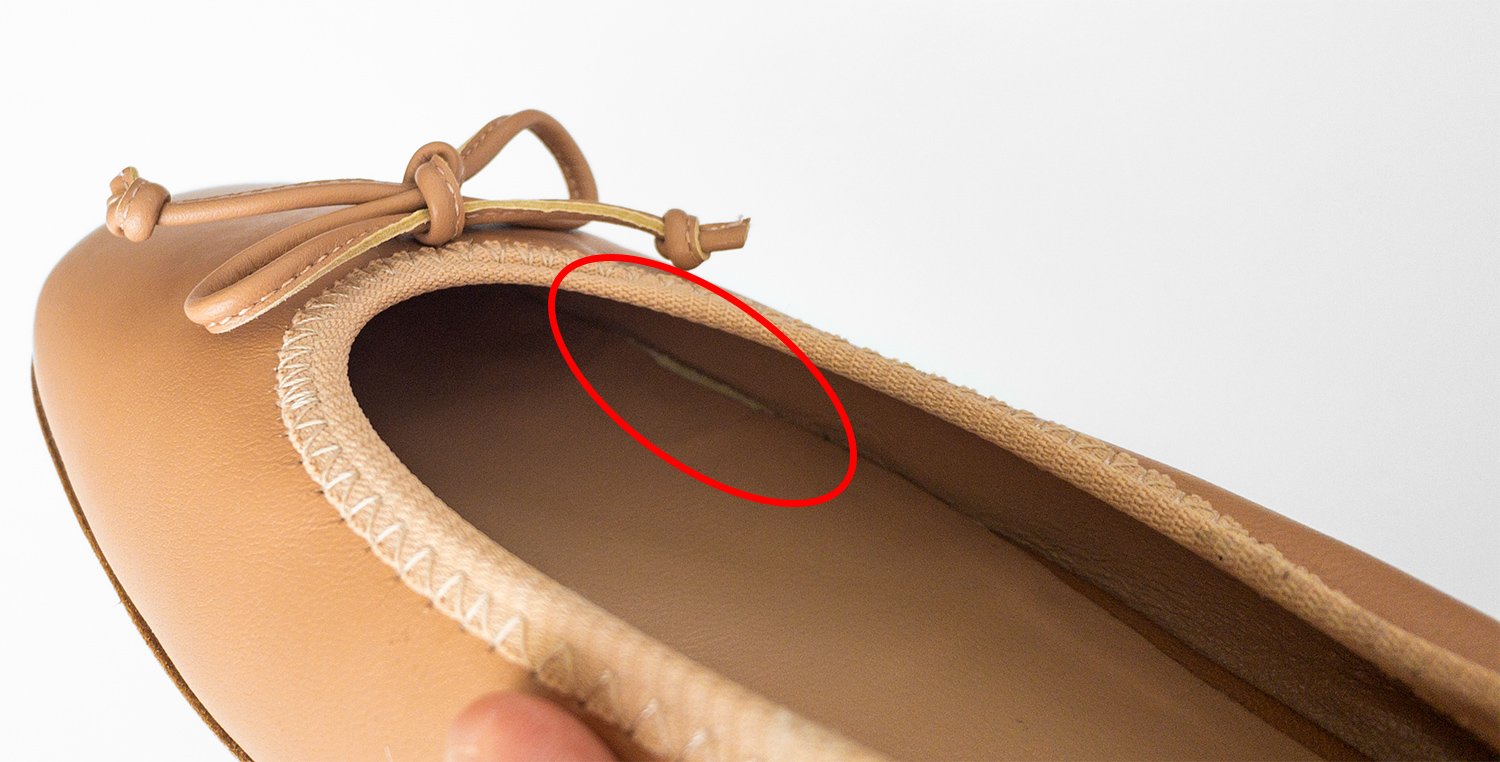 Like I said before, from 2008-2009, I bought a lot of cheap ballet flats to wear to school — some were also uncomfortable, but none of them had glue everywhere.
This pair of shoes makes me wonder if Italic has a quality assurance process during manufacturing and before sending out orders.
Comparison side note: I bought a pair of Isabel Marant Denvee boots from SSENSE and the order was delayed because SSENSE does quality checks before shipping. They noticed the smallest scratches on the bottom of the sole, sent photos of the "damage", and offered me a $40 discount if I was OK with it — I was, since they aren't visible while wearing. Sure, we're in "unprecedented times" and SSENSE is an established company, whereas Italic is in its nascent stages (founded in 2018)… but, I ordered my boots during "all this" and, in my opinion, 3 years is enough time to put together a quality assurance team.
Since Italic uses the same manufacturer as Chanel, you'd think that the quality would be similar — it definitely is not.
If Chanel uses glue in their manufacturing process, I wouldn't know because I've never seen any rogue pieces of glue on or inside my Chanel ballet flats.
Despite the shared manufacturer, it seems like Italic cut a lot of corners to keep the cost down.
This could have been with the amount of glue used, the exposed elastic, type of leather, the manufacturer's attention to detail in the design & overall fit, and most importantly, in their quality control process.
I'd be surprised if Chanel did not have a multi-person quality assurance team at multiple steps during & post manufacturing — but I wouldn't be surprised if Italic's team looked like this for the Bella Flats…
(In case NBC restricted it in your country, it's a clip from the Office (Goodbye Toby/ season 4, episode 14) that plays out like this…
Creed: [shaking Holly's hand] The pleasure's all mine.
Holly: Oh, thanks. I'm really looking forward to sitting down with you and finding out more about what you do here.
Creed: Any time.
Holly: What do you do here?
Creed: … excuse me.
Creed: What is wrong with this woman? She's asking about stuff that's nobody's business. "What do I do?"… Really, what do I do here? I should've written it down. "Qua" something, uh… qua… quar… quibo, qual…quir-quabity. Quabity assuance! No. No, no, no, no, but I'm getting close.)
---
PROS & CONS
Pros
–Nice box & dust bag: Carel Kina shoes are like $400 USD and came in a pretty cheap box with no dust bag… Italic's Bella Flats are $110 USD (or $230 USD with your $120 USD Italic membership cost (note: when I ordered them, the shoes were $125 USD, Italic drops their prices on select items now & then)) and arrived in a nice box with a dust bag.
Cons
–Quality: As we see with these ballet flats, just because you use the same manufacturer as a luxury brand doesn't mean that the quality control team is as vigilant as the luxury brand's… or that they're designed to fit as comfortably.
–Price: For the quality, these are way overpriced.
–Glue work: There's a lotta glue everywhere… did Chanel and Prada's manufacturers not have time to wait for Italic's Bella Flat's glue to dry?
–Heel tab: Other than letting you put the shoe on with a bit more ease, it really does not add anything to your outfit. IMO, they should consider getting rid of the bow if they want the tab or get rid of the bow if they want the heel tab. The heel tab makes the shoe feel almost athletic or utilitarian.
–Italic's replicas: It really bothers me that Italic makes replicas of famous luxury goods, but also diminishes the essence of luxury items with statements like "But we think that high-quality, beautifully designed pieces have a real-world value, so we created a way to sell them at realistic prices" (from their "About Us page" c. 2020/21 (this is no longer there/removed)). It's like, you can't have your Acne Velocite jacket and wear it too, folks.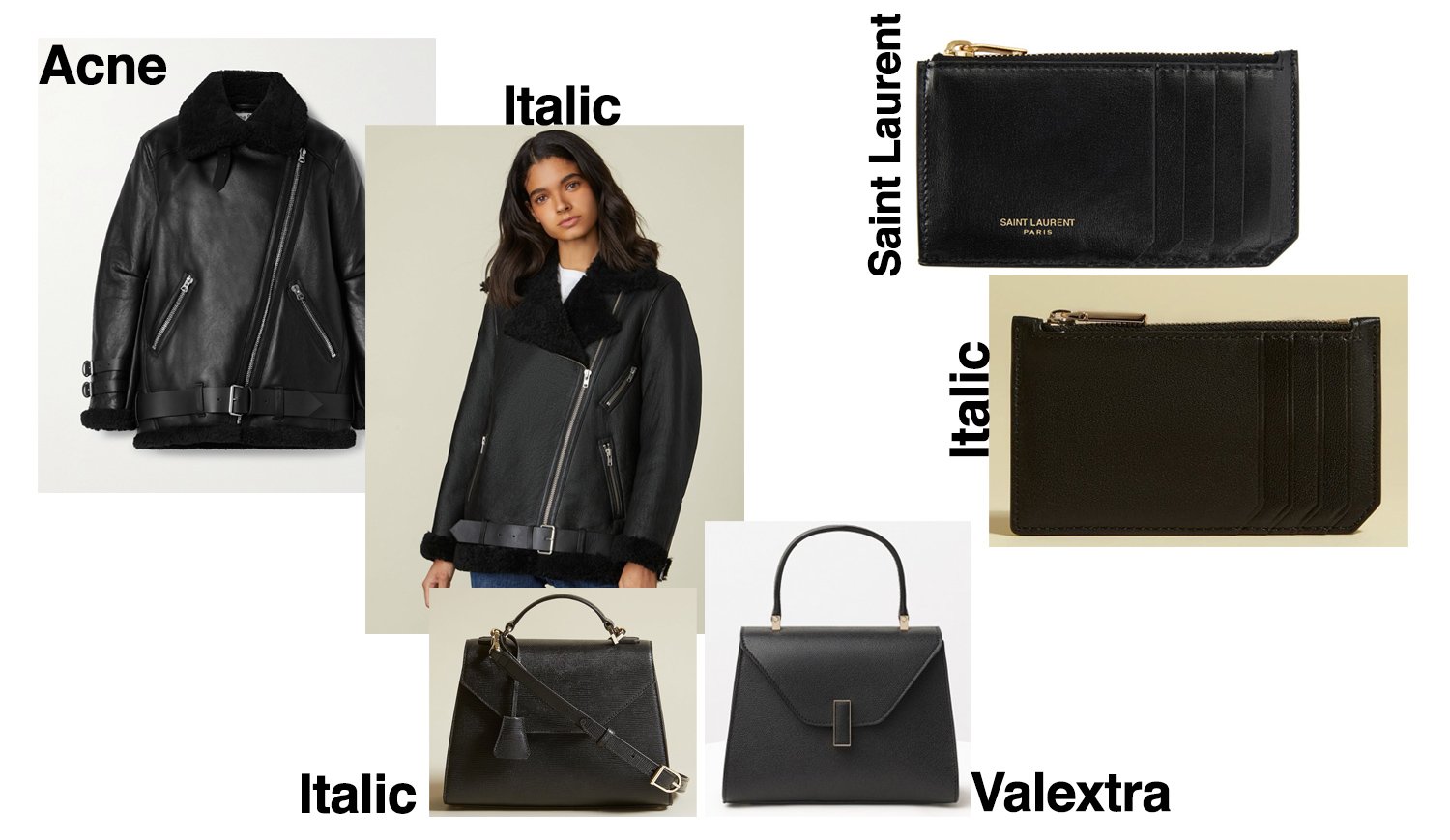 –Same manufacturer as XYZ: These brands worked hard to become synonymous with prestige and quality… and Italic seemingly gets to ride off their coattails, but then deliver less-than quality ballet flats (from their "About Us" page: "Retail has always been about access, with brands using inflated prices to control who can buy their products.").
---
Italic's deal is that you pay significantly less for products that are "well-made" due to their association with luxury brands' manufacturers/factories.
The thing is, when it comes to these Bella Flats, the manufacturer doesn't really matter when the product is poorly designed, has glue everywhere, and, worse, when the company doesn't seem to have a quality control team in place to catch all these mistakes.
To be fair, this is just based on one pair of ballet flats… Italic's other products could be better.
However, if you want quality ballet flats, then I'd say to skip Italic — there are companies out there who sell well-made flats at equally accessible prices.
Italic Bella Flats are available from Italic for $110 USD and access to Italic will cost you $120 USD per year.
… and, obviously, Italic did not approach me or ask me to write a review about this product. These are all my own honest thoughts after ordering these Bella Flats with my own money.
---
You might also be interested in…