At this point, your my consumerism is ruining the planet.
It's hard to accept that buying more cashmere to keep you warm, is in fact making the planet warmer.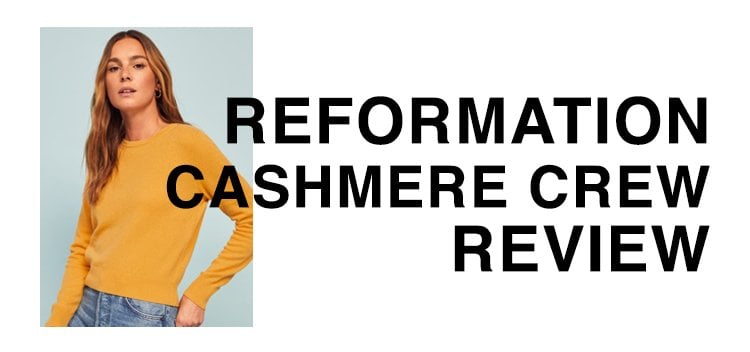 … but leave it to Reformation to make all of us feel a little less guilty about ruining our planet with their cashmere sweaters.

Using a mix of recycled cashmere and some new cashmere, Reformation's cashmere sweaters have 80% less of an impact on the environment.
Let's get into sizing, then put Reformation's cashmere to the test…
Reformation Cashmere Crew SIZING
For reference's sake, I'm 5'5.75" and weigh 115-117 lbs.
I give this information because it could be useful.
For comparison, my sizes run below:
-US 2, in HVN or Reformation Dresses
-Small, Rag & Bone T-Shirts
-UK 8, in ALEXACHUNG
-FR 34-36, in Isabel Marant or Rouje
My Reformation Cashmere Crew (in "Ochre") is a size small.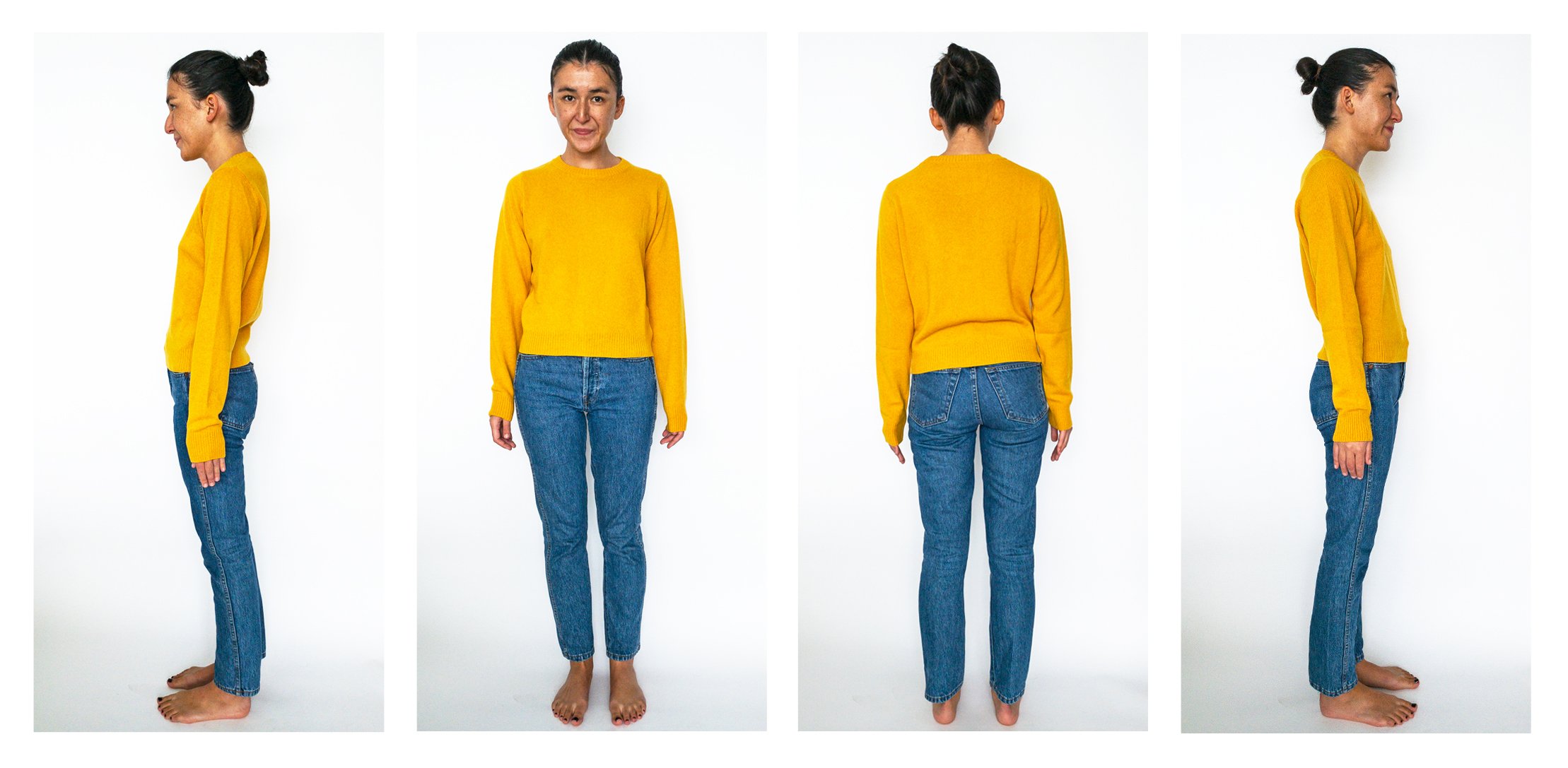 This Reformation sweater runs a little bit big… which was a pleasant surprise.
The model wears a size XS, but, I still liked the fit in a size small.
Normally I like to size up to a medium for sweaters for some extra room…
… but a size small fit my shoulders perfectly, has long-ish sleeves, and still feels like there's space to be cozy in the body.
Note: If you're curious, I also have a Ref dress review here, Ref jeans review here, and shoes here.
---
---
"The" Cashmere Challenge
Let's put Reformation's Cashmere sweater to a middle-school "scientific lab report" style test!
You can find other Cashmere Challenges here.
Note: This is just my experience, yours could differ.
Hypothesis
Reformation's cashmere crew is "a medium weight cashmere sweater knit blend – 70% Recycled Cashmere 25% Cashmere 5% Responsible Wool."
… so it's technically not 100% cashmere.
Due to the fact that my Reformation t-shirts pilled, I'm going to hypothesize that this sweater will be durable — but will pill like crazy.
Materials
-x1 Reformation Cashmere Crew
-x1 Pair of denim dungarees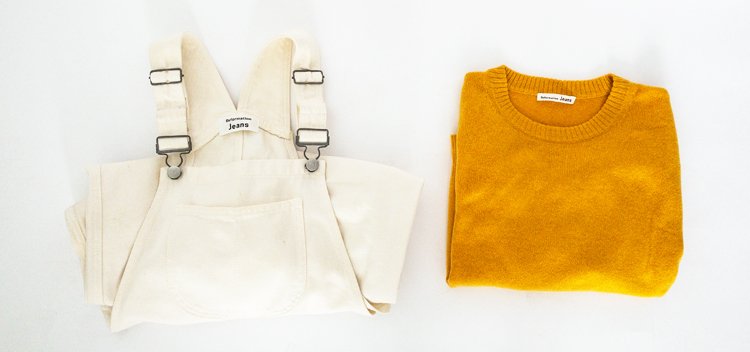 Method
a- Sweater is to be worn for five days between 10:00am to 6:00pm.
b- Sweater will be worn with denim dungarees between those hours.
(Pilling occurs when two materials rub against each other, so this is part of the experiment.)
Provision: Outfit can be changed if I go out. Panamá has an average temperature of 30°C — this is a pseudo-scientific experiment, not a torture test.
Results
Early this week, there were a lot more errands… so, I wore my sweater out with shorts and a canvas tote bag.
During the afternoon, I wore it while lying on my bedroom carpet floor while doing some mindless "real job" work (and listening to the "Conan O'Brien Needs a Friend" podcast — worth a shout out, because it's really funny).
After day two, Reformation's cashmere was pilling like crazy on the sleeves and body.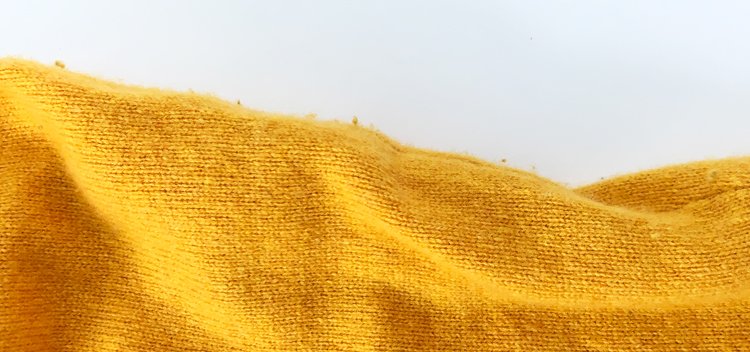 Unlike Naadam's cashmere sweater, I wasn't even trying to make it pill.
I ultimately called the challenge off early, because I wanted to swoop in with my cashmere brush to save it before it got to the point of no return.
Conclusion
Reformation's pilling was disappointing… the sweater's aesthetic is so great.
Maybe it's the blend of recycled and new cashmere? The 5% wool?
Either way, it looks like a perfect 1970's style sweater and the colour is such a strong throwback… except it pills a lot. Ugh.
---
PROS & CONS
Pros
–Great fit: Surprisingly roomy with long sleeves — just want I want in a sweater.
–More environmentally conscious: The Ref is trying to be better with their sweaters.
Cons
–Heavily pilled: A lot of pills popped up on this sweater during the "Cashmere Challenge."
–Doesn't get super soft: Some cashmere sweaters get softer as you wear them more… this one does not.
–Not 100% cashmere: They snuck in 5% wool, but it's still marketed as a cashmere sweater… also, snuck vs. sneaked always makes me think of Conan O'Brien (my 2004 Late Night obsession is obviously resurfacing).
---
Reformation's cashmere is a blend of recycled cashmere, new cashmere, and, sometimes, wool.
While it's not perfect on the sustainability scale, it's trying to be better.
Trying to be something (apparently) isn't cool… but that whole "cool girl" trope is so over.
If trying helps anything in life, why not try?
… and hopefully Ref will try to fix the pilling issue.
Reformation's cashmere sweaters are available from Reformation (and their brick & mortar stores) or on Nordstrom from $148 USD.
Note: newinspired uses affiliate links which costs you nothing… but means a lot to me. When you use these links, the money newinspired earns gets reinvested in blog content. Absolutely nothing on newinspired is "gifted," I purchase each item with my own money. Affiliate commissions are used to purchase new items to honestly & thoroughly review. If you found this review helpful, consider using them to support newinspired.
---
YOU MIGHT ALSO BE INTERESTED IN…