For two reasons, The Row's Ginza shoes remind me of Blondie's hit song, "One Way or Another."
1- "One Way or Another" was featured in the 1998 classic film, The Rugrats Movie, when Angelica scales cliffs in inclement weather to try and find her beloved Cynthia doll.
2- While I didn't scale cliffs to find them, I feel like I was equally determined to get these shoes — one way or another.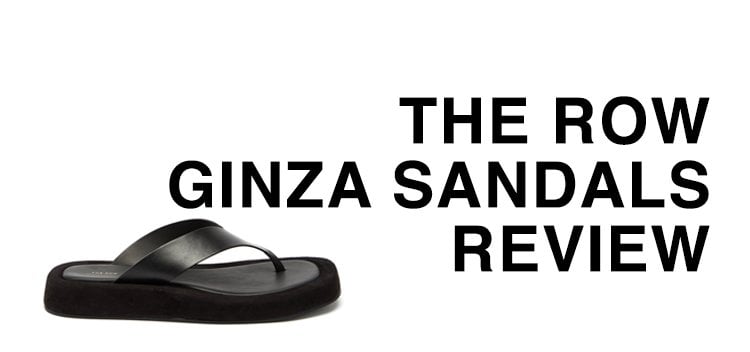 The Row Ginza leather and suede platform flip flops are literally sold out everywhere.
Every time I put them in my cart on Net-a-Porter or MatchesFashion, they sold out. Each time, they were added to my wishlist with a promise that I wouldn't let them go the next time when they were back in stock.

So when someone returned them on Net-A-Porter, I pried them from Dil (spoiler: he took Cynthia, but I mean the store in this case), stuffed 'em in my bag (uhhh, my online shopping cart), and "saved" them (i.e., ordered them).
Are these $790 USD flip flops worth it though? Or should they be returned to Dil's clutches — I mean the store?
The Row Shoe REVIEW
The Row Shoe SIZING
For comparison, my other shoe sizes run:
-Adidas Stan Smiths, US 8
–Chanel Shoes, FR 39
–Christian Louboutin, IT/EU 39.5
–Golden Goose, IT/EU 39
–Hermès, FR 39
–Isabel Marant, FR 39
-Nikes, US 8.5
–Repetto, FR 39.5
My The Row Ginza sandals are a size IT/EU 39.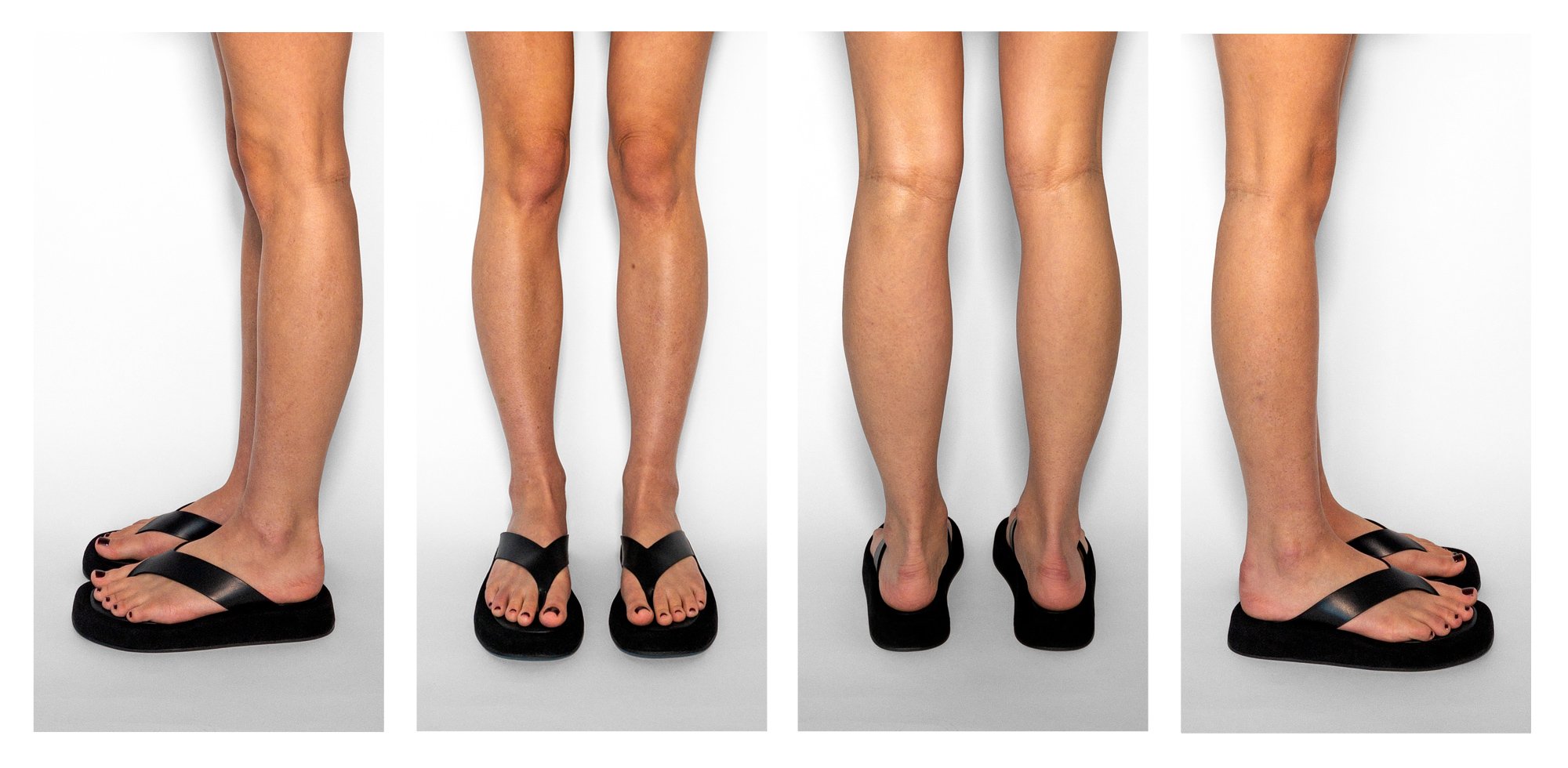 Based on these sandals, I'd say The Row's shoes fit true to IT/EU sizing.
I initially hesitated ordering them, because I was unsure of what size I'd take in The Row Ginza sandals.
When I contacted The Row directly, they suggested to take your actual US size (like US 9 = 39)… unsure of my "real" US size, I felt that taking a 39 would be more prudent considering their shoes are Italian/European sizes.
While I normally take an 8 or 8.5 in US sneakers (which would mean a 38 or 38.5 in their logic), a 39 basically fits perfectly.
My feet come right to the end of the leather sole.
… and it's OK if your feet slightly spill over the leather sole, because the suede edges act as a buffer and catch any spillage.
If your size is sold out, you might be able to get away with taking half a size up (or maybe even down!).
These Ginza flip flops are only an 1" high (or 33mm), so calling them "platform" flip flops is a bit of an overstatement.
… but regardless of the height, they're so 90's and so comfortable to walk in. No between-the-toe thong blisters or pain to report!
The Row Ginza flip flops look like they would weigh a ton, but in reality they weigh ~585 grams for both sides (a pair of Havaiana rubber flip flops are ~245g, for comparison).
While a little heavier than a standard flip flop, they will not weigh you down.
---
Are the Row Ginza Sandals "Worth It?"/Similar, but Different…
The Row's Ginza flip flops are like $790 USD, trust me, I was weary about spending that much on a trendier shoe. They're exorbitantly expensive for a 90's-style platform flip flop.
For the price, I really cannot tell you that they're "worth it" — $790 USD is simply a lot of money.
If you can swing it, yes, go for it!
… but if they're your one expensive shoe for the year, then go with something more classic (like Hermès Oran sandals or Chanel ballet flats).
Assuming you still want the look, but not the price, here are some dupes…
While I can't speak to the dupe sandals' sizing or quality, I can say I've found almost-exact fake pairs of The Row's Ginza sandals on re-sale sites and they're still expensive.
A super-similar "dupe" could be safer than shelling out for a potentially fake pair on Poshmark, The Real Real, or Vestiaire Collective.
If you wanna roll the dice, here's what the bottom of an authentic pair's outsole looks like…
---
IMPRESSIONS
In the late 90's a lot of great movies were released that inspired and elevated everyone's personal style.
… although a lot can be said about Susie's slip-on shoes and Angelica's pinafore, I'm not talking about The Rugrats Movie here.
Clueless, Romeo + Juliet, Pulp Fiction, the Virgin Suicides, Basic Instinct…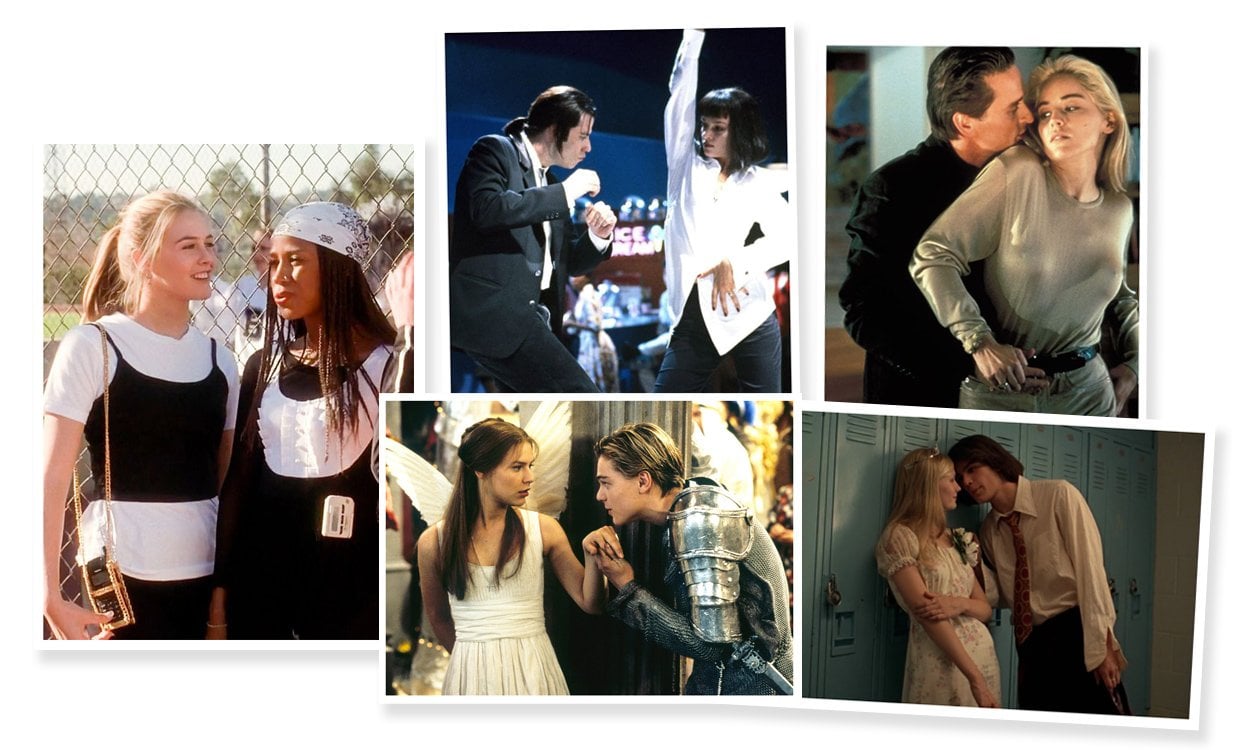 Cher & Dion's matching outfits, Mia Wallace's bob, the Lisbon sister's ethereal aura, Juliet's angelic glow, and Catherine Tremell's devilishly simple monochrome wardrobe are all equally iconic.
… but, Passport to Paris, the Dualstar classic motion picture, is the most stylish, aspirational, and inspirational movie for any 90's baby — it's really the epitome of "iconic."
OK, maybe that's a hyperbole, but, if you remember, you remember.
My sister and I both got tinted sunglasses from The Gap, I got a dodgy short haircut so the ends would flip up, and my sister even got a Baby G watch and a crossbody backpack for school that year — I was so jealous.
… but, 22 years later, I got the platform sandals.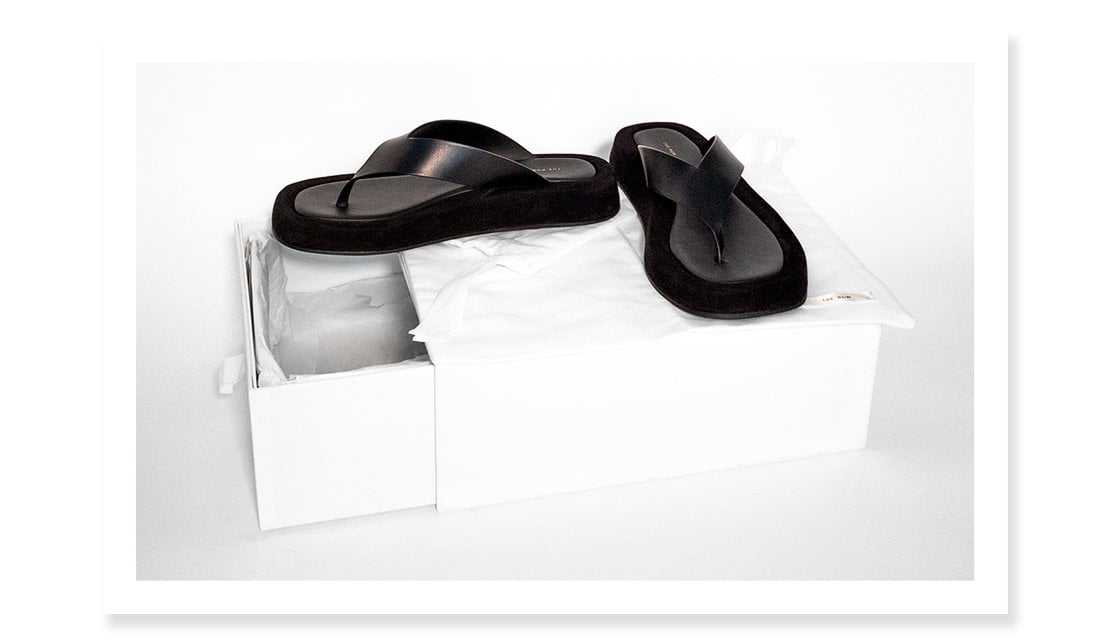 While the Gap sunglasses have been swapped for Celine and my hair is only dodgy because of an ill-fated attempt at a DIY haircut, I think that these sandals still completely work over 2 decades later…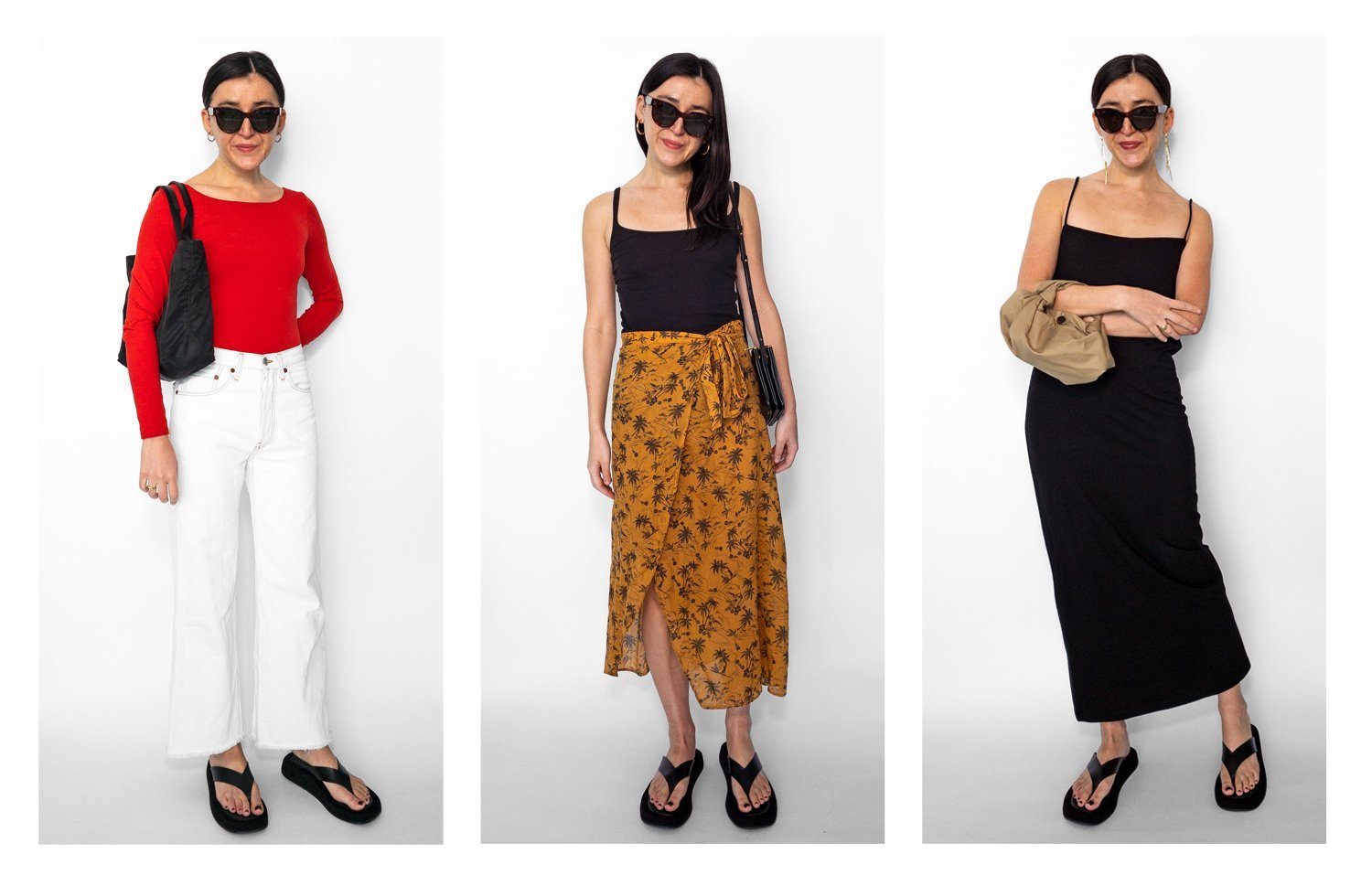 Left to Right: Re/Done jeans with an Everlane Bodysuit, David Yurman hoops, and a Prada Nylon bag; James Perse Hawaiian skirt with a J. Crew tank top, Jennifer Fisher x Goop hoops, and a Celine Small Trio; RAEY Square-neck cotton-blend jersey slip dress with Isabel Marant Gold Swung earrings, my high school graduation ring, and The Row Ascot Bag.
---
How to Style Platform Flip Flops
… in other words, I couldn't stop putting together outfits for these sandals.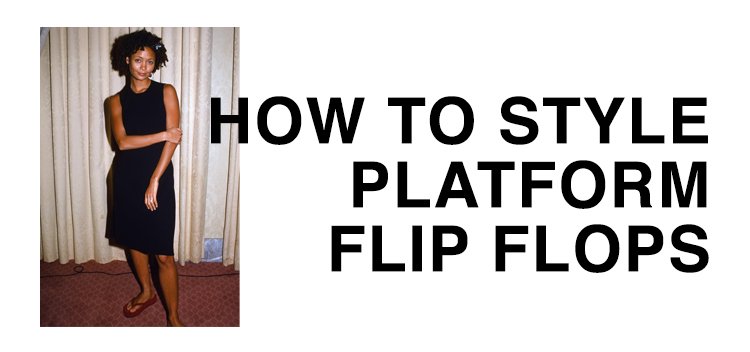 ---
PROS & CONS
Pros
–Stylish: I mean…
–Consistent sizing: The Row's Ginza sandals fit true to IT/EU sizing.
–Comfortable: Normally I have to break in flip flops, but these were comfortable straight from the box.
Cons
–Gold logo will wear off: The Row's gold-embossed logo on the sole of the flip flop will eventually rub off — I can see it starting to rub off around the heel-area after simply wearing them around my house. It happens with luxury shoes, but, like, it doesn't happen this quickly.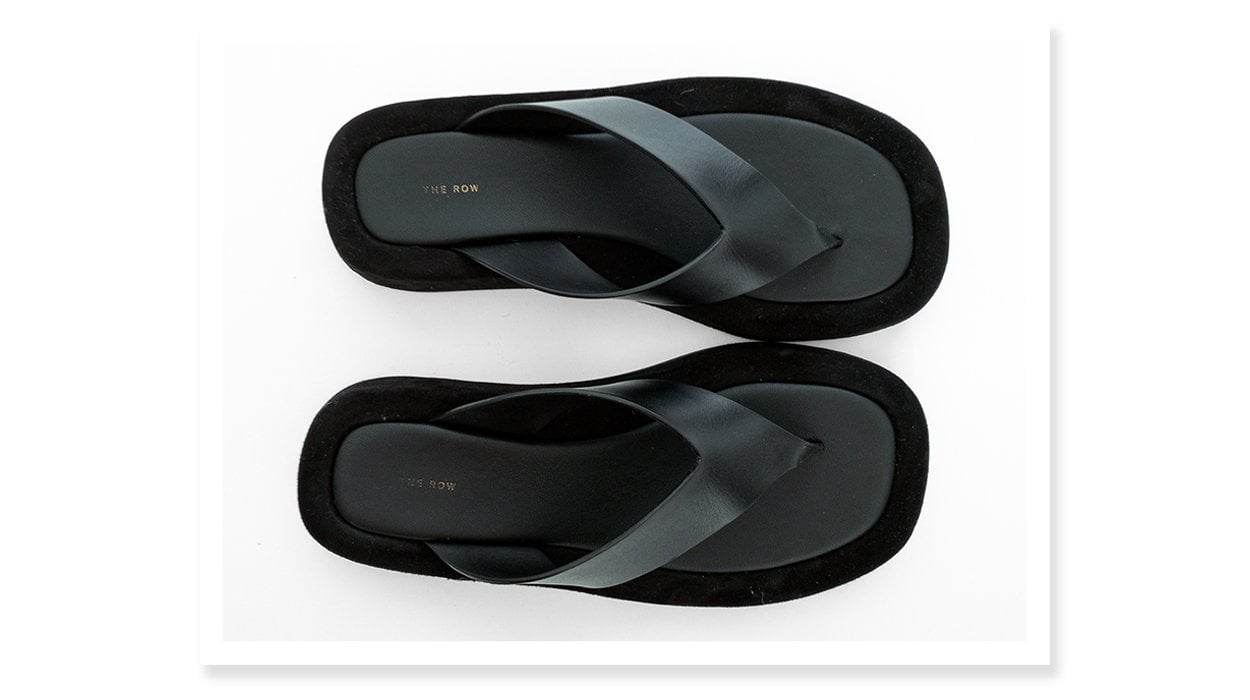 –Leather toe jam: They've left a black grainy leather residue between my big toe and index toe, but it wipes off easily.
–Inconsistent quality: It's not terrible and I doubt most people would even notice it… but, the right side's toe is not adhered perfectly to the outer-sole — maybe this is why they were returned? If I could get another pair in 39, I likely would also return them due to this defect, but, again, they're really sold out and I really like them………
Just to note, these are definitely not beach flip flops. While I have worn my TKEEs at the beach, I would not wear The Row Ginza flip flops — they are definitely too nice for sand & water.
---
Do not look at The Row Ginza flip-flops as an "investment."
Shoes rarely appreciate in value.
They're expensive, especially for something that's as trendy as a Tamagotchi.
If you still want the real deal instead of a dupe, The Row Ginza sandals should be seen as something that'll fulfill your childhood daydreams and enrich your current-day outfits.
With a simple aesthetic and the Olsen's stamp of approval, what more can you ask for in a pair of platform flip flops?
(… other than consistent quality and a lower price tag.)
The Row Ginza sandals are available from MatchesFashion, Net-a-Porter, Nordstrom, Saks, Savannahs, SSENSE, and The Webster from $790 USD.
Note: As of publishing, Savannahs is the only retailer with a wide-ish variety of sizes available.
Note: newinspired uses affiliate links which costs you nothing… but means a lot to me. When you use these links, the money newinspired earns gets reinvested in blog content. Absolutely nothing on newinspired is "gifted" or sponsored, I purchase each item with my own money. Affiliate commissions are used to purchase new items to honestly & thoroughly review. If you found this review helpful, consider using them to support newinspired.
---
---
You might also be interested in…